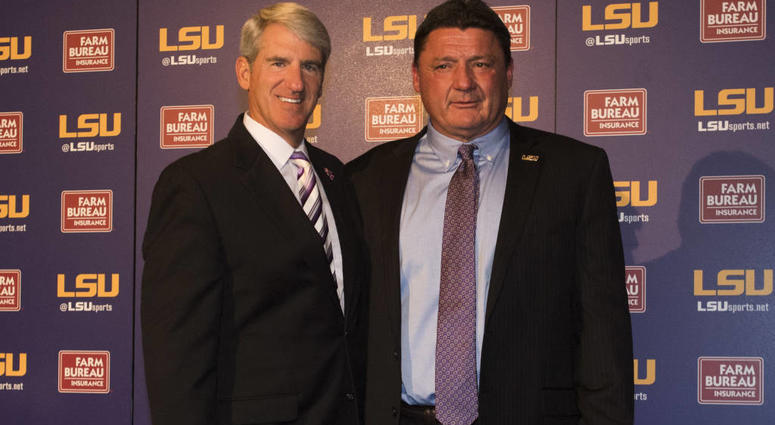 By JAMES MORAN | Tiger Rag Associate Editor
Ed Orgeron hadn't slept in his own bed at home in weeks. Perhaps that's why the always-fiery Cajun coach was able to get to bed early Friday night yet still managed to slumber through a 5:30 a.m. phone call from LSU athletic director Joe Alleva.
"I missed it, but I called him right back," Orgeron smiled.
Alleva asked Orgeron to come to Baton Rouge. Orgeron, having a pretty good idea why Alleva wanted to meet, woke up his wife, Kelly, quickly got dressed and broke the speed limit driving back to the office.
A few hours later, Alleva formally introduced the 55-year-old Orgeron as the 33rd coach in the history of LSU football. He'd led the Tigers to a 5-2 record after Les Miles had been shown the door, and the interim tag previously attached to his dream job appeared there no more.
"This is a great day in my life, obviously," Orgeron told the packed fifth-floor conference room full of reporters, family and members of the administration. "But this isn't about me. This is about the people of Louisiana. It's about LSU and about all of us pulling together. One team, one heartbeat."
Those final four words have been Orgeron's mantra since taking over a team that's dream season had derailed after a frustrating 2-2 start and a controversial coaching change.
Orgeron is Louisiana to the core, and anyone who's met him knows the reverence he holds for the LSU job. Alleva repeatedly referenced that fact as being the reason Orgeron was the only man ever officially offered the job.
"This thing was never going to come down to a bidding war," Alleva said. "It was something that we knew that Coach O is never going to play games with us. We know where Coach O's heart is, we know where his love is, we know where his passion is.
"At the end of the day only one candidate got an official offer from us and it was accepted this morning. I don't have to explain to you what Coach O is about and what he means to LSU football. It's part of his DNA. He grew up wanting this job. This is his dream job."
Not two years ago, standing alongside Les Miles and Kevin Steele at the very same podium, Orgeron referred to becoming the defensive line coach at LSU as "the greatest job in America." He reiterated that sentiment Saturday, updated to reflect his new positon.
After being formally introduced, Orgeron began his remarks by expressing gratitude starting with beginning with Alleva, F. King Alexander and the Board of Supervisors who'd hired him.
Orgeron said Alleva called him the Sundays following losses to Alabama and Florida with messages of support: "Keep going. Keep going."
First and foremost, he thanked his players and coaching staff, without whom such a promotion never would have been possible. He thanked Les Miles for hiring him, Frank Wilson for helping get him on staff and even the media.
He mentioned well-wishers who'd offered support during the past months in settings ranging from prayer groups to gas stations across the state he calls home. Then could barely get the words out to thank his mother and late father.
"All they've done made me the man that I am today," Orgeron said, choked up and fighting back tears.
From that point on it was all business.
Orgeron spoke of LSU's need to recruit, whether it be elite high school talent, the draft-eligible juniors currently on his roster of the assistants he'll target to fill out "the best staff in America.
That's the crux of the plan Orgeron presented to Alleva during a Friday sit-down to make his pitch for the job.
He brought with him a loaded binder, prepared by Austin Thomas and Derek Ponamsky, which outlined plans to make the Tigers championship contenders again and narrow a gap between LSU and Alabama that he contends isn't as wide as the team's 7-4 record would indicate.
"Now, we have to recruit better," Orgeron said. "We have to get players that are very similar to the benchmark of this conference. We have to get coaches that can coach at that level. We have some coaches on the staff that can. We have to have the mindset that we can go out and beat those guys.
"I tell you what, for the most part of that last time we played them, we had it. There's a couple of pieces missing. We plan to fix those pieces so we can get that job accomplished. That is the benchmark every day we go to work. We understand the benchmark."
Orgeron announced he'd already spoken to prized defensive coordinator Dave Aranda, and expressed confidence he'll be sticking around.
The rest of the staff will be evaluated after LSU's bowl game, though he confirmed Pete Jenkins and Steve Ensminger, two central figures of his in-season turnaround, would be retained. Jenkins as defensive line coach for another season. Ensminger in a role to be determined.
The bigger question to answer was how the former defensive line coached planned on fixing an offense that fell woefully short in all four of LSU's losses this season. It starts, as previously reported, with bringing in the right coordinator to spearhead such an overhaul.
"We're going to look at recruiting the best offensive coordinator in football and bring him to LSU," Orgeron said, presumably alluding to "personal friend" and Alabama offensive coordinator Lane Kiffin. "I do believe that nowadays you have to run the spread offense. You have to have dual-threat quarterbacks that can run the ball and throw it. But you have to have somebody who knows how to run it.
"We have a blueprint. I have a mindset on what we're going to go get, who we're going to go get, we're going to go get it."
That blueprint functions as an ever-evolving road map of Orgeron's journeyman coaching career. Whether it be insight and habits borrowed from successful coaches he worked under in the past or lessons learned from his own failed head coaching tenure at Ole Miss and two more recent interim gigs.
The binder, Orgeron said, featured excepts from past coaching stops dating back to Arkansas, his first FBS coaching opportunity, and right on through Miami, Syracuse and USC.
He credited Pete Carroll, his former boss at USC, for making him "a complete coach." Alleva revealed during his opening remarks that the current Seattle Seahawks coach had called on Friday to offer an impassioned endorsement for his former assistant to get the job.
"He said to me, 'Joe, a leader has got to have a big heart,'" Alleva said. "It's all about heart. He said, 'Coach O has the ability to get the most out of people. He has the ability to motivate people to do things they don't think they're capable of doing.' That just stuck with me. I thought about it, thought about it. I don't think there's a person that I've met that has a bigger heart and a bigger desire to succeed than Coach O."
Alleva spoke glowingly about the way the Tigers bounced back from losses to Alabama and Florida with resounding road routs of Arkansas and Texas A&M, respectively, which he attributed to Orgeron's prowess as a master motivator.
To Orgeron, three decades spent coaching across America were all preparation for this opportunity. It's the only job he's ever truly coveted. That's why he came running when Miles offered him a position on staff two winters ago.
Two months ago, when Orgeron was named interim coach, he spoke of how deeply he regretting leaving LSU's campus just a month into his freshman season after signing on to play for Charles McClendon. A journey that came full circle Saturday.
"This is bigger than life," Orgeron said. "Driving past the stadium, I just wanted to be an assistant coach here. I just wanted to have my feet on the grass. But I knew once I got here, I could earn my way up to being the head coach. I wanted to take it one step at a time.
"Every step I went, I was preparing to come back home to LSU. That was my goal the whole time. Just go out, go to Miami, go to Syracuse, go to USC, be prepared, get better. I wanted to come back to be the best football coach I can possibly be when I took this job. I feel like that happened. I'm prepared to do it."
That sentiment clearly registered with Alleva and his five-man team of decision makers.
LSU's reported top target, Houston coach Tom Herman, informed LSU early Saturday morning that he'd be entertaining an offer to fill the soon-to-be-open vacancy at Texas — Herman was named the Longhorn coach less than two hours after Charlie Strong was officially fired. Upon having tha conversation, Alleva pulled the trigger on calling Orgeron in.
Rumors swirled for most of the past week that Herman and Florida State coach Jimbo Fisher were identified as LSU's top two targets. Off the podium, Orgeron was asked if it bothered him to be perceived as a "third choice."
"Not at all," Orgeron responded. "I got here. That's all I wanted to do is get here."
Now that he is, the real work begins in earnest. Orgeron said he planned to spend the balance of Saturday calling recruits and setting up in-home visits with a laundry list of mid-year enrollees. He'll then meet with the staff Sunday and hold a team meeting Monday morning.
However, he did admit there will be some fun had once he sees the players who fought and stumped for him to remain their head coach going forward.
"We're going to have us a little celebration," LSU's new coach smiled.