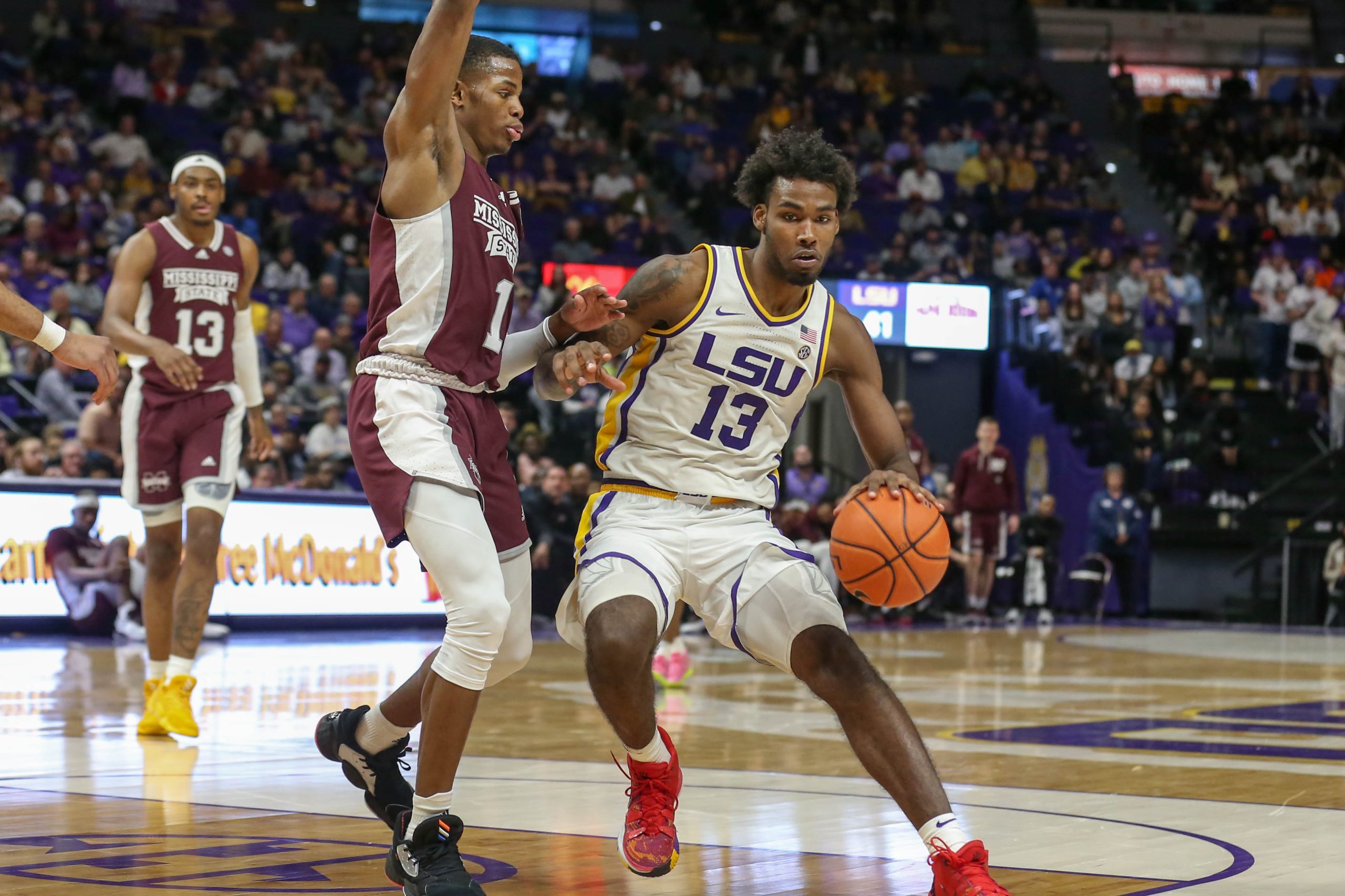 Down 48-45 with 9:18 to play, LSU went on a 14-2 run to grab a nine-point lead and scored an important 69-65 win over Mississippi State Saturday night at the Pete Maravich Assembly Center.
The win upped LSU's overall record to 18-7 and put LSU back in a tie with Alabama and Florida at 6-6 in the league. Mississippi State, which will play three games in five days next week, is 14-10 and 5-6 in the league.
LSU for the second straight game went with its lineup of Xavier Pinson and Brandon Murray at guards, Efton Reid III at center and Darius Days and Mwani Wilkinson at forwards and that lineup is now 16-0 for the season.
For the second straight game, Tari Eason led LSU with a 20-point scoring night, this time 23 points in 28 minutes, hitting 8-of-14 from the field with three treys and four free throws. Pinson finished with 12 points, four assists and three steals while Days finished with 10 points.
Iverson Molinar had 26 points, including 10-of-10 at the free throw line, to lead Mississippi State, while Tolu Smith had 15 points and Garrison Brooks 11 points and 11 rebounds.
State had rallied from a 15-point halftime deficit to take the 48-45 lead but LSU got a layup and a couple of free throws to get the lead back for good at 49-48 with 8:07 to go. But then Eason hit a three-pointer for a 52-48 and after State scored to cut it to 52-50, Shareef O'Neal off an offensive rebound scored to make it 54-50.
O'Neal played 14 minutes and made 3-of-5 field goals and two free throws to finish with eight points and three rebounds.
Eason then would score four consecutive points on two free throws and a dunk and Eric Gaines added free throw to push the advantage to 59-50 with 4:22 left.
LSU in the first half allowed Mississippi State to get off to a 7-0 advantage to start the game but eventually the Tigers scored nine consecutive points to take a 9-7 lead with 11:59 to go in the opening half.
The Tigers would use a 20-4 run to go up 20-11 when Mwani Wilkinson scored a fast-break layup. It was a Wilkinson three that pushed the lead to double figures and reached 15 right before the half.
LSU held Mississippi State under 40 percent from the field (21-of-53, 39.6%) and just 17.6 percent from the arc (3-of-17). LSU shot 41.5 percent (22-of-53) with seven treys and 18-of-25 from the line. Mississippi State out rebounded LSU, 37-31, but the Tigers took advantage of 18 State turnovers by getting 20 points off the miscues while the Bulldogs recorded just eight points off the 14 LSU turnovers.