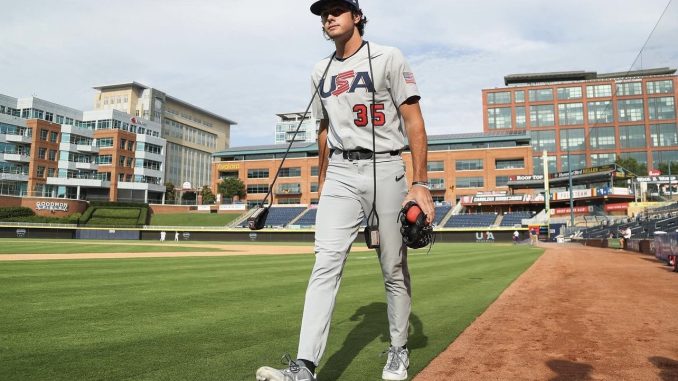 Stop if you've heard this one before: LSU baseball added a hard-throwing, top-of-the-rotation right-hander from the NCAA transfer portal.
A year after landing Paul Skenes who anchored the Tigers' national championship staff and became the No. 1 pick in this year's MLB Draft, coach Jay Johnson received a commitment Thursday from Alabama ace right-handed pitcher Luke Hollman.
Kendall Rogers of D1Baseball was the first to report the news.
"Jay Johnson has done a great job recruiting and getting those guys together," Holman said. "It's hard to bring a team together. They were just really good from the start, and he was able to do that. He's done a great job so far."
The 6-foot-4, 195-pound Holman, a native of Sinking Spring, Pennsylvania, chose LSU over Tennessee and Mississippi State. After entering the transfer portal on June 22, he made official visits to all three of his finalists before selecting the Tigers.
Holman went 7-4 with a 3.67 ERA for Alabama which lost to Wake Forest in the NCAA Super Regionals. The sophomore allowed 54 hits in 81 innings, struck out 81 and walked 31.
He made 16 appearances during the season but was scratched from a scheduled start against LSU on April 28. He twice pitched seven innings during the season with a 12-strikeout performance in a 11-6 win over Samford.
Holman was the losing pitcher in Alabama's 5-4 loss in Gm. 1 of the Super Regional to Wake Forest. He yielded five runs (four earned) over six innings and fanned four.
Johnson has picked up six commitments from players in the transfer portal with four of those being pitchers – Alabama's Kade Woods, Xavier's Justin Loer and UCLA's Gage Jump.
The Tigers also secured pledges from South Carolina shortstop Michael Braswell and Arizona center fielder Mac Bingham.
Holman locked down a roster spot on the U.S. national team after being invited to their training camp.
Holman was drafted in the 20th round by the Toronto Blue Jays in 2021 and chose to attend Alabama instead. He was rated the No. 3 overall player in Pennsylvania per the Prep Baseball Report and the No. 5 prospect by Baseball America in 2021.
In his senior year at Wilson, Holman was 7-1 with a save with a 0.88 ERA and 113 strikeouts and 23 walks. He also batted .426 with five doubles, five triples and four homers with 18 RBIs.
Holman's father, Craig, played collegiately at Jacksonville State was drafted by Philadelphia and spent eight seasons in the Phillies' organization.
"LSU is just a big market nowadays," Holman said. "You see a bunch of people going there and the baseball program has taken off. There are a lot of great players there. You see they were development."