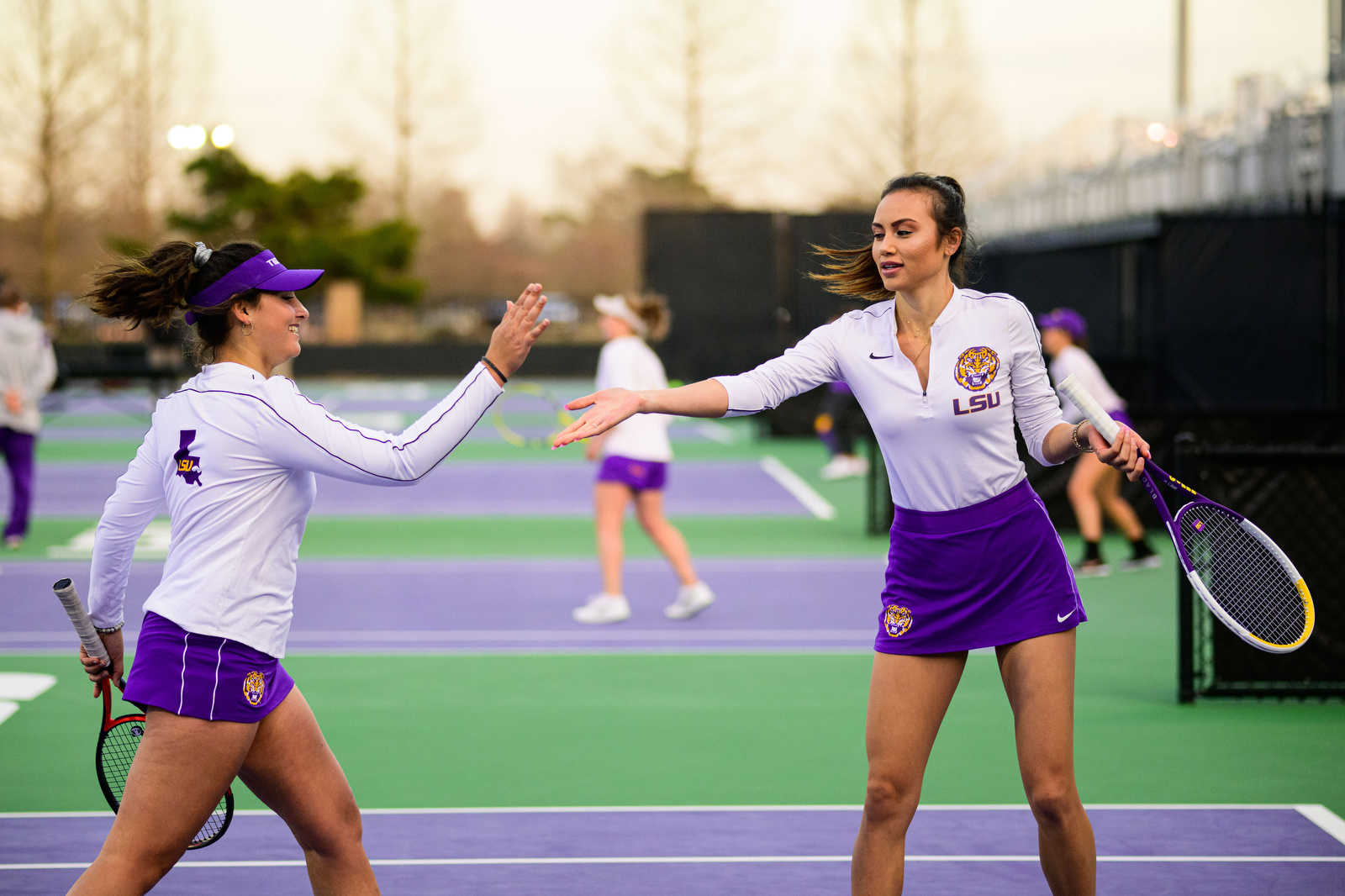 By CODY WORSHAM | Tiger Rag Editor
LSU is self-imposing penalties after finding its women's tennis program had committed three Level III violations in a joint investigation with the NCAA, a source familiar with the investigation told Tiger Rag on Friday.
The violations fall under the Level III "breach of conduct" category of infractions, which the NCAA classifies as "violations that are isolated or limited in nature; provide no more than a minimal recruiting, competitive or other advantage; and do not include more than a minimal impermissible benefit."
After conducting more than 20 interviews with former and current players, coaches, recruits, and other witnesseses, the NCAA and LSU found co-head coaches Julia and Michael Sell: 1) provided $68 worth of gear to a prospective-student athlete; 2) paid a former LSU tennis player $250 for hitting sessions with a prospective student-athlete; and 3) conducted on-campus hitting sessions between prospects and current or former players which coaches observed, which violates the organization's bylaws regarding tryouts.
A release provided to Tiger Rag said, "The matter is now closed."
"Julia and Michael are terrific coaches and honorable people and we stand firmly by them in this matter," Vice Chancellor and Director of Athletics Joe Alleva said in a statement. "We're also going to learn from this for the future and be accountable with these self-imposed penalties."
LSU received a notice of allegations from the NCAA in late May or early June, and shortly after began the joint investigation, the source said. Together, the parties interviewed "22 to 23" people. By the end, "there was pretty much full agreement" on the nature of the infractions, the source said. The NCAA accepted LSU's self-imposed penalties.
According to statement provided to Tiger Rag, the penalties include "a 30-day suspension of recruiting, a one-week suspension of practice, and prospects will not be allowed to hit at LSU's tennis facilities for one academic year." 
LSU hired Julia Sell in 2012 and promoted Michael Sell to co-head coach in 2015, after the latter served as a volunteer assistant for three seasons. The program has reached four straight NCAA Tournaments, advancing to the second round in each of the past three seasons. Julia Sell's overall record at LSU is 77-64 (23-42 SEC) in five seasons. LSU's 2017-18 season begins Sept. 16 at the James Bonk Invite in Cary, N.C.