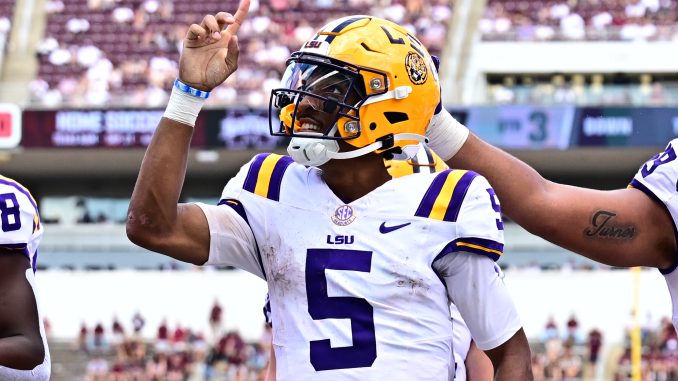 LSU head coach Brian Kelly SEC Teleconference Call 11-8-2023
Florida head coach Billy Napier SEC Teleconference Call 11-8-2023
LSU football coach Brian Kelly said quarterback Jayden Daniels will go through practice on Wednesday and depending on the results of that non-contact workout, could be cleared for full contact practice on Thursday.
"If all goes well today, he'll be cleared for contact Thursday," Kelly on Wednesday's SEC Coaches Teleconference.
No. 18 LSU (6-3, 4-2 in SEC) returns home Saturday to host Florida (5-4, 3-3) at 6:30 p.m. on the SEC Network.
Daniels was injured in last Saturday's 42-28 loss at Alabama, getting knocked out of the game early in the fourth quarter after a roughing-the-passer penalty against Dallas Turner.
Daniels left the field for one play, then returned with the intention of running a play when timeout was called. He then headed back to the team's sideline and into the medical tent where he entered the team's concussion protocol and didn't return to play.
Redshirt sophomore Garrett Nussmeier completed 5 of 10 passes for 53 yards and didn't lead the Tigers to any points.
Daniels was held out of Tuesday's practice and took part in film study. His workout Wednesday morning, which included a top running speed of 20 miles-per-hour, represented the final stage for clearance in his return to non-contact work this afternoon.
Daniels has never missed a game at LSU during his career, starting in all 23 games. He's been one of the nation's top quarterbacks averaging 386.2 total yards per game, having completed 178 of 247 passes for 2,792 yards and 27 touchdowns to go with a team-high 684 rushing yards and 6 TDs.
"If he goes through today's practice, then we'll decide what's his preparation level compared to (backup Garrett) Nussmeier's preparation level and make a decision on who would start on Saturday," Kelly said.
Here's what else Kelly had to say:
Opening statement:
"Our football team was disappointed about last weekend. But we put that behind us and now an important game for us. Florida has always been a game decided by one score. It's a rivalry game. Two teams transitioning to build their programs back to national prominence. So, an important game for both teams wanting to come up with a victory. Our guys are working hard to put their best game, and a complete game, together and I'm sure Florida is doing the same thing. So, a big matchup for us this weekend in Tiger Stadium."
What have you seen in Kyren Lacy's growth this season?
"He's kind of a bounce-back guy. He may have the occasional drop or make a mistake, but I think what I'm most proud of with him is that might have affected his entire game last year. Now he bounces back and puts that behind them and is even more determined to impact the game and that's maturity. That's growth and, and it's fun. It's fun for me as a coach to see that kind of maturity and growth from the young man."
Have you talked to your players about staying off social media?
"I think these guys understand that. There are natural distractions out there and most of them are through social media and what is written and it's not just from the media. It's the crazies that are on Twitter (Now X) and things of that nature that are uninformed. And so, you just have to eliminate these distractions during the season and focus on what you can control and I think our guys do a pretty good job of that."
Do you believe the success of the team should impact candidacy for Heisman Trophy?
"I think there's a modicum of that in terms of how you view individual awards. But it's not a team award, it's an individual's award. The Heisman always has multiple candidates that are up for it and so how do you begin to distinguish yourself? If statistically, they're all so close, you start to look at what are the tiebreakers and some of the tiebreakers become how well the team is playing. And so, whether it's fair or not, it becomes an influence. I think if you use the eye test, and stats are what they are, it shouldn't but I think it's natural that those things definitely come into play."
Thoughts on Florida quarterback Graham Mertz?
"Has really settled in nicely in their offense. I think he's in really good control of what they want to do offensively. He's throwing close to 75% completion percentage, taking care of the football and really doing a nice job and getting the ball to their elite players. There's their playmakers and they've got (Ricky) Pearsall and (Eugene) Wilson at the receiving position in particular, just really mature, poised, and I think really effective in the style of offense that coach Napier has put together.'
What step would you like to see your defense take after Alabama game?
"A lot of the big plays were the quarterback running, certainly we're playing a different quarterback, so each week there's a different challenge for us. This is going to be eliminating big play, tackling better, leveraging the football going outside our defense on a couple of occasions. So, you know, I would say the fundamentals of defense need to continue to grow, continue to get better and play with great energy, and enthusiasm and play like an LSU defense that that is fighting for four quarters."