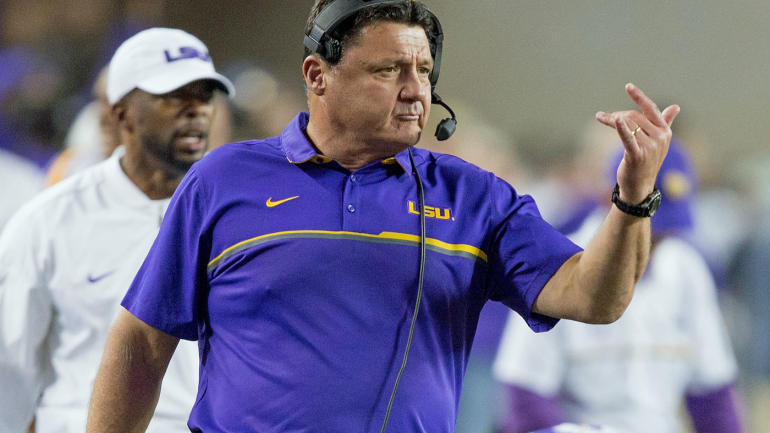 Junior running back John Emery Jr's appeal to the NCAA to regain his eligibility for the 2021 season was denied Wednesday, according to a report by Sports Illustrated college football reporter Ross Dellenger.
Emery's attorney, Don Jackson, plans to pursue other options to have the ruling overturned, Dellenger reported.
While LSU doesn't expect to have the services of Emery or fellow running back Tre' Bradford for Saturday's home game with No. 22 Auburn, head football coach Ed Orgeron indicated the Tigers depth at wide receiver and defensive end would improve.
Orgeron said during his weekly appearance on the SEC Coaches Teleconference that seniors Jontre' Kirklin and Soni Fonua were eligible to play after sitting out the first four games of the season.
"They've practiced hard the last four weeks. They're eligible and ready to play and I'm excited about that," Orgeron said.
Kirklin, who began his career on defense, was the team's fifth-leading returning receiver this season following a 2020 campaign in which he caught 13 passes for 184 yards and 3 TDs in 10 games a year ago.
Fonua, a junior college signee, appeared in seven games last season without making any starts. He finished with seven tackles.

Orgeron also said that senior defensive tackle Glen Logan may be able to return to practice next week but is still uncertain whether the former Destrehan standout will be able to play in next Saturday's game at Kentucky. Logan suffered a broken foot in fall camp and hasn't been able to play in any games thus far.
"We think Glen Logan is perhaps will have to do a couple of more things next week," Orgeron said. "I don't know if he's going to be ready. I thought he was going to be ready, but the trainer said it's going to take a little while longer, but next week I think he'll be able to practice a little bit. I don't know if he'll be able play."
Here's what else Orgeron had to say:
Opening statement
"Obviously, a lot of respect for the Auburn Tigers. This has been a battle throughout the years. They have a very good run game with Tank Bigsby. The running backs run the ball very hard, they're very well coached. This is going to be a challenge to stop the run. Auburn has a lot of speed, great defensive line. Typical Auburn-LSU matchup. Saturday night in Tiger Stadium's going to be great."
On Avery Atkins' importance to the team
"Great young man. Before we had Avery, we had problems with the kickoffs, the kickoff team, Avery has solved those problems and now he's our punter. He's not only that but he's a great young man, a great student. He's getting his graduate degree. He's going to be successful in life. He's a team leader, outstanding young man."
On the key to containing Auburn's rushing attack
"First of all, they're very talented. They're hard runners, they're very well coached. They stay tight on their cuts and their pad level's very low. They break tackles. They know exactly where to go with the football. They're in an outstanding scheme, but they're outstanding players and they're very tough to tackle."
Any updates on Derek Stingley Jr.
"I think he's in the process of seeing the doctor this week, maybe seeing the doctor today. He flew out of town to see a doctor, so we haven't had any results. We haven't heard anything."
On coaching against Auburn's first year coach Brian Harsin
"No, this is the first time. It's tough and physical. They're a little more two tight ends, more pro-style than the typical spread. It has the spread elements. Obviously, they had a lot of success at Boise State. The guy's a winner, he's winning there at Auburn. He's using his talent and knows exactly what his strengths and weaknesses are. I think he's a very good coach and is doing a very good job."
On the difference in a slimmed-down Auburn QB T.J. Finley
"The last play he made, he showed tremendous ability to escape in the pocket. Great flexibility, great feet. T.J.'s always been an outstanding athlete. He looks thin, he looks like he's in great shape and we're going to have to contain him. I think they're going to sprint out with him, we have to know where he's at. He can make plays when he extends things so we're going to have to be aware of that."
On the importance of playing in Tiger Stadium's atmosphere at night
"I attribute our victories over Auburn and Florida in 2019 because of our fans, because of Death Valley. We beat those teams because we were playing at home and that helped us win the (national) championship. It says a lot. The energy that they bring us it makes it hard on an opposing team and just lights us up. We can't wait to get to Tiger Stadium. It's the first time our freshman and new coaches have really seen Tiger Stadium at night, so it's going to be a great energy boost for our team."
On Auburn's linebacker corps led by Owen Pappoe
"They're very instinctive. … (Allowing) 99 yards rushing. We tried to recruit Owen. He's all the over field, makes plays. They're great tacklers, they're hard to block because they can key, diagnose and get off blocks well, run to the football and are great tacklers."
On the play of the defense and the way it's affected the pocket this season
"We lead the nation in sacks, and we rushed three against Mississippi State. When we rush four, I think it's the best rush group we've had. We feel that we can rush four. We have packages where we can rush more than four if we have to, but I feel good about our four-man rush."