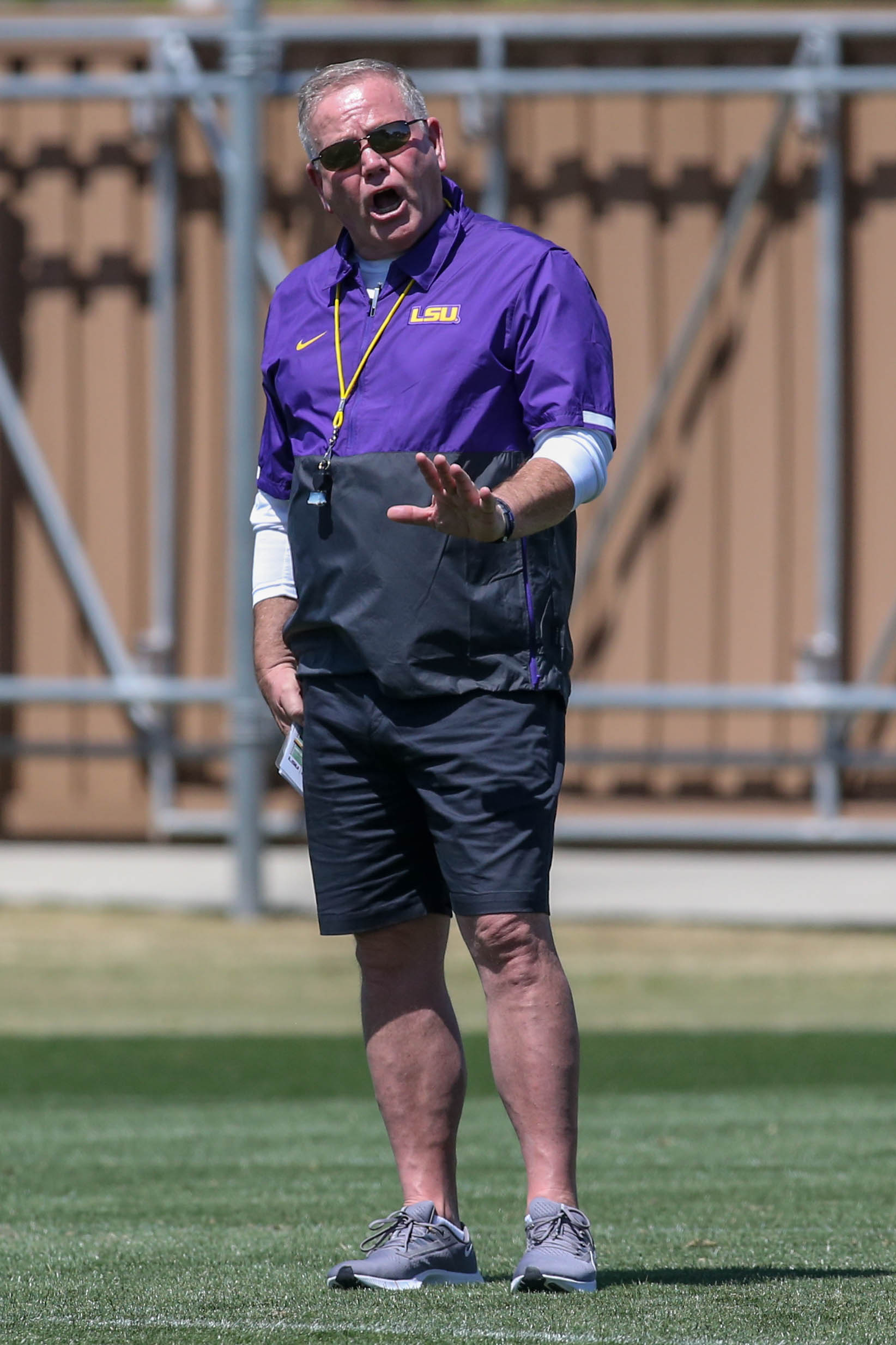 A 65-yard touchdown toss from Myles Brennan to Jaray Jenkins on the first play of live action highlighted LSU's fifth spring practice Saturday.
Brennan, working with the starters while Arizona State transfer Jayden Daniels went with the 2s during the practice's brief scrimmage portion, aired out the post throw.
"We got to the line of scrimmage, we looked at the play call, we knew what it was … Me and him looked at each other, made a wink and I knew it was in the air," Jenkins said.
After being injured and out last season, Brennan – a sixth-year senior who was starting in 2020 before his season was cut short after three games due to an abdominal injury – had the accuracy he's known for on full display.
First-year LSU coach Brian Kelly noticed, and he wasn't alone during a practice open to media members from beginning to end.
Kelly had nothing but praise for Brennan, who decided to remain at LSU after entering the NCAA transfer portal following the school's reaching of a separation agreement with former coach Ed Orgeron.
"You can see he's in so much better shape," Kelly said. "He's physically in a good spot. Mentally he's in a good spot."
Brennan showed command of Kelly's new offense during the few scrimmage snaps he took, throwing mostly spot-on passes with quick processing.
Daniels, who displayed his penchant for running, had a few balls sail high throughout the two hours.
   Returnee Garrett Nussmeier, 29-of-57 in the four games he played as a freshman in 2021, also got scrimmage reps behind Brennan and Daniels.
He looked comfortable considering how early in spring it is.
"I love the way things are going for us," Nussmeier said afterward. "It's a positive mindset for us every single day."
   Kelly's scrimmage assessment
Kelly, who said one focus of spring ball is practicing efficiently and another is practicing "the right way," seemed less than thrilled as the Tigers tried to flip the switch to competitive play during the scrimmage reps.
"If you guys were there you probably saw we couldn't do that," he said. "We couldn't change the way we looked at the last few periods.
"It wasn't a competitive, spirited scrimmage, and that's a process for our guys."
   Safety matters
   Kelly liked what he saw Saturday from his safety group, where Jay Ward, who moved over from cornerback last spring, worked with the starters and Arkansas transfer Greg Brooks – who can play multiple positions – had two interceptions.
Brooks – ranked as ESPN's No. 35 cornerback nationally coming out of West Jefferson in Harvey, Louisiana – had 31 starts over three seasons at Arkansas, playing nickelback his first two years there and safety last year.
"There's a little bit more depth and flexibility at that position," Kelly said, "than maybe I first thought.
"I'm more pleased with that result than maybe I was coming in."
   Starters and backups
Now just one third of the way through spring practice, Kelly suggested he's far from depth chart decision-making.
"I really can't worry about who's the No. 1 corner, who's the second quarterback, who's the No. 2 left tackle," he said, "because all the work here is in our preparation, and how we're practicing and preparing the right way, so when we get into the season I'll know that if we're preparing the right way all that other stuff will take care of itself."
   Media eyes
While Saturday's practice was open to media members, Kelly – who brought in an almost completely new staff after moving from Notre Dame to LSU – indicated that's not something that should be expected later this year.
   Kelly told reporters he allowed access Saturday "so you could get a better sense of who we are, and what we're about" and "how he's going to prepare his football team.
"As we get into the season … it becomes a little bit more tactical," he said. "There will be some access, but it won't be as universal as right now."
   How do Kelly's spring practices compare to Orgeron's?
"Now that we are running back and forth from drill to drill, it's good. It gets us in shape, or whatever," said Jenkins, who suggested things really are different than previously. "And I feel like the practices we are doing are high (intensity). All the running we are doing, I feel, is going to be helpful for us during the season.
   The weather
Kelly's first post-practice comment Saturday was on … the weather.
"This is like San Diego weather, 70s and sunny," he said. "It is always like this, 365 days a year?"
Kelly's question, obviously in jest, was met with a resounding, "No."
"Because we've got to get the brochures out and start talking about, 'This is the destination spot for America,' because the weather's been amazing," said Kelly, who evidently always has recruiting ideas in mind.