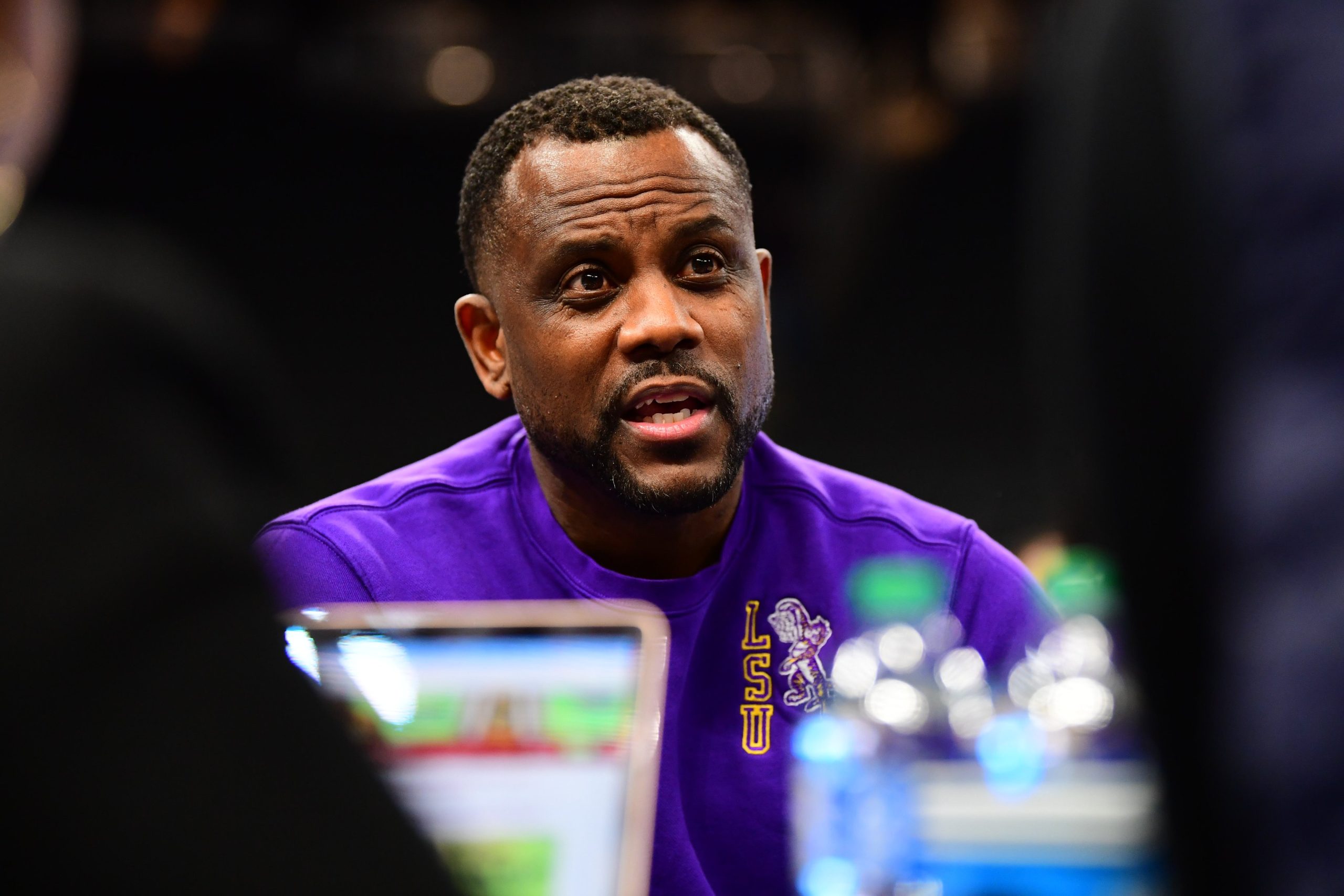 MILWAUKEE, Wisc. – The sixth-seeded LSU Tigers put together their final preparations to get ready to face No. 11 Iowa State Friday in the first round of the 2022 NCAA Men's Basketball Tournament.
Tip-off is scheduled for 6:20 p.m. from the home of the Milwaukee Bucks and Marquette. The game can be heard locally on 98.1-FM and will be broadcast by TBS. The winner of this game will play the winner of Friday's late game between No. 3 Wisconsin and No. 14 Colgate at a time to be announced on Sunday.
LSU (22-11, 9-9 in SEC) will be under the direction of interim coach Kevin Nickelberry after the university fired both head coach Will Wade and associate head coach Bill Armstrong on Saturday.
"It's very similar," LSU senior Darius Days, whose was a part of the 2019 team that played without Wade, who was suspended for the SEC and NCAA Tournaments. "Last time Coach Wade didn't come back, but it's a very touchy situation. I miss him. Our coaching staff misses him. But we've got to continue doing what we've been doing our whole lives, playing basketball."
LSU's 20-4 on the year with a lineup that had seniors Darius Days at forward and Xavier Pinson at guard, with sophomore Mwani Wilkinson at forward and freshmen Brandon Murray at guard and center Efton Reid III.
The Tigers also have the SEC Sixth Man of the Year, Tari Eason, with a team leading 16.9 points per game and a 6.7 rebound average. Days is averaging 13.7 points and 7.7 rebounds a game, while both Pinson and Murray is 10.1 a contest.
"This week has been a little hectic, obviously, with the new changes in the staff, but I feel like everybody's doing their part to step up, all the assistant coaches, even the players, our leaders," Eason said. "We're just all doing our part to try to step up and try to fill that missing piece, like Darius said before, and Xavier. We miss them. We're just trying to all step up and rally together to make this a special run."
Iowa State enters with a 20-12 record, 7-11 in the Big 12. The Cyclones were 0-1 in the Big 12 Tournament and open the event No. 49 in the NCAA Net and No. 45 in Kenpom.com.
Iowa State is making its 21st NCAA Tournament appearance under first year head coach T. J. Otzelberger. He is one of four first-year head coaches nationally to lead his team to the tournament after taking over a team with a losing record.
Izaiah Brockington, the 6-4 senior guard, leads the Cyclones at 17.2 points per game and 7.1 rebounds, while freshman Tyrese Hunter averaged 10.8 points and 4.9 rebounds. Brockington is the Big 12 Newcomer of the Year while Hunter was the Big 12 Freshman of the Year.
"We have to move the basketball a little more tomorrow," Nickelberry said. "We tend to have played more isolation basketball in the past, but they're not going to let us do that as much. We're going to have to move bodies and move the ball and let the ball find shots tomorrow. For a team that they don't get as many steals as we do, but they get as many stops as we do, so we have to definitely play and have our best game of offense tomorrow to beat Iowa State."