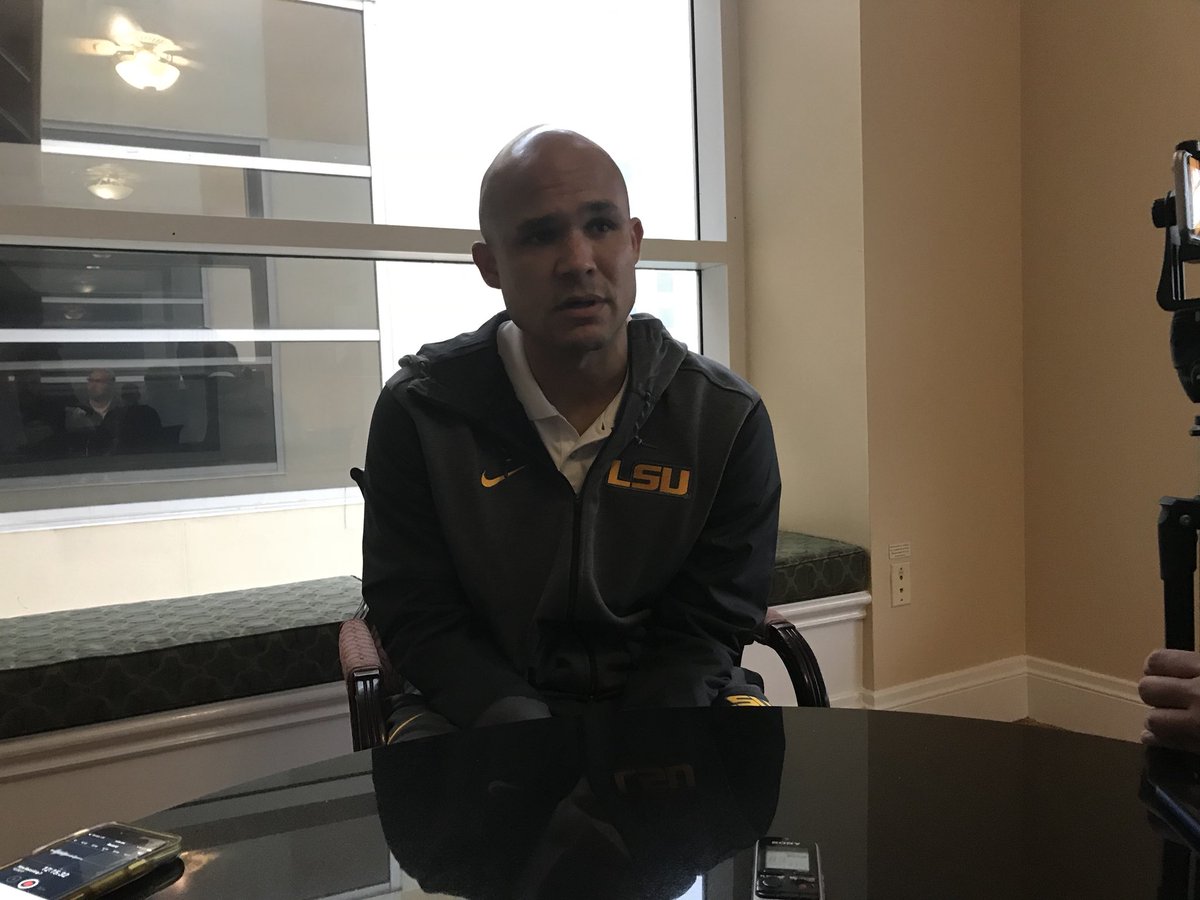 By JAMES MORAN | Tiger Rag Associate Editor
ORLANDO, Fla. — The news of the week surrounds his counterpart, but it's never a bad time to spend 10 minutes talking football with LSU defensive coordinator Dave Aranda. LSU's resident professor sat down with reporters ahead of a Citrus Bowl press conference Friday to go deep on the emergence of Devin White, Notre Dame's vaunted offensive line and how he likes to construct a front seven.
Q: Have you had a defense where you had to play so many young guys?
A: No.
Q: What's that been like?
A: I remember talking to Pete (Jenkins), and I feel like we were growing up in front of everybody. Just the maturity of running to the ball and maturity it takes to finish the play or finish a game. The maturity it takes to prepare for whoever you're playing regardless of who the opponent is. Those are all things that take maturity, and I feel like we've learned that throughout the year. We would all like, if we could, to go back and have that at the beginning of the year, but that was not the case. To learn from things throughout the year, I give a lot of credit to Coach O for that.
Q: Devin (White) has talked to us all year about how much he learned from you as far as watching film and preparedness. How much has he meant to this defense in terms of keeping everything together as guys went down?
A: Very important. I think there was a time when we were struggling on defense where maybe the preparation could have been better, and I think Devin really stood up and pulled people together. Maybe pulled people aside and held them accountable. So I give Devin a lot of credit for that. I have not been at places before where sophomores take that kind of role. He felt the need for it and he's emerged as a good leader for us. People respect him, and I think the best is yet to come because he has the will and inner drive to continue to get better.
Q: How did you two become so close? Again talking about watching film, he's said he didn't do that as much before.
A: It was throughout the meetings, and whenever you can find ways that you can improve — whether it's a simple technique or thought process, anything that can help them get better — there's a value to that communication and that coach-player relationship. And I think we found that right away with Devin and myself. I respect Devin because he wants to be the best and he holds himself to a high standard. He holds others to a high standard. He's always looking, and I'll always be there giving.
Q: What challenges does that Notre Dame offensive line present?
A: They're smart, they're tough and they're physical. They do a great job working off of looks pass-protection wise. They played Wake Forest, a field pressure team, and Notre Dame slid to the field to pick it up every time. They played Stanford, a boundary rush team, and they slid to the boundary to pick it up every time. They're very in-tuned. They game plan. They scheme. So that part pops off the film. The physicality of their blocks pop off the film. You see double teams and guys are driven off the ball. That's very apparent when you watch the tape. Then you watch the cohesion of everything. When you watch an offensive line, any time you see there's one-on-one blocks — let's say there's a combo block here but a one-on-one here — you don't see five guys in sync working as one. We'd look at that as a weakness. But when you've got five guys working in unison, that's very daunting. That shows up right away with these guys. They won the award for the best O-line. The other finalists were Auburn and Alabama. There's only one team that's going to play all of them, and we accept that challenge. We're looking forward to it.
Q: Do you relish these chances to take a month and study one opponent?
A: I do enjoy it. There's a part of me that says if that's all it could be, I'd be alright with that. But the other part, the realistic part of it, is when it gets to this time, it can be a little bit too long because you start being concerned with too many details. The challenge at this point is just to go out and play. This is the meat and potatoes, this is what they do. The other stuff, if they do it, we know about it and we can make an adjustment on the field.
Q: You guys made a concerted effort in recruiting to get more depth along both lines of scrimmage. How do you feel like you guys have addressed that?
A: Good, I'm excited about people coming in. I mean physical, big, explosive guys, and that's needed. And then I think we've got some edge rushers as well. You look at Travez Moore, you look at (Jarell) Cherry, guys that we can put on the edge that can set edges and win one-on-one pass rush. I feel like the depth of the D-line that we've had this year has been very apparent. When we've had depth, it's been very apparent as well. To build up our front was very important, and I give Coach O a lot of credit for that.
Q: Some coaches prefer big, physical guys while others like lighter, speedier guys. Which do you prefer in your front seven?
A: You build it inside out, so the guys that're inside are big, explosive people. Then once you move out, you get more speed and length on the outside. But on the inside it's got to be push and it's got to be knockback. It's got to be about explosiveness, and I think we've got some guys that fit that role. That's exactly what you want.
Q: We've heard Orgeron talk a lot about (Breiden) Fehoko and (Tyler) Shelvin. How do you see them fitting into your defense next year?
A: It's exciting. Breiden has a love of football. The guys are drawn to him. They love being around him. I remember being at Hawaii and Breiden's dad was Vili the Warrior. During all of our games at Hawaii, Vili would be out there doing all these chants and he'd be banging drums with war paint on him. Breiden was one of the boys that they had, and he'd be over there banging the drums with his dad with the paint on. Breiden would always come to our camps and he'd always sneak in with the older groups. They would crush him, man, he'd get whooped. At times he'd be in tears, but he always came back and he'd always call out the guy who whooped him in a one-on-one blocking drill or something like that. You notice that, man. You don't forget that stuff. So to have the opportunity to have Breiden back with us, when we have an early practice in the morning, Breiden does the Haka (a traditional war cry) for everyone and gets everyone woken up. His energy is infectious. He's a big, big difference maker.
Q: You guys have a hard cap at 25 signees for the 2018 class, but isn't it like having 27 with Breiden and Tyler?
A: That's right. Tyler, to answer your question, is that big, explosive athlete. Tyler came in and needed to get in shape, I think he's done that. I think Coach (Tommy) Moffitt and his guys have really taken Tyler to task to get him where he needs to be. His first step and his reaction time off of blocks are real special, and it's different from some of the guys that we've played with or seen on tape. He's a special athlete that way, so I'm excited. That front can be special.
Q: How do you balance speed on the outside with those big guys who can gum things up in the middle?
A: I think the inside people, the knockback that it takes, the use of hands and technique, you want big, explosive people that can do that. I look at what Greg Gilmore has done for us and the difference in the second half of the year of Ed Alexander and what he's done. You look at big people that're playing with technique and playing within the scheme, I think your run defense is surely aided when that's the case.