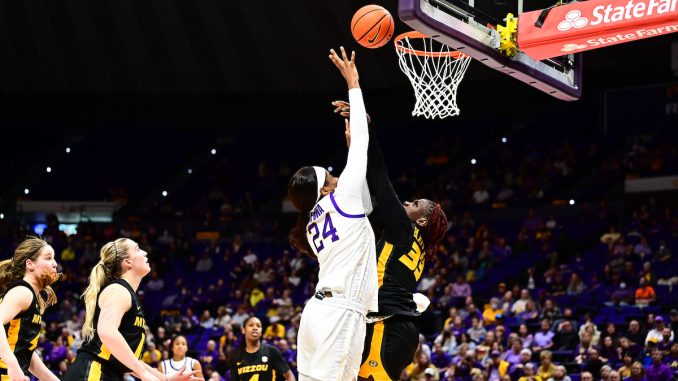 The No. 12-ranked LSU women's basketball team had to work overtime in order to defeat Missouri 87-85 on Thursday in the Pete Maravich Assembly Center.
Guard Khayla Pointer drove the lane for the game-winning shot with seven seconds remaining. Alexis Morris blocked a final shot attempt from Missouri (13-4, 2-2).
"I had enough confidence in myself to take the last shot and I wanted to win it for us," Pointer said. 
Both teams traded baskets in overtime for an 83-83 tie with one minute left. Morris redeemed her earlier miss by putting the Tigers up 85-83 with 50 seconds to play. On the following possession, LSU forced a Mizzou miss and foul but turned the ball over on the ensuing inbound play with 30 seconds left. After an LSU foul and two made free throws from Missouri, Pointer scored the go-ahead basket and Morris sealed the win with her block. 
"I love to watch young people compete," LSU Coach Kim Mulkey said. "Everything about the game tonight I loved. It wasn't an ugly game; It was a well played game."
LSU (16-2, 4-1 in SEC) led by 11 points at the end of the first half, but a three-point barrage from Missouri to start the second half brought the Tigers from Columbia within two points with 3:50 left in the third quarter. With tied at 79 with 16 seconds remaining, Alexis Morris missed the go-ahead bucket but the LSU defense stopped Missouri's Lauren Hansen's layup from ending the game, forcing overtime.
Pointer led LSU with 21 points with guard Jailin Cherry scoring 20 points with nine assists, and seven rebounds. Morris added 17 and Faustine Aifuwa followed her strong performance with a 15-point and 6-rebound night.
Lauren Hansen led Missouri in scoring with a line of 23 points, three rebounds, and three assists. Aijha Blackwell posted a double-double with her 26 points and 16 rebound performance.
LSU returns to the PMAC Sunday at noon against Vanderbilt. The game will be broadcast on SEC Network.