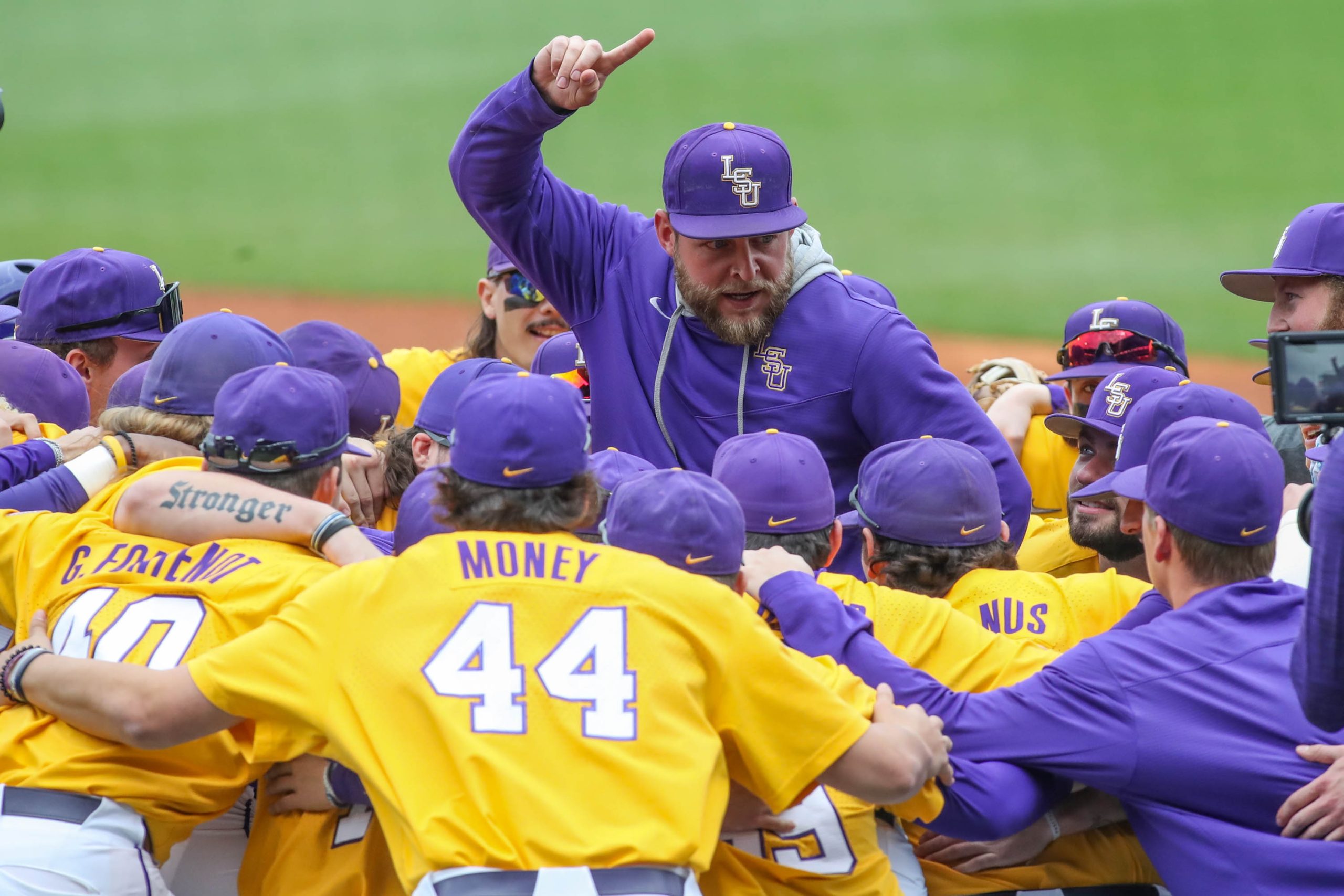 The sun was just peaking over the lip of Alex Box Stadium when Beau Dupaquier began his work in the parking lot.
Dupaquier, with the luxury afforded many an LSU upperclassman — or at least the smart ones — doesn't have class on Fridays, which made the senior from New Orleans an ideal barbeque pit master. The senior from New Orleans threw smoke on his first rack of ribs just after 8 a.m. on Feb. 18.
First pitch between LSU and Maine on Opening Night was at 6:30 p.m.
"People started showing up as they got out of class," Dupaquier said. "This is the first time we've done a tailgate. I was excited for the game and it's a way for us all to get back together."
Daniel Jones, a senior from San Antonio, Texas, joined Dupaquier later that afternoon. Dupaquier tended to the ribs and Jones handled the other essential items, pulled pork and macaroni and cheese, while the rest of the tailgate kept the beers cold.
The weather showed no sign of spring, but a sense of renewal was apparent. LSU fans, maybe crazier about baseball then even football, had a new roster to learn and coaching staff to dissect. The line to get in the stadium extended past the Gerry Lane Championship Plaza and to Gourrier Avenue hours before the gates opened.
"It's just an exciting time to be out here," Jones said. "I think we can at least get to Omaha and hopefully make a run at it. I think with a young coaching staff there's a lot of potential to build a solid program and get us back on track to winning championships."
LSU baseball coach Jay Johnson turned to longtime assistant Marc Wanaka while taking in his first experience at Alex Box. The differences between LSU and Arizona, Johnson's former school, were apparent. Johnson told Wanaka they'd have to speak up in the dugout to escape the crowd noise.
A crowd of 11,036 showed up for Johnson's debut. He caught the first pitch from Paul Mainieri, who was honored before the game.
"A lot of people asked how I was going to feel," Johnson said. "I was just trying to make sure the defense was set, but it was awesome. The environment was unbelievable and I had high expectations for it, but honestly our fans exceeded it."
LSU showed off pinstripe uniforms and a new lineup in the season opener. All-American Jacob Berry, the highly-touted Arizona transfer, batted second, sandwiched between sophomore Tre' Morgan at leadoff and sophomore Dylan Crews at the three-hole. Sophomore Cade Doughty hit in the cleanup spot ahead of junior Cade Beloso, while junior Gavin Dugas boosted the bottom half batting seventh.
Beloso hurt himself on opening night, the victim of an overzealous pregame celebration. Pinch hitter Brayden Jobert, a sophomore, took Beloso's place and sent single home run over center field for the first points of the season.
The prognosis wasn't good for Beloso, who Johnson said is "out for a while" with a knee injury.
LSU batted at a historic clip, setting a program record with 50 runs in the opening three games of the season. That's good company to keep, considering the previous mark of 45 was set by the 1996 team, the fan-favorite squad that made Warren Morris a Louisiana legend and won the third of Skip Bertman's five national championships.
The Tigers swept the three-game series from Maine. The final damage was 45 hits over the course of the weekend.
"We want to build a team here where all the players place the needs of the team above their own," Johnson said. "I like to work at putting players in spots to be successful, so it was good how things evolved but that's going to be how we do it. Sometimes that's how we're going to do it on the pitching side, and it was good to see that on the player side."
While the power in the lineup was as advertised, the discerning LSU fan, baseball literate as they are, kept any eye on the bullpen as the series progressed.
"I'm interested to see the pitching staff and how they've developed under the new coaching staff," Dupaquier said. "We know the bats are going to be there with Jay Johnson who's more of an offensive-minded guy."
No player better personified the changes in LSU's program than sophomore pitcher Blake Money, who started on opening night. Money, who was left off the postseason roster last year, transformed his body in the offseason. He worked with a nutritionist to change his eating habits, dropping over 40 lbs. after playing at 270 in 2021.
For one night at least, Money's stamina exceeded the preseason expectations Johnson set for the pitching staff. Money threw seven complete innings with 11 strikeouts, allowing just two hits, one walk and no runs.
With Money's confidence restored, to go along with his conditioning, he picked off Maine's Jordan Schulefand at first base to end the sixth inning. Money pumped his fest and celebrated back to the dugout.
"It's been a long time since I've picked someone off," Money said. "I just felt electric. When you do it at practice all the time you think, 'Is this really going to matter?' Yeah obviously. I thought the pitch that he walked on was a little close. I was a little irritated, so it felt good to get the out."
Senior right-hander Ma'Khail Hilliard, who transitioned from reliever to Sunday starter last season, handled the Saturday duties on opening weekend. Hilliard allowed four hits and five runs with two strikeouts in 4.0 innings.
Ty Floyd, a sophomore who impressed in the fall, went five innings in game 3, striking out eight batters while allowing just two hits and one run.
"I'm just proud of our players, they were ready to play this weekend," Johnson said. "It was clear that we were ready to go and face a team in a different uniform after all of the preseason work. Now we have to master our skill moving on, that's what this sport requires."