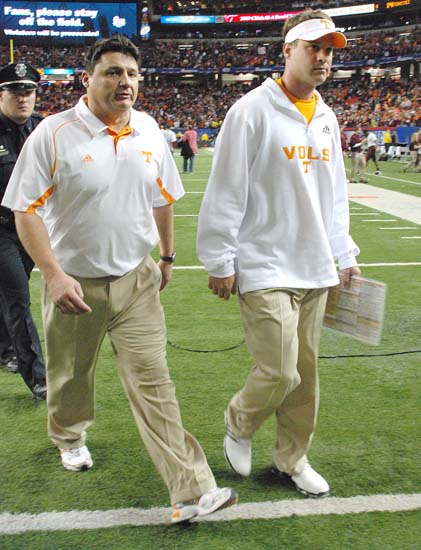 More often than not, job security and job vacancies work their way into the storyline when the paths of long-time coaching buddies Ed Orgeron and Lane Kiffin cross as they will again Saturday when Kiffin's Ole Miss Rebels host Orgeron's LSU Tigers in Oxford.
"We do have the utmost respect for each other," Orgeron said of Kiffin on his Monday Zoom media teleconference. "We know each other's strengths and weaknesses and we kind of fed off it when we coached together."
"We have a really good relationship," Kiffin said of Orgeron in his Monday press conference. "He's not a big talk on the phone kind of guy as you can imagine, but he actually texted me after their game on Saturday. He's an awesome guy and a phenomenal coach."
They have known each other since 2001, which is six jobs ago for the 46-year old Kiffin and five jobs ago for the 60-year old Orgeron.
Their relationship started when Kiffin and Orgeron coached together on Pete Carroll's USC staff from 2001 to 2004.
"Pete Carroll asked me a question," Orgeron said. "He said, `Eddie, I can hire an old experienced coach or a young go-get-'em coach who can help us in recruiting.' I said, `Why don't we get a guy who can help us in recruiting?'
"It was Lane Kiffin. He was a young coach who had been at Colorado State. I remember sitting in a recruiting meeting and I was the recruiting coordinator evaluating talent.
"I liked the guy (a recruit) and Lane didn't. He was right and he earned my respect from day one. We became very close. He was our out-of-state recruiter and he taught us how to recruit out-of-state.
"He was on the road recruiting seven days a week. He recruited a lot of first-round draft picks from New York to Florida. He's a tireless recruiter and a great evaluator of talent."
Orgeron left USC in 2005 to become Ole Miss' head coach for three seasons before he was fired at the end of the 2007 season. He landed a job as the New Orleans' Saints defensive line coach in 2008.
By that time, Kiffin had been head coach of the NFL's Oakland Raiders for 20 games before being fired after the first four games of the 2008 season.
Less than two months later, Kiffin was hired as Tennessee's head coach replacing the fired Phillip Fulmer. On New Year's Eve, he convinced Orgeron to leave the Saints to become Tennessee's recruiting coordinator, defensive line coach and associate head coach.
"I'll never forget when I went to Tennessee," Orgeron said, "he (Kiffin) said `I'm going to treat you like an assistant head coach' and he actually did. He gave me a lot of responsibility. We worked well together."
After one season at Tennessee, Kiffin became USC's head coach in 2010 and took Orgeron with him. They were in their fourth season at USC together in 2013 when Kiffin was fired after four games.
Orgeron was named interim coach and went 6-2 but was emotionally devastated when he wasn't named USC's head coach.
About that time, Kiffin was named Alabama's offensive coordinator as he was tasked by head coach Nick Saban to modernize the Tide's offense. He lasted three seasons before he began hunting for a head coaching job in November 2016.
By that time, Orgeron had served as LSU's interim coach that season and was named head coach after he sold then-athletic director Joe Alleva that he could hire Kiffin as his offensive coordinator.
"He told me he was coming to LSU unless he got a head (coaching) job, which is what he wanted," Orgeron said of Kiffin. "I didn't think he'd take the Florida Atlantic (head coach) job.
"He called and said to me, 'Hey man, I'm coming. I've got one more meeting. I'm just going to listen to them.' Then, he took the job."
Now, as the 5-1 Rebels and 4-3 Tigers meet for the 110th time, Kiffin's and Orgeron's careers are heading in different directions.
On Sunday, it was announced Orgeron had accepted a $16.9 million buyout and will be terminated whenever LSU's 2021 season ends.
"Ed did a great job there and won a national championship (in 2019), so I'm not really sure what happened there as of late," Kiffin said. "It's crazy because they just beat a really good Florida team (49-42), and I'm sure not a lot of people really gave him a chance after the Kentucky game (a 42-21 loss).
"This is the profession that we've always been in, but now more than ever it's not as much what have you done in the last year but rather what have you done this Saturday."
Last season when Orgeron and Kiffin met in Tiger Stadium for the first time as head coaching adversaries, LSU and Ole Miss combined for 101 points, 54 first downs and 1,151 yards total offense in a 53-48 Tigers' win.
Orgeron would prefer not to get in another shootout with Ole Miss but knows he's facing a brilliant offensive mind. The Rebels are ranked No. 3 nationally in total offense averaging 553 yards per game and are No. 5 in scoring at 43.7 points per game.
"The game is in slow motion for Lane on the sideline," Orgeron said. "He can see all 22 (players) at one time, much like (former LSU defensive coordinator) Dave Aranda could for us. I watch the line, because I'm a line guy, some guys watch the defensive backs.
"Lane watches all 22 at one time, and can tell what they're doing. He can change plays on the line of scrimmage. You'd see him at Alabama, whistling, changing the plays. He played quarterback, he knows what to do with the football. He understands both sides of the football, so I think his gameday calling, his preparation and his recruiting are excellent."