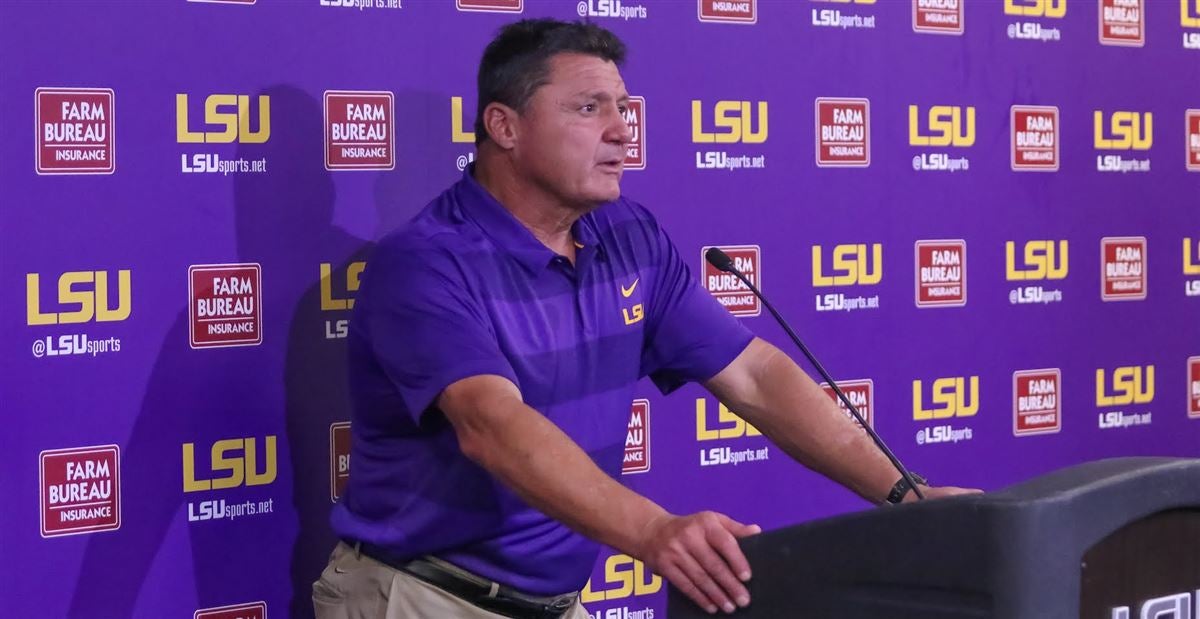 Injuries have been a central theme for LSU throughout camp, but Ed Orgeron expects all of his banged-up players back when the Tigers begin game-week preparations for Georgia Southern next week.
Stars like Joe Burrow, Grant Delpit, K'Lavon Chaisson and Kristian Fulton all missed time earlier in camp and have since returned. Players have been in and out along both the offensive and defensive lines, but aside from Kardell Thomas (surgery), they're all expected back by next week.

"We've had a lot of guys come back from some minor injuries," Orgeron said at his post-practice presser on Wednesday. "The team looked a lot better today with all these guys being back. I thought we had one of our best practices today."
The absentee list from the media viewing portion of Wednesday's practice included defensive linemen Breiden Fehoko and Tyler Shelvin, offensive lineman Chasen Hines and tight end Stephen Sullivan.
All of the above are dealing with minor camp injuries, per Orgeron, and shouldn't be out more than a couple more days.
As for the guys who've come back, Apu Ika was a full participant for the first time this week. Starting right guard Damien Lewis returned to practice after being out for a few days.
"He looked pretty good," Orgeron said of Lewis. "Today was his first full-speed work. He looked pretty good. It was good to have him back in."
DONTE STARKS UPDATE
Linebacker Donte Starks was the only member of LSU's signing class who didn't report to fall camp, but the four-star signee tweeted earlier this week that he'd received good news on the eligibility front.
Asked about Starks, Orgeron shared that the freshman linebacker has made progress on gaining academic clearance, but isn't out of the woods yet.
"He's doing some work," Orgeron said. "He's very close, but he's not eligible yet. But things are looking up and he might be eligible by the time school starts hopefully. It's going to be down to the wire."
The fall semester at LSU begins on Monday.
PERSONNEL NUGGETS
– Many of LSU's position battles will come down to the wire, per Orgeron, but Todd Harris has established himself as the third safety behind Grant Delpit and JaCoby Stevens. "He's a starter for us," the coach said.
– Tight ends Stephen Sullivan and Thaddeus Moss have both had strong camps in Orgeron's estimation. They're still battling for the starting job. Moss in particular has impressed coaches with his improved physicality.
– Orgeron once again singled out Damone Clark as a player to watch at inside linebacker. Clark is battling for playing time with Jacob Phillips and Patrick Queen.
– Badara Traore has impressed the staff with his fill-in work at guard while other players were absent. He'd be the next lineman in at either tackle or guard at this point, according to Orgeron. Chasen Hines has been in and out of practice all camp.
– Freshman tight end Ray Parker has been working with the defensive line in practice this week. Orgeron said the rookie asked to move after a stint with the scout team defense, and LSU is allowing him to give defense a try.