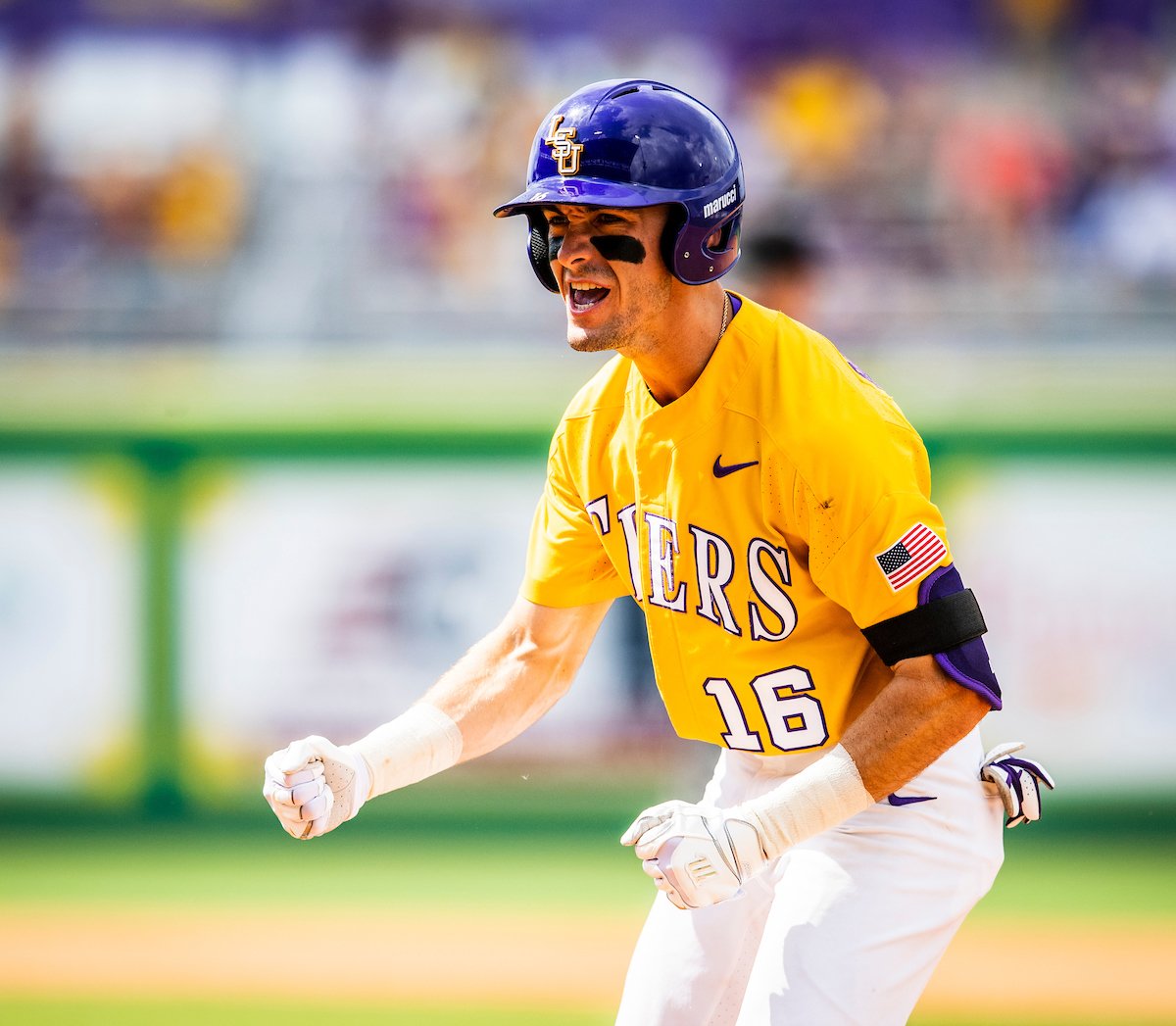 LSU hopes to have two key contributors back in the fold by the time it begins the Baton Rouge Regional against Stony Brook on Friday night.
Second baseman Brandt Broussard left LSU's win over Mississippi State due to elbow discomfort and didn't play against Vanderbilt.
LSU has diagnosed the injury as a "muscular in nature," according to LSU coach Paul Mainieri, which opens the door to a potential return this weekend. Broussard was LSU's starting second baseman for most of the stretch run.
"Yes I think there's a chance (he could play)," Mainieri said Monday. "The trainer told me that he thought it was muscular in nature. So if it's muscular, a few days of rehabilitation should make it better. I'm hoping he could play."
It's also possible that Trent Vietmeier could be available out of the bullpen. The sophomore had been one of LSU's often-used relievers before suffering a shoulder injury against Arkansas on May 10.
Mainieri said early last week that it was unlikely the right-hander would pitch again this season, but LSU has hope after Vietmeier made progress behind the scenes in Hoover last week.
"He's been playing catch the whole weekend in Hoover," Mainieri said. "He was on a schedule and you wouldn't know that he had the diagnosis that he had. That leads me to believe it was a previous injury that had occurred because if you had a fresh injury he wouldn't have been able to do the throwing. We'll see how this week progresses and make a decision by Thursday."
However there isn't any real update on the status of freshman right-hander Jaden Hill, who had a setback during the final weekend of the regular season. Mainieri said he doubts he'll return this weekend.
"LET'S GO WIN IT"
Antoine Duplantis will get at least one more weekend at Alex Box Stadium before he calls it a career at LSU, and it figures to be a historic one.
The senior right fielder begins the NCAA Tournament four hit away from breaking the all-time LSU record (352) held by Eddy Furniss.
Neither fact is at the forefront of Duplantis' mind as he prepares to help LSU advance beyond the Baton Rouge Regional.
Mainieri revealed that he sent Duplantis a text message Sunday night bringing up that his star outfielder will have at least one more home weekend. The response he got: "Let's go win it."
"He was talking to me in Hoover making sure I wasn't too focused on records or all those other things," Duplantis said. "I assured him that obviously I know about it, but I'm going out there and playing to win. That's how I want to go out and that's how I want my career to end at LSU."
Duplantis has never put too much emphasis publicly on his personal pursuit. In his mind, he takes the same approach every at-bat, and whether or not that leads to hits is somewhat out of his control. He just does his job and lets the ball fall where it may.
"It almost feels like there's no pressure because I know I can't control it," Duplantis said. "I can only control going out and play. If it happens, it happens."
Of course Duplantis hitting and LSU winning games aren't mutually exclusive. As Mainieri pointed out, it would be quite difficult for LSU to survive the regional if its best hitter doesn't get at least four hits this weekend.
"I'm going to go out on a limb," Mainieri said. "If we're lucky enough to win this regional, Antoine Duplantis will have at least four hits this weekend. If he doesn't get at least four hits, I don't think we have a chance to win. He's just that important to our team."
AWARDS SZN
As is tradition, LSU handed out two postseason awards prior to the NCAA Tournament Selection Show on Monday morning.
Zack Hess received the Wally Pontiff Jr. Scholar-Athlete Award. Pontiff was an all-SEC third baseman at LSU who played for the Tigers from 2000-02 and died tragically in 2002 due to a heart abnormality.
Duplantis received the Skip Bertman Award, which goes to the player who best exemplifies the spirit of the LSU Baseball program.
Bertman himself presented the two awards. The legendary coach led LSU to five national championships and 11 College World Series appearances during his tenure from 1984-2001.
Photo courtesy of LSU Sports Information