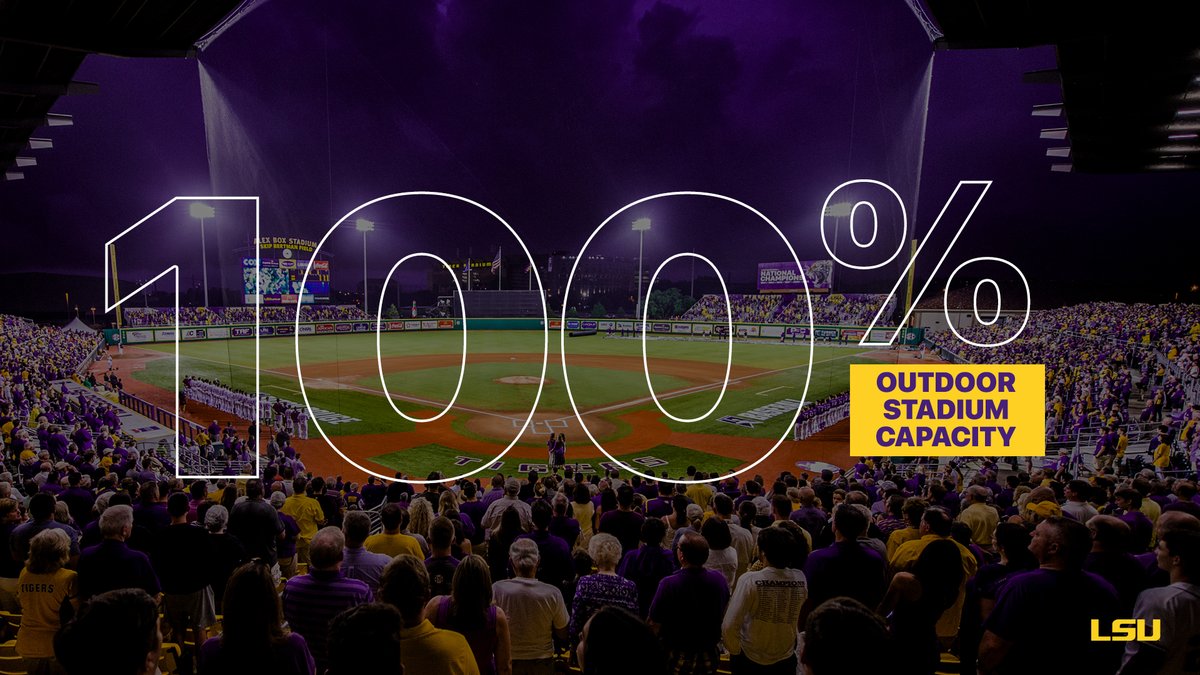 Last weekend when LSU won its baseball series at Ole Miss before a packed Swayze Field because of no COVID-19 restrictions from the state of Mississippi, it was the first true taste of a full-blown SEC weekend atmosphere for the Tigers.
"It felt like normal life in the SEC to be at a ballpark where fans were reacting to plays and there was noise," LSU coach Paul Mainieri said. "It was really exciting. It's been so long since we've experienced that."
Now, with No. 1 ranked Arkansas visiting the Tigers in a three-game series starting Friday night in Alex Box Stadium, Louisiana Governor John Bel Edwards has lifted the COVID-19 crowd constraints with full capacity allowed and no masks required.
"It's 100 percent now and it's going to be packed," said LSU freshman right fielder Dylan Crews, who's fifth in the SEC in hitting with .358. "I'll get better treatment than I did at Ole Miss. They killed me for sure."
The Tigers (25-15 overall, 6-12 SEC) are hoping they can give the home crowd something to cheer about. LSU is 2-7 at home in league play and hasn't won an SEC home series this season.
Arkansas (32-7, 13-5 SEC) have won all six of its conference series. Now, they come to Baton Rouge where they haven't won a series over LSU since 2004. LSU is 16-5 at home against the Hogs since then, winning seven straight series in Alex Box.
"It's been a tough place for us, a tough place to win a series," Arkansas coach Dave Van Horn said. "I think with this team, we have a chance to win a series anywhere we go."
LSU starting pitchers Landon Marceaux (game one), AL Labas (game two) and to-be-determined game three starter will be challenged to keep their pitches from leaving the stadium.
Arkansas leads the nation in home runs with 74. The Razorbacks are No. 1 in the SEC in runs scored (319) and in on-base percentage (.405). Arkansas is No. 6 in the SEC in team batting average (.280).
Razorbacks' infielder Matt Goodheart is hitting .325 with a team-high 11 homers and 27 RBIs. Infielder Brady Slavens has 10 homers, and he is No. 2 in the SEC with 47 RBIs.
"In years gone by, I felt strategically I coached against a clone," Mainieri said of Van Horn. "He used to love to hit and run a lot, and steal bases. We used to match wits a lot.
"Now, I think he plays for the long ball, they hit a bunch of home runs. His pitchers strike everybody out. He stands there like a potted plant and just lets his athletes do everything."
LSU is No. 3 in the nation (tied with Southern Illinois) in home runs with 60. Last weekend at Ole Miss, the Tigers batted.319 (37-for-116), outhit the Rebels 37-33 and outscored them 21-16.
LSU enters the month of May needing to win as much as possible just to qualify to play in the SEC tournament. The top 12 of 14 league teams qualify and LSU is currently in 11th place in the league with 12 SEC games left.
The Tigers, who have a No. 24 RPI in Thursday's updated official NCAA rankings, are currently ranked No. 1 in strength of schedule. Arkansas represents the sixth top 10 team LSU has faced in the last seven SEC weekend series.
PITCHING MATCHUPS
Game 1 Friday, 6 p.m. SEC Network
LSU – Jr. RH Landon Marceaux (4-3, 2.10 ERA, 60.0 IP, 13 BB, 72 SO)
UA – Jr. RH Patrick Wicklander (2-1, 2.20 ERA, 41.0 IP, 14 BB, 44 SO)
Game 2 Saturday, 6:30 p.m., SEC Network+
LSU – Jr. RH AJ Labas (3-0, 3.15 ERA, 60.0 IP, 10 BB, 56 SO)
UA – So. RH Peyton Pallette (1-2, 3.98 ERA, 43.0 IP, 16 BB, 56 SO)
Game 3 Sunday, 2 p.m., SEC Network+
LSU – TBA
UA – TBA