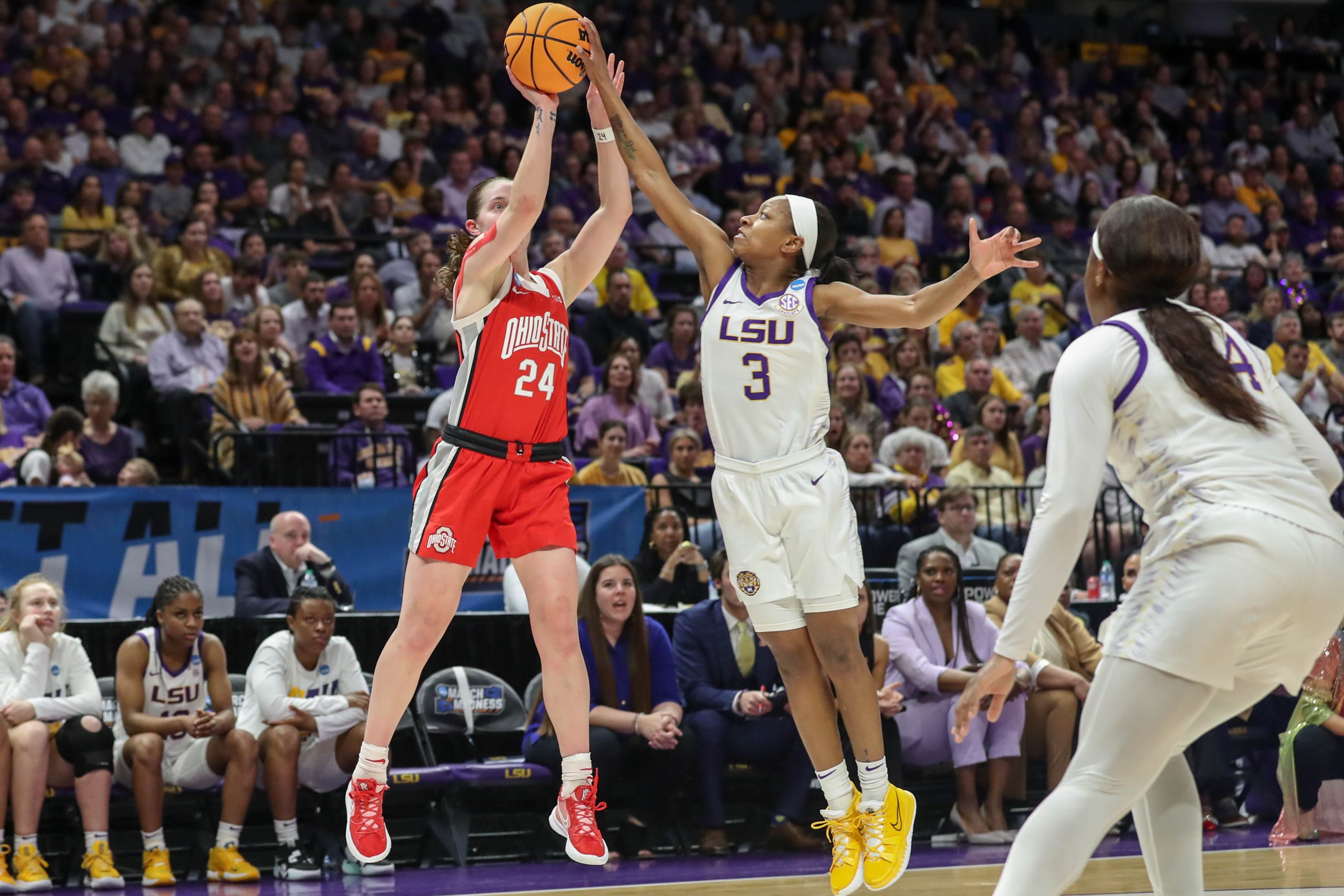 Ohio State women's basketball coach Kevin McGuff could see the basket coming before Jacy Sheldon got to her spot on the floor.
Sheldon, a first team All-Big Conference performer, cleared a pair of LSU defenders, and before she set her feet for a 3-point attempt near the team's bench, McGuff already had his arm in the air.
Sheldon reaffirmed her coach's faith in her ability, knocking down the shot during a late third-quarter surge that lifted No. 6 Ohio State to a commanding 24-point lead en route to a 79-64 victory Monday over No. 3 LSU in the second round of the NCAA tournament before a crowd of 8,135 at the Pete Maravich Assembly Center.
"We just couldn't put the ball in the hole," LSU graduate senior Khayla Pointer said. "And we were still in the game, though. But it put so much more pressure on your defense when you can't score. And not only we were not scoring, when we were scoring we were trading threes for twos."
Sheldon, who scored a team-high 23 points, added a second straight 3-pointer during that sequence that led to LSU's biggest deficit of the season (57-33) and made thoughts of a comeback futile.
Ohio State (25-6), co-champions of the Big 10 Conference, advanced Friday's Sweet 16 against No. 2 Texas in Spokane on Friday.
"Well, they're good," LSU first-year coach Kim Mulkey said. "You know, they're good. They have experience. They have players that have gone to, you know, the next level in the playoffs. You know, they have transfers in there. Kind of just give 'em their due. Kevin's (McGuff) a good coach. They just had poise about them."
LSU (26-6) was gunning for its first Sweet 16 since 2014.
The game represented the final appearance for five seniors who were part of creating a resurgence in the Tigers' program which enjoyed their most successful season since 2007-08.
Pointer led all scorers with 32 points, while fellow graduate student guard Jailin Cherry added 12. Pointer struggled from the field, making 12 of 30 shots – a school record for number of attempts in a game – while guard Ryann Payne added eight.
LSU's inside game of graduate senior Faustine Aifuwa, senior Autumn Newby, senior Awa Trasi and sophomore Hannah Gusters managed just 4 of 11 shooting and nine points.
LSU was limited to just 36.7 percent (25 of 68) shooting and their troubles were compounded at the free throw line by 54 percent (12 of 22) shooting.
"A lot of things," Mulkey said of her team's slow start. "Lay-ups – missed lay-ups. Missed free throws. Point blank range shots. You got to make those. You have to make 'em. It wasn't like we weren't trying. It wasn't like we weren't getting good looks. It just happens. I said in order for us to win this game, a third player for Ohio State can't have a good game. And a third player did. We had our hands full."
Ohio State, which shot 48.2 percent (28 of 58) overall, was particularly deadly from 3-point range at 45.5 percent (10 of 22). Taylor Mikesell, another first team All-Big 10 Conference performer, scored 18 points on the strength of 4 of 7 shooting from behind the arc and Rebecca Mikulasikova added 12.
"It's tough to play in but it's also the most fun to play in, Sheldon said of LSU. "Especially for competitors,
it's what you look forward to. And I think everything involved, it was a lot of fun."
Fueled by Pointer, LSU made one valiant run at Ohio State in the fourth quarter and cut the Buckeyes' 24-point lead to 11 (74-63) with 2:37 left on Awa Trasi's basket.
It was the closest LSU had been since trailing 36-26 at halftime and the next two possessions from the Tigers to get the game to single digits ended in missed shots from Payne and Cherry with less than 1:30 to play.
Ohio State's defense began taking its toll on LSU from the midway point of the first quarter and never relented. The Buckeyes, who took the lead for good at the 3:28 mark on Sheldon's steal and drive, scored eight points off seven turnovers and wound up with the final 11 points of the quarter for a 15-8 edge – a season-low for the Tigers.
The Buckeyes made four straight 3-pointers over the first six minutes of the second quarter with Mikulasikova knocking down a pair of 3s and Rikki Harris adding another for a 29-20 lead with 4:33 remaining until halftime.
Cherry hit a pair of jump shots and Pointer added a drive with 2:26 showing but LSU, which shot 33.3 percent (11 of 33), didn't score again and OSU added its sixth 3-pointer of the quarter, the last from Braxtin Miller for a 34-26 halftime cushion. It was the Tigers second-fewest points in the first half this year.
"Well, we wanted to go inside, and we did go inside and missed point blank range shots, but we kept going in there," Mulkey said. "We just we just missed 'em. That's the way it goes. That's how
basketball is, you know."