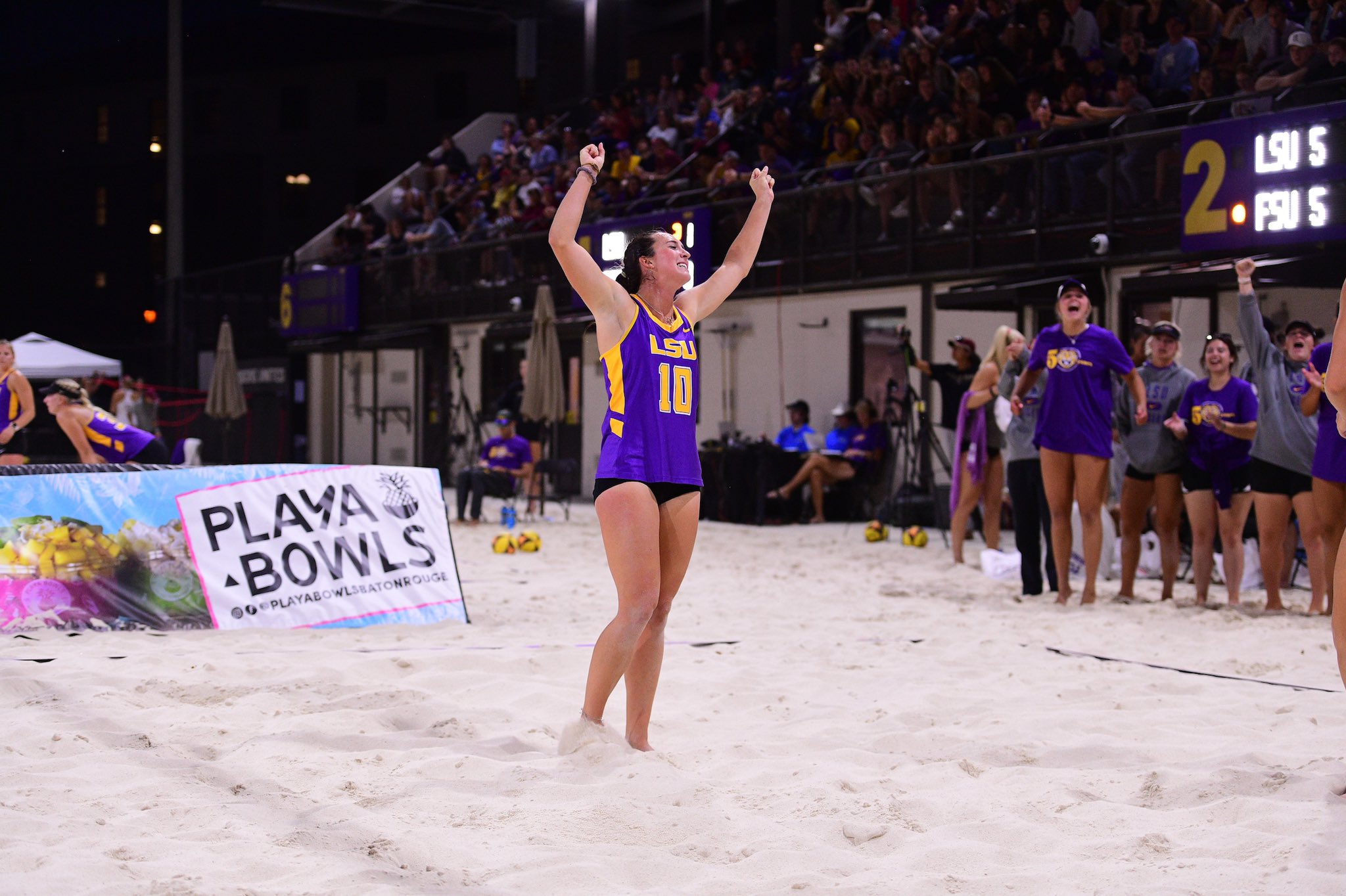 The No. 6 ranked LSU beach volleyball team won two out of three of their matches Saturday at the LSU Beach Invitational at LSU Beach Volleyball Stadium.
LSU (18-3) won 5-0 against both Tampa and ULM, but were unable to beat No. 4 FSU, losing 3-2.
"Such a fun environment," LSU beach volleyball coach Russell Brock said. "Really proud of how we battled and proud of LSU fans for showing up. The energy was incredible. Overall, two wins, so it was a good day. We obviously want to win that last match, but they are a good team and they played well."
LSU plays two more matches on Sunday against No. 2 TCU at 10 a.m. CT and then finish the weekend against HBU at 3 p.m.
Varsity Sports Now will stream all LSU matches on its website Fans interested in watching the Tigers on VSN can purchase a subscription and watch the stream at the following link: https://www.varsitysportsnow.com/lsu-beach-volleyball-games .
LSU got the day started against Tampa, winning 5-0. The Court 4 pair of Grace Seits and Parker Bracken lost the first set, 21-19, but bounced back and won the next two, 21-8 and 15-4. On Court 5, Ellie Shank and Sierra Caffo won easily, 21-13 and 21-9.
The Court 1 duo of Ashlyn Rasnick-Pope and Bella Bauman won 21-18 and 21-16. On Court 2, Reilly Allred and Holly Carlton won 21-14 and 21-18. To complete the 5-0 victory, the Court 3 pair of Kelli Greene-Agnew and Kylie Deberg won 21-19 and 21-14.
The second match of the day for the Tigers was 5-0 sweep over ULM. On Court 4, Shank and Caffo won easily, 21-9 and 21-10. The Court 5 duo of Allison Coens and Lara Boos won, 21-17 and 21-19.
On Court 1, Rasnick-Pope and Bauman won convincingly, 21-15 and 21-9. The Court 2 pair of Greene-Agnew and Deberg won 21-13 and 21-11. On Court 3, Melia Lindner and Ella Larkin picked up a victory in the duos first action of the season, winning 21-10 and 21-11 to secure the sweep.
The day ended under the lights as No. 6 LSU battled No. 4 FSU down to the final set, with the Tigers eventually losing, 3-2. They were able to get wins on Court 5 from Shank and Caffo, 15-21, 21-15, 15-13 and Greene-Agnew-DeBerg 21-12.