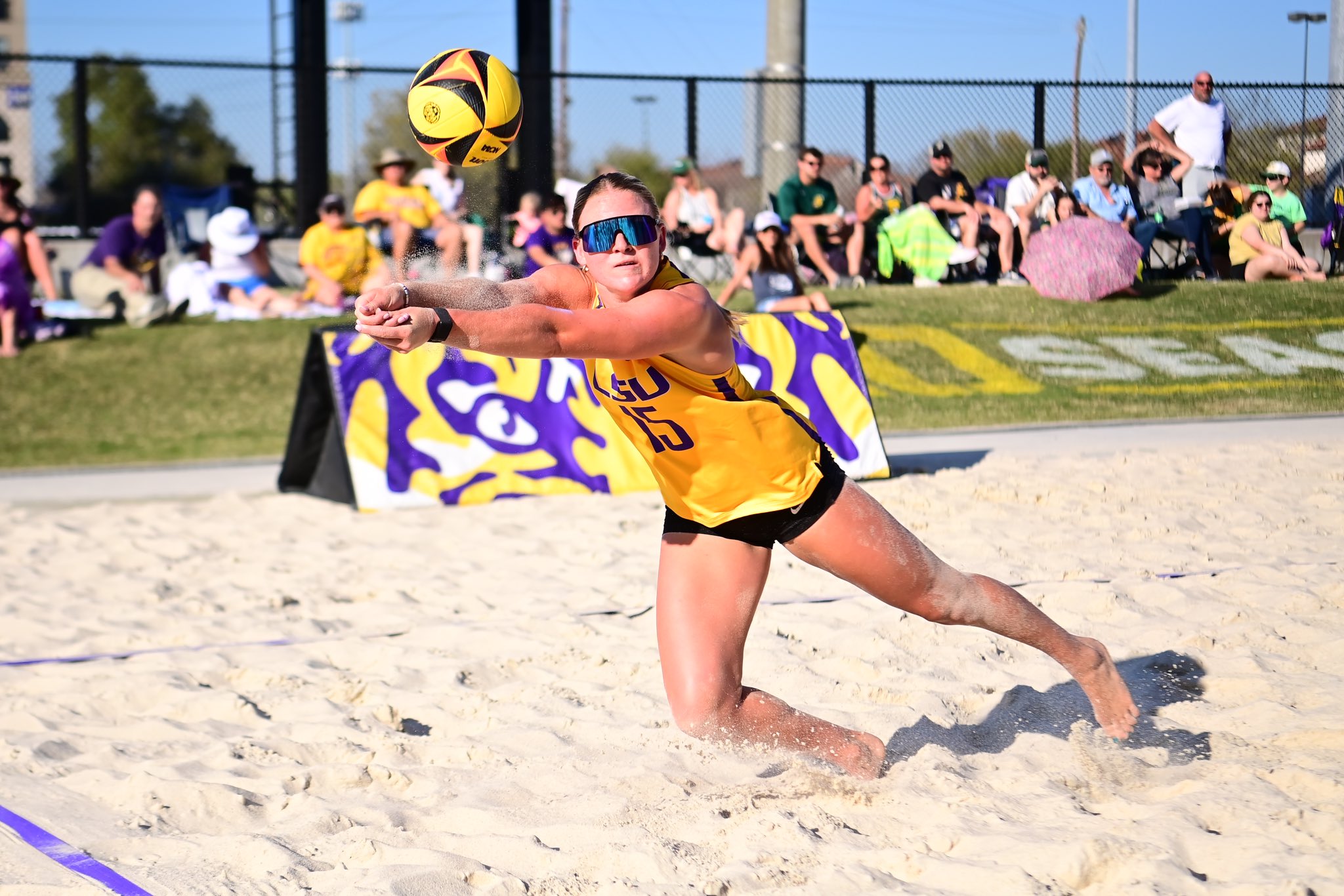 The fifth-ranked LSU beach volleyball team won both matches Sunday to go 5-0 in the Tiger Beach Challenge.
"Good weekend at home," LSU beach volleyball coach Russell Brock. "Really everything we could hope for. Perfect weather, good crowds, solid competition. Playing 5 matches over two days and having a roster that could continue to contribute to the success with different lineups is a really important component of navigating the season. We were tested enough to learn more about who we are and did a great job responding to those challenges."
The sweep of North Alabama and Southeastern Louisiana led LSU to a 5-0 on the weekend and 9-0 overall.
"Next weekend will be a whole new test against a great TCU team," Brock said. "We will do everything we can to be ready and I'm excited to see how we match up. There's no doubt that they are one of the best teams in the country, so to play against them at their place will be an important measuring stick for where we are in the process of getting where we want to go."
LSU travels to TCU next weekend for the Horned Frog Challenge on Friday and Saturday. The Tigers will take on Southern Mississippi, Texas A&M Kingsville and No. 3 TCU twice before heading home.
LSU 5, North Alabama 0
Kylie DeBerg/Ellie Shank (LSU) def. Paula Klemperer/Taylor Seney (487) 21-14, 18-21, 15-7
Grace Seits/Parker Bracken (LSU) def. Mackenzie Martin/Katy Floyd (487) 21-13, 21-19
Hannah Brister/Reilly Allred (LSU) def. Selma Robinson/Martha McLaurin (487) 21-15, 21-13
Lara Boos/Ella Larkin (LSU) def. Nati Kordt/Jelena Girod (487) 21-15, 21-11
Amber Haynes/Cassidy Chambers (LSU) def. Kati Anderson/Abby Robertson (487) 21-19, 21-14
LSU 5, SLU 0
Kylie DeBerg/Ellie Shank (LSU) def. Mia McKinney/Jolie Hidalgo (SLU) 21-14, 21-19
Grace Seits/Parker Bracken (LSU) def. Eryn Wilks/Jackie McGee (SLU) 21-11, 21-15
Ella Larkin/Lara Boos (LSU) def. Lauren Schlotzhauer/Meagan Scuderi (SLU) 21-14, 21-12
Cassidy Chambers/Amber Haynes (LSU) def. Alexis Logarbo/Carley Petty (SLU) 21-11, 21-16
Brooke Bluetreich/Melia Lindner (LSU) def. Mabry Ward/Ysabella Lockwood (SLU) 23-21, 21-13