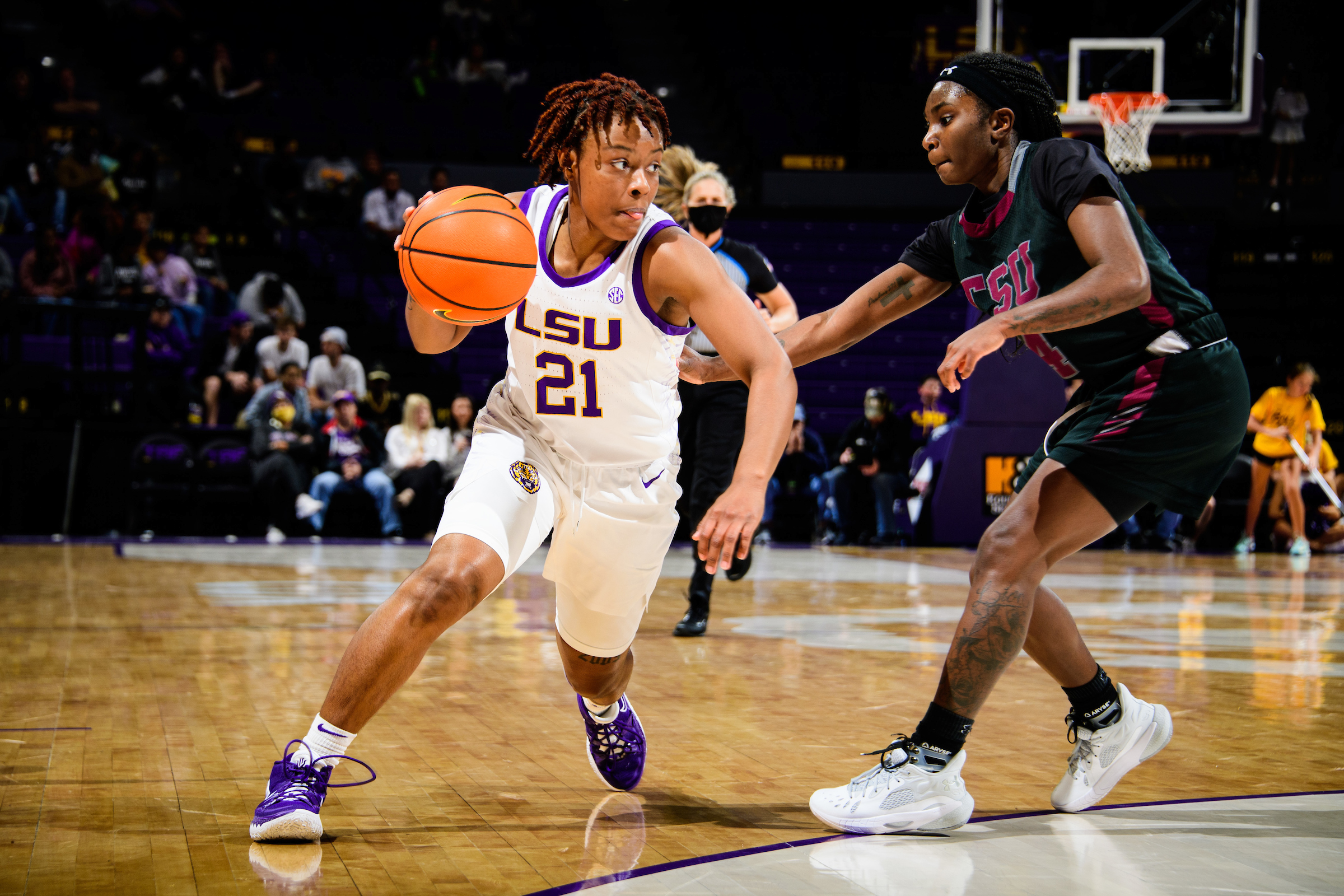 They carried their running block/charge debate from the 1983 national championship game over to the start of Sunday's non-conference game between their two teams.
When LSU's Kim Mulkey and Cynthia Cooper-Dyke of Texas Southern met before the start of the game, they reprised one of the turning points from the college playing days, specifically the final game between Cooper's USC team and Mulkey's Louisiana Tech squad.
Mulkey, with hands on hips, acted out a blocking foul call, while Cooper-Dyke indicated a charge call which was the case against Mulkey in a game USC won, 69-67.
"It was a charge because that's the what the official called," Cooper-Dyke opened her postgame news conference with after LSU's 96-55 victory. "I took the first charge of my career. Maybe, it may have been a block."
Thirty-eight years later there was no debate about the outcome of LSU's first game in 10 days following a break for final exams. The No. 24 Tigers (7-1) shook off some early rust and after leading 18-16 through the first quarter, caught fire midway through the second quarter to post their sixth straight victory before a crowd of 6,072 at the Pete Maravich Assembly Center.
Three players scored in double figures, led by center Faustine Aifuwa's 14 points on 7 of 9 shooting, followed by guard Khayla Pointer's 13 and fellow guard Alex Morris' 11.
The Tigers emptied their bench in the last four minutes of the third quarter and had all 13 of their players score at least two points. Guard Timia Ware and center Hannah Gusters scored nine apiece, while guard Ryann Payne and freshman forwards Amani Bartlett and Grace Hall each had eight.
Ware played a game-high 23 minutes for a team that didn't have to play guard Jailin Cherry, whose MRI results were negative after taking a spill in a 69-60 win against Iowa State on Dec. 2.
"You somewhat expect it," Mulkey said of the lull her team experienced after exams. "I've been doing this a long time and when you have a long period of being off, it takes you out of sync."
LSU led Texas Southern 15-8 on the strength of a 7-0 run more than midway through the first quarter when the visiting Tigers (0-6) responded with an 8-0 run of their own for their only lead (16-15) of the game with 1:34 left in the opening quarter.
LSU, which took an 18-16 lead at the end of the quarter, shot 42 percent and turned the ball over five times.
"We came out a little slow," Bartlett said. "We got the energy going toward the second half. We came out a little slow. We picked it up at the end."
It wasn't the collective 13-0 spurt that bridged the end of the first with the second quarter that gave LSU a sense of comfort against Texas Southern. The Tigers turned a 31-21 lead into a comfortable 49-24 halftime lead with an 18-3 blitz, including the final eight points of the quarter, with Pointer converting a steal into a layup, only her second basket of the game, with 12 seconds left.
Payne handled the point guard position to perfection, serving mainly as a facilitator (team-high seven assists) for a team that forced seven turnovers and shot 68 percent (13 of 18) in the quarter.
Aifuwa scored eight of her 10 first-half points in the second quarter, extending range out to 15 feet on a couple of baskets, the first of which ignited LSU's big surge over the last 3:42 of play. The Tigers, which had three 3-pointers in the quarter, got back-to-back trifectas from Pointer and Morris to increase their lead to 39-21 with 2:26 left.
LSU's 8-0 finish to second quarter ballooned into a 21-0 run – taking into account the first 3 ½ minutes of the third quarter – for a commanding 62-24 lead on Payne's fastbreak layup at the 6:47 mark.
A 3-pointer from TSU's Shalexxus Aaron momentarily stopped the run, but with LSU playing with its starters for another two minutes the Tigers increased their lead to 40 points (69-29) on a pair of baskets from Aifuwa, another from Gusters and a free throw from Pointer.
At that point Mulkey had her top eight players resting comfortably on the bench at the 4:08 mark of the third quarter with a 69-29 cushion.
"Let them feel something positive," Mulkey said of her bench which outscored TSU's 48-18. "Let them feel success, so you stay out there. Everybody played half a ball game today. They all scored. When that happens how can you not be happy for every one of them."
LSU's reserves never allowed the lead to dip below 35 points and in fact, they were able to deliver some highlight moments such as Ware's no-look pass over her shoulder to a trailing Ajae Petty for a layup and 77-36 lead at the end of the third quarter.
A pair of true freshmen, Bartlett and Grace Hall, both had career highs with eight points apiece with Hall scoring all of her points during the final quarter, including the first two 3-pointers of her career.
Ware gave the Tigers, who shot 62 percent (46 of 58), had a season-high 26y assists and held a 48-20 rebound edge, their biggest lead of the game (86-42) with a second-chance basket with 6:03 remaining showing, giving Mulkey the opportunity later to take a good-natured jab at Cooper over the charge call against her almost 38 years later.
"I asked her today if that official was her relative or from the West Coast," she said with a smile. "No one ever answered that."