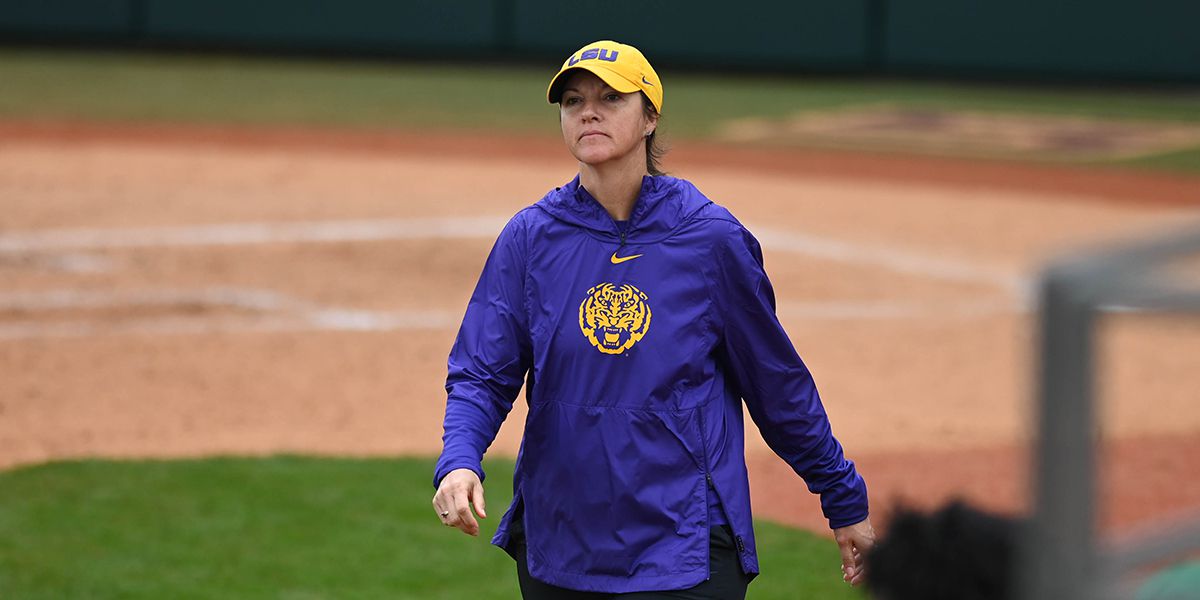 LSU softball coach Beth Torina believes the timing for a bit of a respite was good.
Considering her No. 21 Tigers (17-6) are hosting No. 2 Alabama (20-0) in a three-game series to begin Southeastern Conference play Saturday, Torina agreed not having to prepare for and play midweek games was well timed.
"It feels like the first time we can breathe all year, honestly, just the scouting of one team versus five," Torina said. "Yeah, it's a fifth of the work right to try to prepare for this weekend. Maybe not quite a fifth because obviously we have more information about Alabama than we would about some of our other opponents. But it's nice not having a midweek game. I always try to not have one this week so that we can kind of reset."
The start of the 2022 season has been a whirlwind for LSU which has played a minimum of five games a week, either hosting to traveling to face some of the nation's top teams in preparation for the next eight weeks of conference play which in this case, because of weather, was extended a day.
LSU faces Alabama in a doubleheader at Tiger Park Saturday beginning at 1 p.m. and hosts the Tide on Sunday at 2 p.m. to finish the series which will be streamed by SEC Network+ and broadcast locally over 107.3-FM.
For the first time in three years LSU, which has won 12 of its last 13 games, hosts Alabama which has elevated its program to among the best in the country. The Crimson Tide were the preseason favorites to win the league after losing to Florida State in the semifinals of the Women's College World Series in 2021.
"I'm glad we have them here at home in Tiger Park this weekend," Torina said. "They have a tough place to play but so do we. So, I think the big thing is that we have them here this year, so I know our Tiger fans will help lift us to that. We did see them last year. We had some success against (Alabama pitcher) Montana Fouts. So, I think our team is in a good spot mentally with what you know they'll be able to do with her this weekend."
Alabama last visited Tiger Park in 2019 and swept a three-game series. They were scheduled to play in Tuscaloosa in 2020 before COVID-19 cancelled the remainder of the season a day before SEC play was scheduled.
Despite not appearing on each other's schedule LSU visited Alabama last season, taking the place of another team in the Bama Bash tournament that dropped out because of COVID-19 and fell to the Tide, 5-2 and 13-5.
"I think we'll be in good shape," Torina said. "We're gonna give them our best shot, that's for sure. Montana Fouts is really talented, she has a whole lot to do with their success right now. So, having a good strategy and a good way to attack her will be a big part of this series. I think our pitching staff and our defense keeping us in it long enough, so that our offense can do damage to her, is going to be a big key."
Fouts is a senior All-American righthander that is 10-0 with an 0.77 earned run average, six complete games, two shutouts, two saves with 92 strikeouts in 54.2 innings. Lexi Kilfoyl (3-0, 0.36) was the winning pitcher in Bama's 13-5 mercy-rule win last season over LSU which committed four errors in the game.
LSU's top pitching tandem of junior Ali Kilponen and senior Shelbi Sunseri face the challenge of slowing down an Alabama offense that's batting .326. The Tide are paced by freshman Dallis Goodnight (.481, 5 RBIs, 13 of 14 stolen bases) and senior Ali Shipman (.434, 4 HRs, 26 RBIs).
Kilponen is 8-2 with a 1.16 ERA with 55 strikeouts in 60.1 innings with six complete games and four shutouts. Sunseri is 5-1 with a 1.63 ERA with 38 Ks in 51.2 innings with four complete games and two shutouts.
Sophomore third baseman Danieca Coffey tops the Tigers offensively (.440, 2 2Bs, 2 3Bs, 10 RBIs, 8 of 9 stolen bases) and sophomore center fielder Ciara Briggs (.432, 4 2Bs, 9 RBIs, 7 of 7 stolen bases). Junior first baseman Georgia Clark (.277) is second in homers with six and tops in RBIs at 26 with Sunseri (.288) leading the Tigers with eight homers and second in RBIs at 21.
"We'll host a really talented Alabama team," Torina said. "There's really no way around it. You look at everything about them. They're 20-0. Obviously, they're talented. You know, we'll have all week without a midweek game to get prepared for them. And so, you know, we'll plan to have a great crowd and give them everything we got this weekend at Tiger Park."