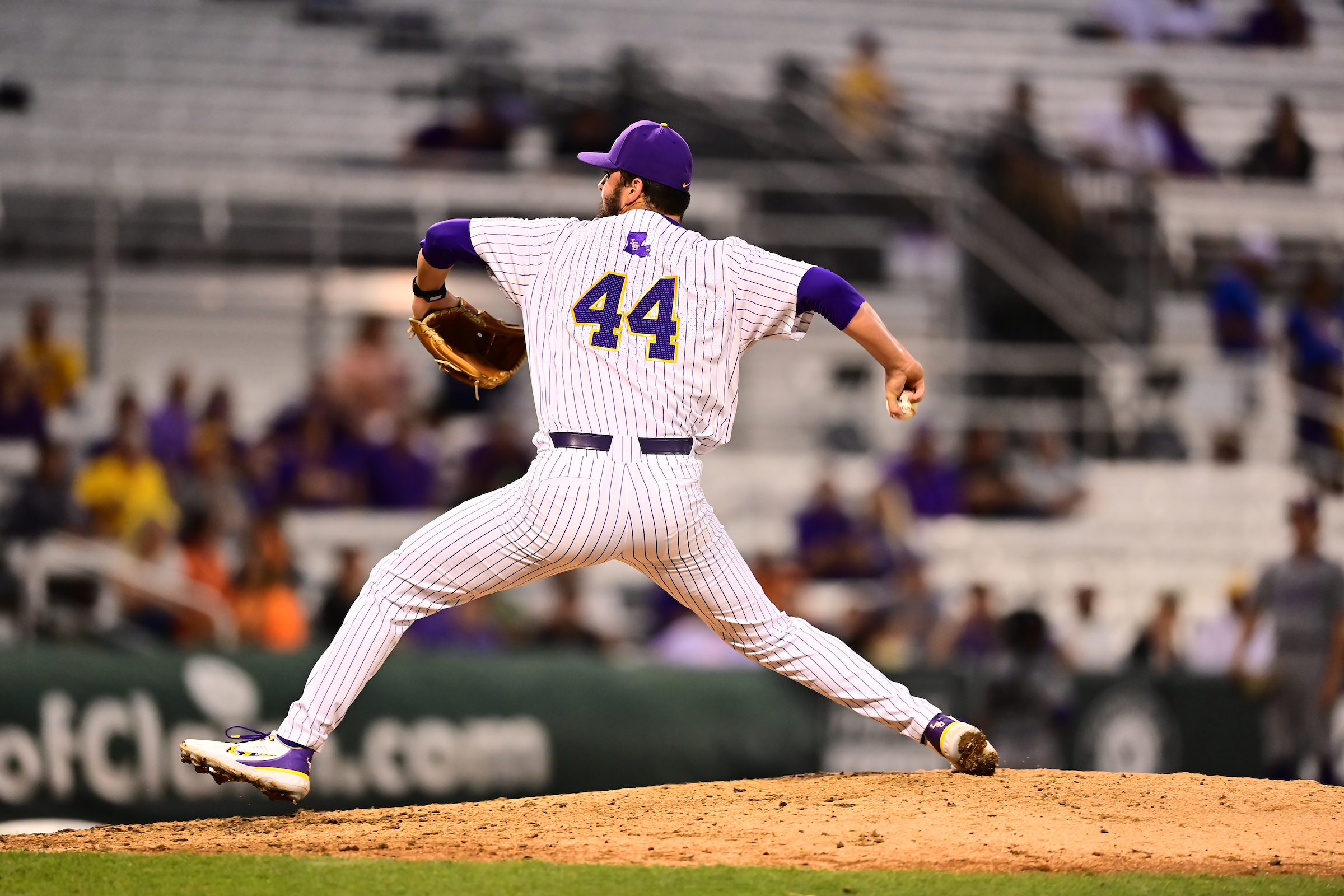 Second-ranked LSU blasted four home runs Tuesday night to power the Tigers past Northwestern State, 14-4, in Alex Box Stadium, Skip Bertman Field.
The game ended after the top of the seventh inning due to the NCAA 10-run rule, and it marked LSU's 13th run-rule victory this season.
LSU (38-10) returns to action at 7:30 p.m. Friday in Alex Box Stadium, Skip Bertman Field, when they play host to Mississippi State in Game 1 of a three-game SEC series. Friday's contest will be televised on the SEC Network, and it will be broadcast on the LSU Sports Radio Network.
Trailing 1-0 entering the bottom of the second inning, LSU launched three home runs in three straight plate appearances – one each by third baseman Tommy White, designated hitter Cade Beloso and catcher Hayden Travinski.
The power surge marked the first time LSU hit back-to-back-to-back home runs since May 5, 2019, when the Tigers accomplished the feat versus Ole Miss with consecutive dingers from Antoine Duplantis, Beloso and Josh Smith.
After Michael Dattalo unloaded a solo homer for Northwestern State (25-21) in the top of the third inning, the Tigers responded with a seven-run outburst to stretch their lead to 10-2.
The Tigers' third-inning uprising was highlighted by a three-run homer from shortstop Jordan Thompson, a two-run single by rightfielder Brayden Jobert and White's RBI single.
Jobert provided an RBI groundout in the fifth, and White and Travinski provided a two-run double and an RBI double, respectively, in the sixth inning.
"We played really in character tonight," said LSU coach Jay Johnson. "We got some free bases, and had some extra-base hits, obviously, with those home runs."
White finished 3-for-4 on the night with a double, a home run – his 18th – and four RBI, and Travinski was 3-for-3 with a homer – his fourth – and three RBI.
Jobert collected two hits and three RBI, Thompson's three-run homer was his eighth of the year, and Beloso's homer was his ninth this season.
LSU starting pitcher Thatcher Hurd (3-1) earned the win. He worked the first 2.1 innings and allowed one run on one hit with two walks and five strikeouts.
Relievers Blake Money and Micah Bucknam combined to limit the Demons to two earned runs on three hits over the final 4.2 innings with no walks and five strikeouts.
"I'm really proud of the pitching; they all experienced a speed bump, overcame it, and found their rhythm," Johnson said. "They don't have to be perfect, they just need to execute. The three guys who pitched tonight executed really well."
Northwestern State reliever Ethan Francis (1-1) was charged with the loss. He started the second inning and gave up three runs on four hits in 1.0 inning with no walks and one strikeout.