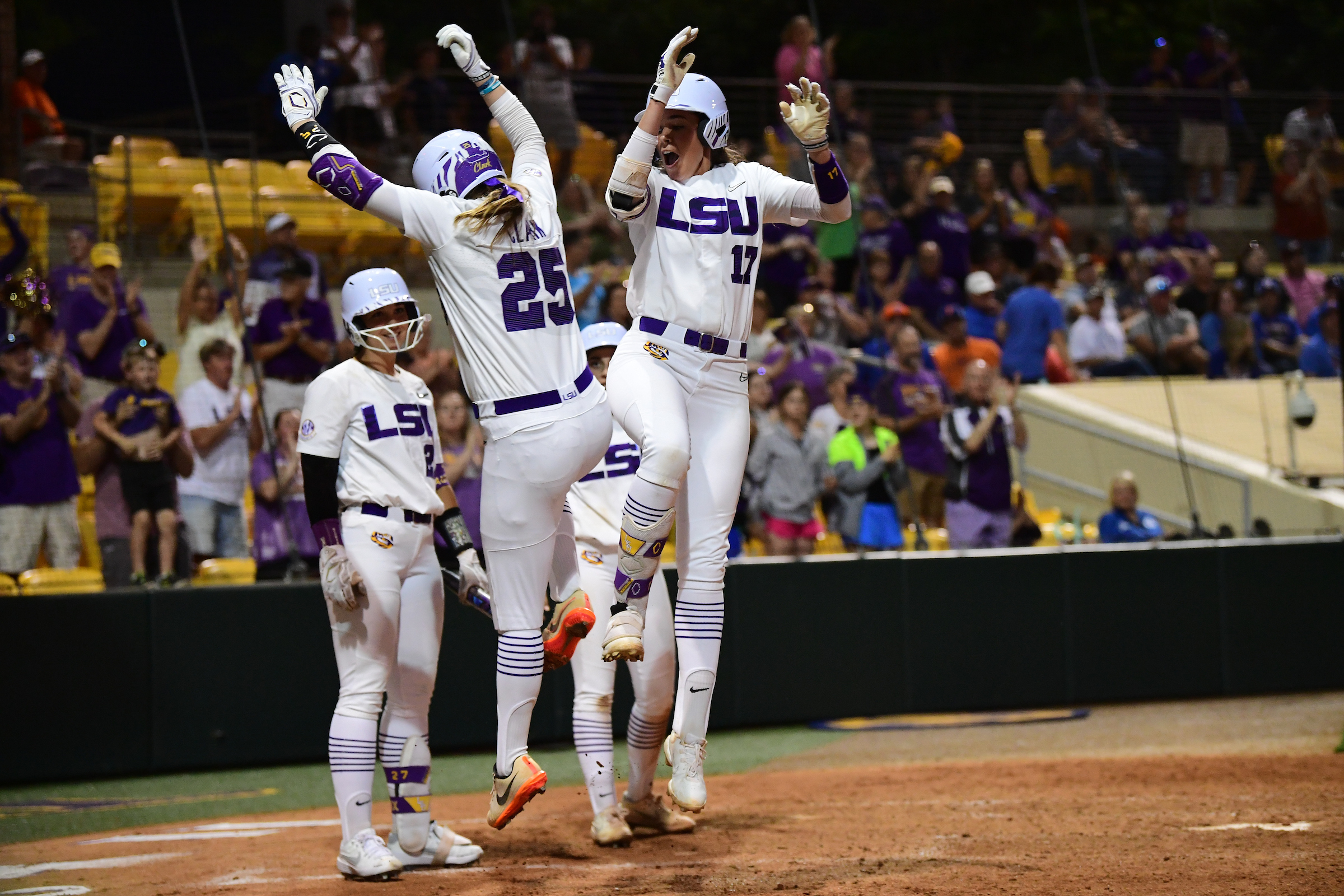 LSU's offense reached a fever pitch in its 9-1 run-rule victory Friday over No. 9 Florida in the first game of a Southeastern Conference series at Tiger Park.
The No. 19 Tigers, who won for the 10th time in their last 12 games, compiled 17 hits with a pair of home runs from Taylor Pleasants and Georgia Clark putting the game away during a four-run sixth inning.
LSU (32-17, 11-8 in SEC) will host Florida (36-13, 11-11) at 11 a.m. Saturday in a game that will be broadcast locally by 107.3-FM and televised by ESPN2. The Tigers moved into sole possession of fourth place in the SEC standings.
"It showed what we did this week," Pleasants said. "We put in a lot of work, and we were very diligent with what we were looking for and looking at. We did a lot of machine work and hit a lot of balls this week, and it paid off."
Junior pitcher Ali Kilponen (17-4) allowed an unearned run in the sixth inning. She yielded two hits and fanned three in picking up her 14th complete game of the season.
"I thought I did well," Kilponen said. "There are things that I can improve on. I think that I can watch my film tonight and see what pitches were working and what pitches weren't. I can improve my changeup from tonight. It was kind of elevated, so I'm going to go in the bullpen and do some extra drills to make sure that I have that pitch."
Every starter for LSU had at least one hit with Pleasants, Clark and Shelbi Sunseri all leading the way with three hits apiece. Danieca Coffee added two hits.
"It was great to see hits throughout the lineup," LSU softball coach Beth Torina said. "Everyone in our lineup had a hit today, which is incredible to think about. Seeing everybody have success like that, you know (hitting coach) Howard (Dobson), Lindsey (Leftwich), and Sandra (Simmons) have really been putting in the work and it shows. The kids have been putting in work, and they are seeing the results."
LSU scored three times in the bottom of the first and never looked back.
Pleasants doubled in a run and Ali Newland made it 3-0 with a two-run single with two outs.
Freshman McKenzie Redoutey doubled to lead off the fourth and scored on fellow freshman Sydney Peterson's run-scoring single. Clark added an RBI-single to left field.
LSU put the game out of reach on consecutive homers from Pleasants – her 12th of the season – and Clark who extended her team's lead in the category to 15 with a solo homer. Sophomore Morgan Smith ended the game with a run-scoring double that scored Sunseri.
"First thing that comes to mind is 'what a good hitting performance.' We executed in spots that we needed to," Clark said. "We wanted to do better with runners in scoring position and I think we were aggressive in making sure we didn't leave any runners on base and getting early runs for our pitcher (Ali Kilponen) which gave us confidence."