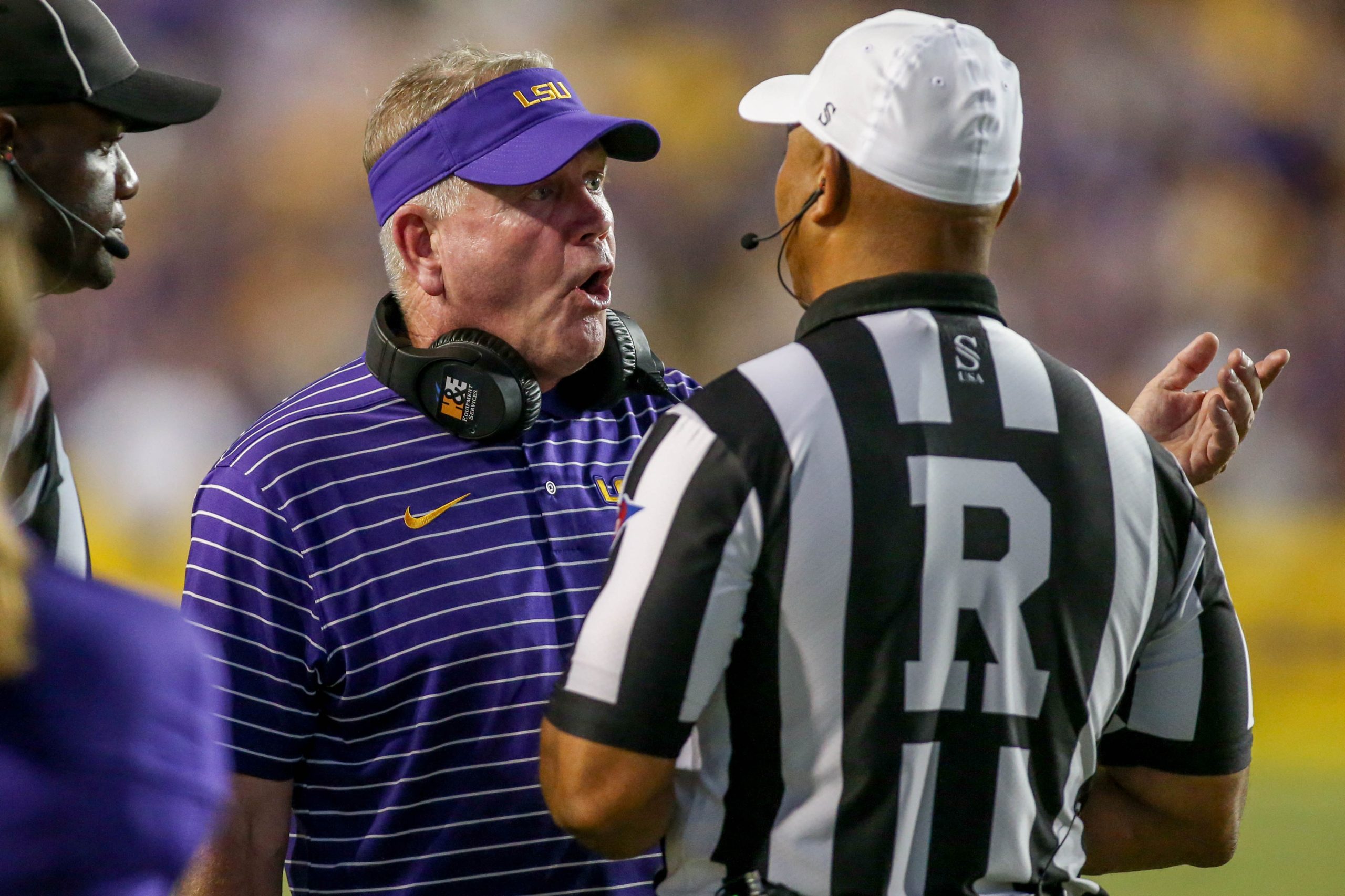 LSU's football coach Brian Kelly watched his team win for the second consecutive week in a much different fashion against a step up in competition.
Now, he believes, the challenge facing the Tigers (2-1, 1-0) in Saturday's 6:30 p.m. home game against New Mexico (2-1), is finding a semblance of consistency to match the direction of his team.
"(I'm) Looking at a football team now that has a chance to be a good team, (but) you have to have consistency," Kelly said during his weekly news conference Monday. "And that means coming back after a good win and putting together a complete performance. So that's mental and physical and that is in how they prepare. We start that preparation today; we work through the week. Our expectations, and our standards, are that we have a great week of preparation, regardless of who our competition is. Whether it's a SEC competition or not."
LSU wasn't taxed very much in moving past a 24-23 season-opening win with a 65-17 blowout of Southern in its home opener.
The Tigers trailed 13-0 against Mississippi State in the SEC opener for both teams before scoring right before halftime, trading field goals in the third quarter, before forcing a turnover on special teams near the end of the third quarter to fuel a 21-0 run in the fourth quarter over the Bulldogs.
"We need to be consistent in what we're doing," Kelly said. "And that will be the challenge this week. The maturity will be on display in terms of how mature we are as a football team and can we handle success. We had some success this weekend. How do we handle it this week in our preparation."
The LSU-New Mexico game will be broadcast locally over 98.1-FM and streamed by ESPN+ and SEC Network+
Here's what else Kelly had to say:
OPENING STATEMENT:
"As a team, obviously any victory in the SEC is a great victory. The way we came back in the second half, I think the overall performance from our defense from start to finish was outstanding. And then we rallied offensively and executed much better down the stretch. We'll look to certainly improve on the offensive performance and its consistency for four quarters. And continue to work on consistency in the special teams game. But I really liked physically and mentally how our guys stayed with it the entire game. The sense on the sideline for me was really good. That our team was at no time was anxious, panicking, didn't believe that they weren't going to find a way to win the football game. So that's a very good trait to have moving forward. We'll look to build on that."
(On New Mexico)
"New Mexico is a challenge. We had Zach Arnett's defense and Mike Leach's team this weekend and that defense is a handful. We saw that Mississippi State was difficult to handle, especially in the first half. They keep you off balance. Zach came from the (former New Mexico coach) Rocky Long tree and we go against a Rocky Long defense this weekend. It is a good defense. They have caused people fits. They're a defense that is in structure, has some similarities. They're allowing 13 ½ points per game. (On) Third down they're outstanding. I think they're fifth in the country. They forced seven turnovers this past weekend, I think top 5 in the country in terms of forcing turnovers. This is a defense that will give you problems. If you're not executing at a high level they will turn this game into a close game, there's no doubt about that. Offensively, head coach Danny Gonzales does a really good job. He's a noted offensive mind. He's always been really good as a play caller. It's a pistol, mid-line option offense ball control. They have got some talented players on the perimeter. It's one where they're playing obviously good defense and very opportunistic on the offensive side of the ball. Kendrick is the quarterback from Kansas, he transferred in. He's athletic and we'll have to do a really good job with our option responsibilities. I think a lot of this is in our preparation and consistency and how we handle things going into this weekend."
On team's conditioning at this point in season?
"I think it's how you practice. We don't condition during practice or after practice. It's a matter of managing the practice structure itself that you are getting your team to a workload that the games become easier. And then you start to see that in the third and fourth quarter where you can wear down your opponents. We're weight training during the season. It's not a maintenance program. It's a program that we're not putting our guys in a compromising position where they have got too much weight on the bar, but we're being powerful with our weight training and really intentional about trying to get our guys stronger during the season. We want to continue to add strength. We want to continue to condition our players, but also with an eye towards making sure that their workload is such that they can be their best on Saturday."
Status of offensive lineman Anthony Bradford? On offensive tempo working in other parts of game?
"Anthony is activated for this week. He's in a competitive situation with the guard position, but certainly will have an opportunity to earn playing time this week.
(On tempo)
"It's not as simple as just say, 'Hey, let's go tempo and all of our problems have been erased'. I think I kind of alluded to some of them. Having three different offensive line combinations require a lot of communication. We had eight penalties. Six of them were unforced and five of them were communication errors, so we've got to clean up communication, cadence, rhythm. Tempo takes some of that out of the mix so to speak, and you can just go fast and not have to worry about it. I think at times we have to think in terms of correcting the gross errors instead of trying to correct everything at the line of scrimmage. We've been a little bit maybe too detailed, and we just got to play. And then when you play a faster pace there are some things you just can't account for. I think maybe we have overcoached it a little bit and I think we're trying to find our sweet spot as to what are the things that we just have to live with and really do a good job of getting the ball out of our hands."
On play of quarterback Jayden Daniels?
"I love coaching somebody that is open to the dialogue during the game. You can have conversations with him during the game and he can make the corrections in game. Some (players) can't, you just don't even try to do those things. But (quarterbacks) Coach (Joe) Sloan is talking much more conceptual. I'm trying to deal with some technical things on the sideline. Because sometimes I don't have the big conceptual picture from the sideline. Coach Sloan is talking with him about some concepts and some different looks and I'm trying to really focus on some specific things. I think that's worked out pretty good. He handles both of those conversations really well."
On first start of true freshman right offensive tackle Emery Jones Jr?
"I would say that he exceeded expectations. You know, he's not going to be perfect, but he's active. He's got great feet."
On trying different things to free up Kayshon Boutte?
"We've got to look at how we can move him around and utilize his talents. Then he's got to continue to work hard and work on his skill set and continue to work hard in practice. It's always going to be that at this level and at the next. It's always going to be on the player. It's always going to be on the coaching staff to work together. This is working together as a team is how you get better. It's never just one side of it. So absolutely. We've got to do our job as coaches to move him around and be creative. He's got to do his end of continue to work hard and be the best player he can be."
On special teams play?
"The kickoffs are a direct result of the kicks. The kicks that have been returned have been line drives down the middle of the field. That is going to compromise your coverage. We don't have a chance to get off blocks and get (it) properly covered. Now can we get off some blocks and make some plays? Absolutely. We've got to be better there. This is not all on the kicker. However, it does expose you with those types of kicks. As it relates to the fielding of the punts, we got to coach better, and I've got to be involved in that and make sure that those guys are absolutely clear in terms of they cannot move their heels past the 10-yard line. Greg (Clayton) obviously lost track of where he was. He's a young player. We've got to do a better job coaching him there. The one that he tried to field, he felt like it hit one of our players. When you're looking at it, it's close, but again. That goes to awareness and maybe we could have coached him better. If he saw some Mississippi State players moving towards the ball, maybe that's the cue that you fall on it. If he doesn't see a Mississippi State player going to it, maybe he stays away from it. And I think we can do a better job coaching that too."
On running game improvement?
"Last week we talked about run efficiency and where is that as it relates to Week 2. I said I really can't tell you until we start SEC play. Our run efficiency was much better. When we needed to run the football, we were able to do that to close out the football game. I'm pleased with the efficiency of being able to run the ball in short-yardage situations, to close out games inside the 10-yard line, what we call our white and blue zone. We've been effective running the football there. Our backs are kind of what we expected. They're all going to contribute in some fashion. I think they all did. I think they all lend themselves to what we're doing from an offensive perspective. Getting (John) Emery back helped. You saw him catch the ball out of the back field. He was really good in pass protection. I think he'll get better as he continues to get reps and he'll add to the depth of that position."
Is it more acceptable to live with mistakes when players are giving effort?
"Absolutely. My first reaction is when he (Greg Clayton) came off is, 'What are you doing? And as he explained his position on it, you really can't come back with anything else. Maybe we can help you with that decision making in the future. But he's trying to make the right play. And those are about as gray as they come within special teams. Moving off your spot at the 10-yard line, that's a little bit different. That has to be coached and there's got to be more discipline in those situations. There are going to be some of those gray areas. We just need to be better all over the place. That falls on (special teams coach) Brian (Polian), that falls on me. We all have to do a better job then. And our players have to commit themselves and understand how important special teams is."
On fumble recovery by long snapper Slade Roy?
"It was a great play by Slade. The hang time was terrific, it was 4.5 plus (seconds). (It) Gave us the opportunity to be in position to make the play necessary to obviously get a big play."
On play of Harold Perkins Jr. and potentially expanded role?
"I think there's a role for him. He adds something to our pass rush, we certainly saw that. That's why he got the opportunity to play him out on the edge a little bit. You saw him inside with some blitzing. I think we found a niche for him in terms of where he can help us. He can continue to evolve into that position. Now is he going to beat out BJ Ojulari at that position? I don't think so, but he certainly can lend some support to that position and certainly (play in) some dime and nickel packages."
On job of defensive coordinator Matt House?
"I think the ability to put the pieces in place, moving Jay (Ward) down has obviously benefited us greatly. Greg (Brooks) going back to the safety position has added a communication level that's really benefited us greatly. I think that in itself has solidified the back end for us. We've been able to rotate in corners and give guys the necessary rest in that end of things. And then we're mixing things up. We're not lining up with one post safety the whole time. We're lining up and showing one post and playing two high and vice versa. I think schematically we're where we need to be. The nature of having a guy like BJ Ojulari and Ali Gaye, where you can play three down and four down and not change personnel, is quite difficult sometimes. We saw that against a very veteran and skilled offense. Quite frankly, they didn't know what they were getting from snap to snap."
On bounce-back ability of Malik Nabers from early-season fumbled punts?
"I think we hear this all the time; he's been able to focus and refocus. He's been able to move on to the next play. That is a great quality to have, especially in the game of football. You're going to have some adversity and he's had it. He's dealt with it. He's moved on and he's stronger for it. He's been really good. We have seen his ability to make dynamic plays for us on the offensive side of the ball and I just think from that perspective he's really grown."
On play in secondary of Jay Ward and Greg Brooks Jr.? Update on Ward's availability?
"We were looking for better communication. Jay is a very active player, he's a physical player. We saw that with the play this weekend. Greg is too. But Greg is a veteran player that is used to playing back at that safety position and a very good communicator. It was just getting to know our personnel better and really plugging them in where we felt that we would be better served. Whether it was on the offensive line, whether (Miles) Frazier's a guard. Whether he's a tackle. Whether Emery Jones is better at guard or tackle? We're just trying to get to know our personnel and find out what the best lineup is."
(On Ward)
"I mean, he's a little banged up but we expect to have him for this weekend."
On workload for Jayden Daniels?
"I think when we evaluate when he runs, we want to see that if it was within the progression and it was a really good coverage. Or maybe that play wasn't great against this coverage. Or we got beat at a particular position and he got flushed versus you turn down a potential high/low read and you took off, right? That's what we're trying to evaluate. And it's really a little bit of both. I think there's still growth there where we can stay a little bit more patient and a little bit more locked in on the progression. And then there are sometimes where there are really dynamic runs where there was really just nothing there and he made something happen. You want to be careful where you go, 'Hey, you're running too much', and then when he needs to be dynamic, he's not. We have to be very careful and along the way and keep coaching him to really do a great job of getting through his progressions and seeing the things necessary that allows us to be balanced in both."
On play of true freshman tight end Mason Taylor?
"I think he's very confident in his ability. I think it starts with confidence first. Second, it's a pass catching tight end. A guy that has really good hands. His ability to run after the catch; (he's) extremely athletic. I think it's skill set, confidence, and he's put on the necessary size to go into traffic and make some plays. We didn't find him very well on Saturday. Maybe a couple of freshman mistakes. He stepped out of bounds on arrow route where he needs to know where he is. But I'm okay with those. That's a learning curve. And those are great opportunities to point out to a freshman that he's not going to make that same mistake twice. But I would say confidence and then just the physical attributes that he has."
On play of John Emery Jr. in his return to play?
"He was elated after the game, that he actually played football for the first time in a long time. He was sore, he was tired. I think he had all the feelings that he remembered in playing. I think the post (game) was really good. He was really nervous going in. But I thought he afforded himself very well. I thought he ran with pretty good vision for a guy that hadn't played in a while. I talked about rust, there was some. All in all, he caught the football, played with low pads and he'll get better. I thought a good first game for him."
Ever changed kickers in midseason?
"I think I have changed kickers in midseason. I'm not interested in changing kickers right now. I think our kicking situation is much more technical than it is anything else. We just got to clean up some technique. But we've got a scholarship kicker (Nathan Dibert) as well. We've got a transfer from Northwestern (Trey Finison) who is talented as well. So Dibert, Finison, Ramos, Peyton Todd's a really good punter. We're pretty deep in kickers. (Jay) Bramblett obviously punted the ball very well. I really think that there's some great depth there. But we're not going to say there's never competition at the position. If we feel like we need to make a change in a particular area, for example, we've got to change kickoffs versus field goal, extra points, we'll consider all of those things for the betterment of the football team."