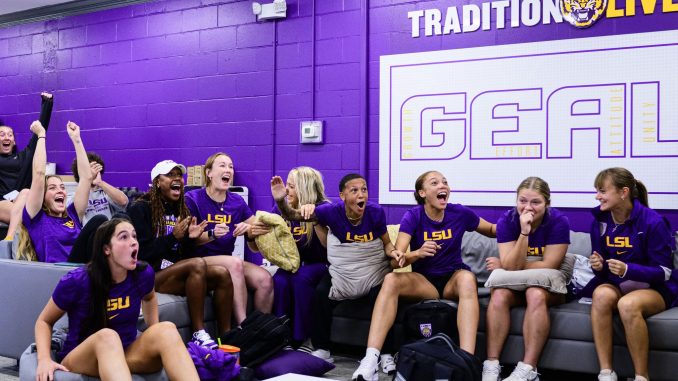 The finish was far short of coach Sian Hudson's expectations, but her team's overall resume was good enough in the eyes of the NCAA to continue playing.
LSU (8-7-4) was winless over its last five matches of the regular season, but the Tigers earned one of 33 at-large berths Monday to the NCAA Tournament and will travel to automatic qualifier Memphis (18-1-0).
The NCAA first-round match will take place Saturday at 7 p.m.
"I am really excited and proud of the team for the resilience they've shown in the last few weeks. It was a little bit of a nerve wracking week as we waited to find out our fate, but we felt like we had a good shot with the big wins we had on our resume this year and seven results against top-50 opponents," head coach Sian Hudson said.

"There's a lot of excitement in the group right now with the opportunity to go to Memphis and put on a performance that is worthy of the LSU Tigers on their best day," Hudson said.
Hudson guided LSU back to its third straight NCAA berth and its second against Memphis in three years. Memphis, which is riding a 15-game winning streak, eliminated LSU, 3-0, in the first round of the 2021 NCAA Tournament.
LSU won four matches and tied three others against teams in this year's 64-team field.
The Tigers defeated Texas (3-1), Georgia (3-2), Mississippi State (2-1) and Tennessee (1-0) and compiled a No. 52 RPI. They also battled to draws against Arkansas (1-1), Texas A&M (0-0) and Pepperdine (2-2).
LSU's been the NCAA Tournament in three of four years under Hudson (37-27-15) and will make the eighth overall appearance in program history against Memphis.
"We will be reflecting on a lot of things that we learned from Memphis as a team last time we faced them in 2021," Hudson said. "Brooks (Monaghan) has done a great job there, only losing once this year, so it's going to be a really difficult game, but we'll be ready for it."
The Tigers encountered difficulty down the stretch, though, with two losses and three times that included penalty kicks shootout setback against Kentucky in the first round of the Southeastern Conference.