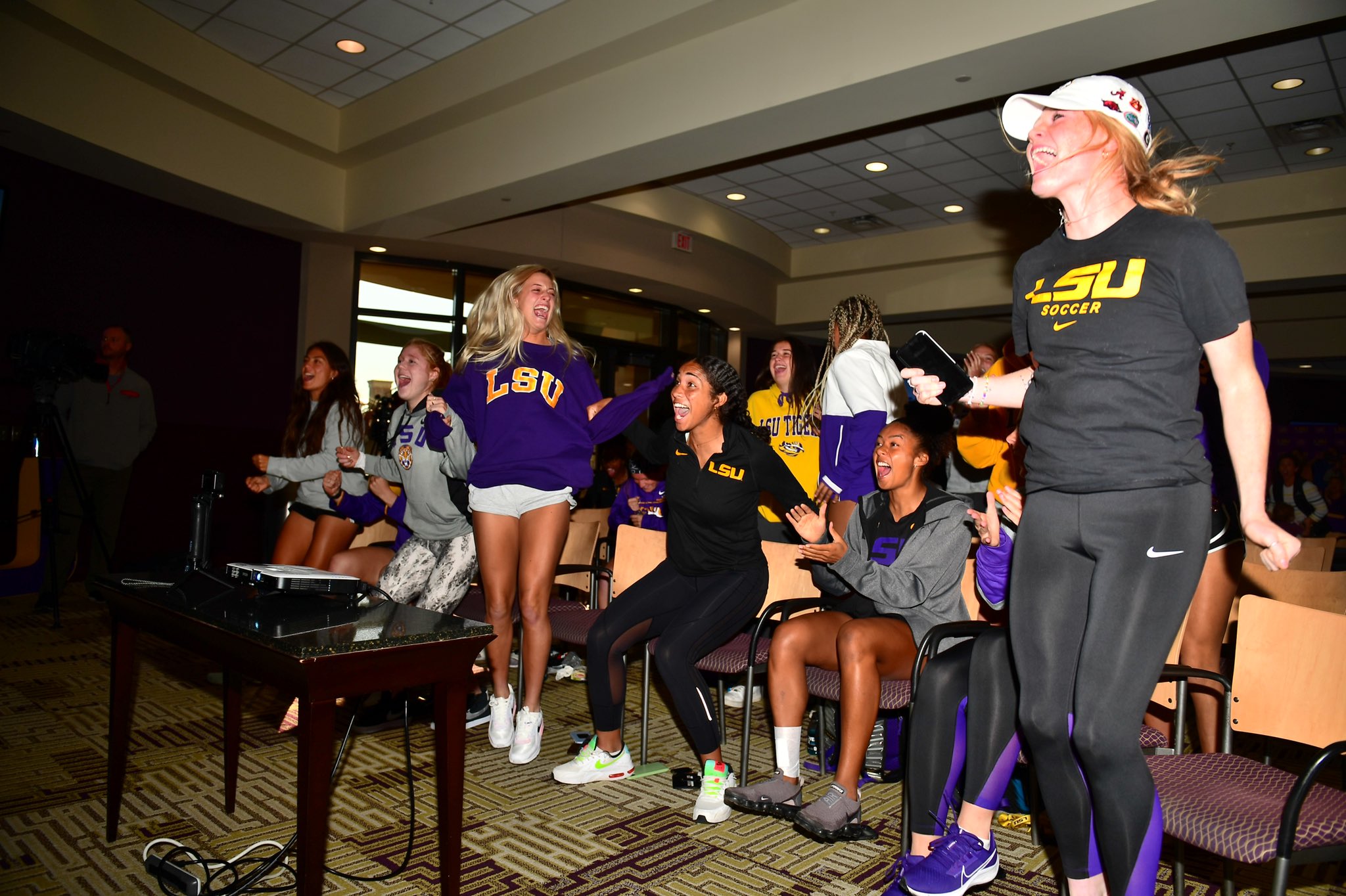 The NCAA soccer tournament pairings show Monday afternoon was halfway through when it returned from a commercial to an LSU team growing a little more anxious with each passing bracket that didn't contain its name.
LSU was finally able to exhale when the next bracket showed the Tigers were in the NCAA's field of 64 with an at-large berth and a trip to Memphis.
The first-round match between LSU (11-7-1) and Memphis (13-4-2) is scheduled for 1 p.m. Sunday at Memphis' Billy J. Murphy Soccer/Track and Field Complex.
The LSU-Memphis winner is matched against either No. 1 Duke or Old Dominion.
"We're really excited to get into the NCAAs," LSU senior Tinaya Alexander said. "I haven't been since 2018. It's just nice to see that our hard work paid off."
LSU's second-year soccer coach Sian Hudson thanked a large gathering at the Champions Club at Alex Box Stadium where the team watched the proceedings and looked forward to the challenge.
"I was pretty confident," Hudson said. "Until your name's on the screen you never know. Sometimes things don't go as planned. It was great to see our name pop up."
It marks the seventh appearance in NCAA play for LSU's program but first in three years when the Tigers, with seven current players still on the roster, advanced to the second round before falling in penalty kicks.
The Tigers have run the gamut this season, winning their first eight matches of the season and rising to a school-record ranking of fifth nationally – a stretch where they recorded three wins over ranked teams.
"What we did in the opening, non-conference stretch was huge to us being in the national tournament," Hudson said. "As the season has progressed, we've just had different tests in terms of different styles, different opponents. I think the confidence we were able take out of those wins early and as we built our resume' for the postseason was absolutely huge."
LSU's early showing, which helped result in an RPI of 44, proved to be a saving grace when the Tigers' season started to unravel in Southeastern Conference play where they dropped five consecutive matches between Sept. 23-Oct. 10, putting their season in peril.
The Tigers were able to apply the brakes to their losing skid and get their season back on track with four wins in their last six matches, none bigger than a 4-2 win over fourth-ranked Arkansas in the regular-season finale to qualify for the SEC tournament.
They won a 5-4 penalty shootout over Georgia in the first round of the conference tournament before falling to Arkansas, 2-1.
"I think it shows a huge amount about a team when you face adversity," Hudson said. "We talked about adversity and how you respond to that, how you learn and grow from those moments. To beat the No. 4 team in the country when our backs were to the wall was an immense testimony to the character of this group of players."
Memphis received an automatic bid to the NCAA tournament as champion of the American Athletic Conference, taking a 3-0 penalty shootout Sunday over South Florida.
LSU was a NCAA tournament regular in the infancy stages of its program where under Brian Lee, the Tigers qualified in four of five years (2007-2011) before returning in '15 and '18.
Alexander is one of the seven remaining players from LSU's last NCAA trip along with Ciara Ritchie-Williams, Shannon Cooke, Reese Moffatt, Tiana Caffey, Meghan Johnson and Molly Thompson.
The Tigers also have four other players with NCAA experience in transfers Athena Kuehn of Minnesota, Alesia Garcia of New Mexico and Tilly Wilkes and Brenna McPartlan of South Alabama.
"We know that we can play, and we've done it before and against opponents that have been ranked," Alexander said. "We know we can do this and that comes from a belief in the team and the coaching staff."