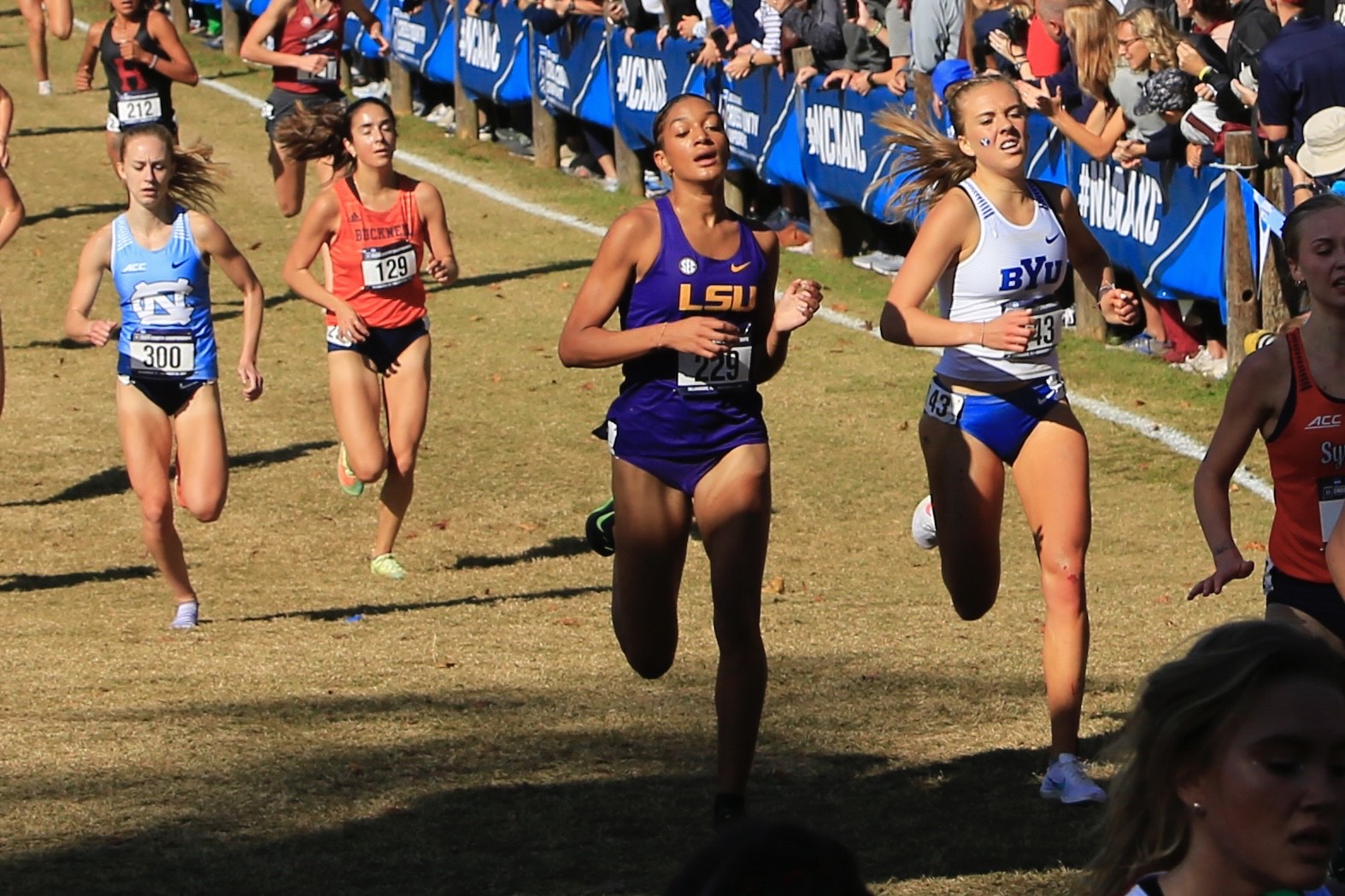 LSU senior Katy-Ann McDonald closed her cross country career finishing 163rd in a field of 255 runners in the NCAA women's cross country championships Saturday at Apalachee Regional Park in Tallahassee, Fla.
McDonald, the second LSU women's cross country runner ever to qualify for the national championship meet. clocked 20:52.5 in the 6K run. It was just under the 20.55.0 she ran when she finished sixth in the NCAA South Central Regionals.
She concluded a season that saw her win her second individual cross country title at the LSU Invitational and set a new personal best 5K run time in a second place finish at the Chile Pepper Festival. She will now transition to preparing for the 2022 indoor track and field season.
McDonald came off the starting line fast, running 6:39.3 in the first 2000 meters, advancing 29 places and sitting 9 seconds behind the lead. But by the 3000-meter mark, she dropped 28 places with a 3.33.8 split and was 19.5 seconds off the lead, then 34.9 seconds off the lead at 4000 meters though she moved up four places with a 3:35.1 split.
At 5000 meters, she was 53.5 seconds behind the leader despite running her best split – 3:30.2 – and dropped two places. In her final 1000 meters to the finish line, she ran a 3:34.4 split, dropping 12 places and finishing 1 minute, 27.2 seconds behind the individual champion Whittni Orton of BYU who finished in 19:25.4.
Mercy Chelangat of Alabama finished just behind Orton in 19:29.3. North Carolina State won the women's team title. Three SEC teams — Arkansas (7th), Ole Miss (9th) and Alabama (15th) — finished in the top 20.
Connor Mantz of BYU won the men's individual title in 28.33.1. Northern Arizona won the team title. The top SEC men's team finishers were Arkansas (4th), Ole Miss (15th) and Alabama (23rd).