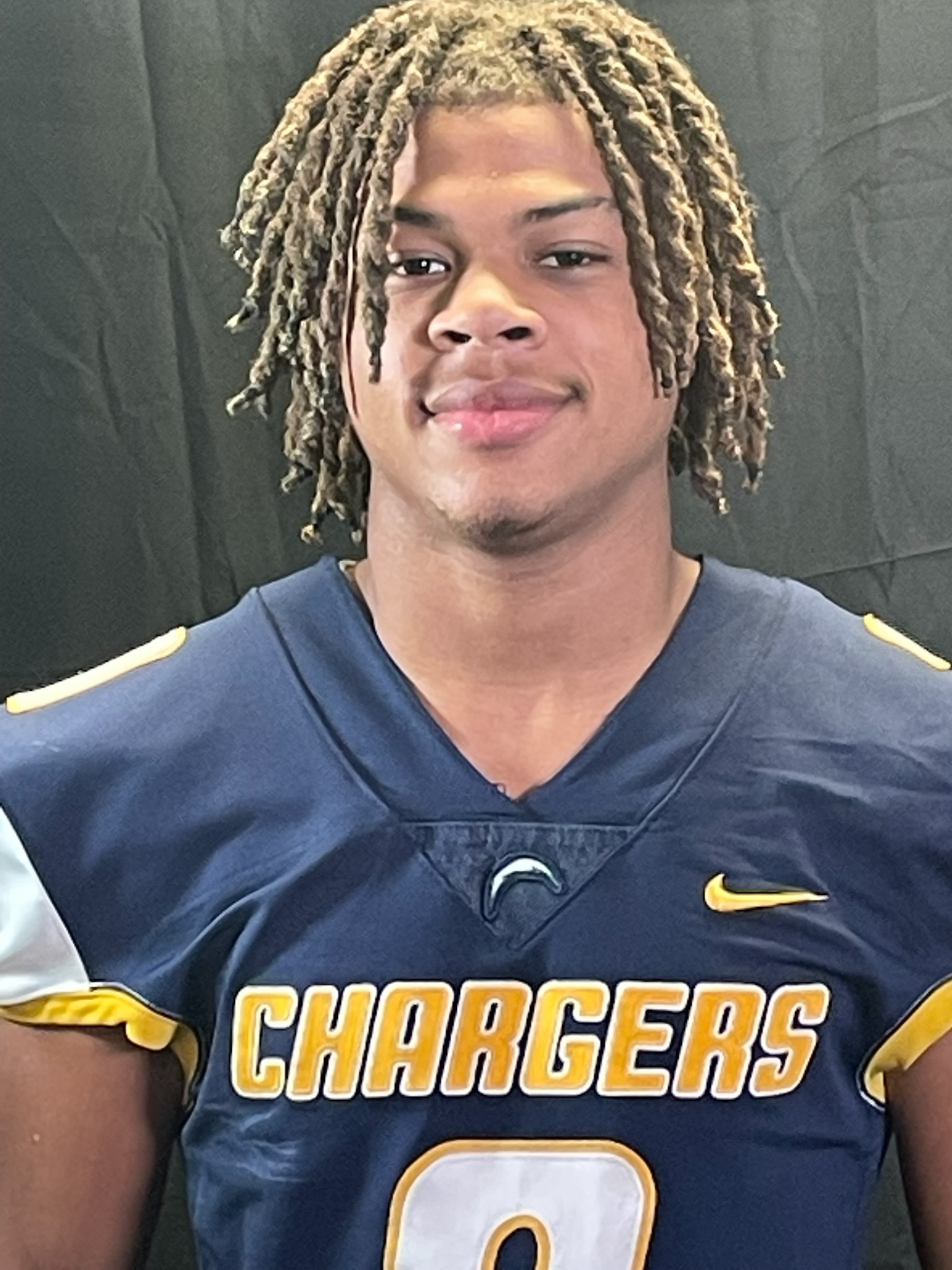 Madison Prep football coach Landry Williams calls senior David Jones the state's best football player in his classification.
You would get no argument from reigning Division II state champion University High after the performance Jones gave in Friday's back-and-forth clash which the Chargers won, 40-37.
There were several heroes in sixth-ranked Madison Prep's victory at fourth-ranked U-High, but none more impactful than the 6-foot, 190-pound Jones, who was named this week's Tiger Rag Shining Star of the Week.
Madison Prep (5-2) won its fourth straight game and took control of the District 6-3A race with a 4-0 league mark.
"David Jones has to be around the football," Landry said. "He'll play almost any position on the field. We've been intentional the last several weeks about getting the ball to players like David. We had to make sure he was one of those guys that was getting their touches."
Jones, a wide receiver/safety/kick returner, averaged 25 yards per reception on five catches for 250 yards, three touchdowns and a two-point conversion. It was his 47-yard catch from sophomore quarterback Tylon Johnson that helped to set up the Chargers' game-winning 29-yard field goal from Calvin Spears with three seconds remaining.
Jones had a similar effect on Madison Prep's defense, leading the way with 10 tackles and a forced fumble and also participated in the team's return game on both punts and kickoffs.
"We went from a team with 25 seniors to a team with eight seniors this year," Williams said. "You still want the production, and the expectations are still the same, but the guys don't have the same experience. David's definitely the leader on the team. He plays more snaps than anybody. Even though the class is small, he's still working and wants to hold up that (state championship) trophy. Hopefully, that will be enough to keep pushing us, going in the right direction. He's one of the best football players in the state."
OFFENSE
MIKE MITCHELL, Plaquemine (Accounted for 368 yards, 7 TDs; Passed for 216 yards, 3 TDs, Rushed for 152 yards, 4 TDs), BRAYDEN WILLIAMS, St. James (Completed 17 of 22 passes for 368 yards, 4 TDs), TYLON JOHNSON, Madison Prep (Passed for 332 yards, 4 TDs), JACKSON HOUSE, Dunham (Accounted for 275 yards, 4 TDs; Passed for 161, 2 TDs, Rushed for 114, 2 TDs), D'WANYE WINFIELD, Lutcher (Accounted for 271 yards, 3 TDs; Rushed 30 times for 230 yards, 3 TDs, Completed 3 of 6 passes for 41 yards), RICKIE COLLINS, Woodlawn (Accounted for 262 yards, 2 TDs; Passed for 205 yards, 2 TDs, Rushed 4 times for 57 yards), REESE MOONEY, Denham Springs (Completed 15 of 28 passes for 247 yards, 3 TDs) ABRAM JOHNSTON, Parkview Baptist (Completed 7 of 11 passes for 242 yards, 4 TDs), KHAI PREAN, St. James (Accounted for 287 yards, 2 TDs; Caught 9 passes for 214 yards, 2 TDs, had 73 yards in punt returns), GRANVILLE ANDERSON, University (Caught 15 passes for 239 yards, 3 TDs), MICHAEL EDWARDS, St. John (Rushed 22 times for 222 yards, 3 TDs), DANIEL BEALE, Catholic-BR (Completed 12 of 19 passes for 213 yards, 3 TDs), ELI HOLSTEIN, Zachary (Accounted for 213 yards, 5 TDs; Passed for 199 yards, 4 TDs, Rushed 2 times for 14 yards, TD), GLEN CAGE, Central (Rushed 34 times for 182 yards, TD), KADEN WILLIAMS, St. James (Accounted for 188 yards, 3 TDs; Rushed 12 times for 132 yards, 2 TDs, Caught 3 passes for 56 yards, TD), ANTWONE FOSTER, East Ascension (Rushed 14 times for 151 yards, 3 TDs), KOBE BROWN, St. James (Accounted for 147 yards, TD; Caught 4 passes for 111 yards, TD, had 36 kickoff return yards), TONY LEWIS, Madison Prep (Carried 30 times for 110 yards, TD), CAM STEWART, Zachary (Rushed 14 times for 106 yards, TD), MICAH HARRISON, Denham Springs (Caught 6 passes for 95 yards), BARRY REMO II, Catholic-BR (Rushed 13 times for 88 yards, TD), SHELTON SAMPSON JR., Catholic-BR (Caught 5 passes for 84 yards, TD), CAM KELLY, Denham Springs (Rushed 16 times for 80 yards, TD), TYLON WILLIAMS, Zachary (Caught 9 passes for 57 yards, 2 TDs)
DEFENSE
DIEGO DAVIS, Plaquemine (10 tackles, interception), AIDEN CAIN, Plaquemine (10 tackles, 3 TFLs, fumble recovery), DIEGO SPEARS, Dutchtown (10 tackles, 2 sacks, 4 TFLs, forced fumble, PBU), WESLEY MARIAN, Parkview Baptist (8 tackles), CALEB SMITH, Live Oak (7 tackles, 5 TFLs, forced fumble), DAVID VOORHEIS, Live Oak (7 tackles), HAROLD LAWSON, Catholic-BR (6 tackles, 2 TFL), JAYLON WOOD, Catholic-BR (5 tackles), JOSHUA JOHNSON, Catholic-BR (5 tackles, 1 ½ TFLs)