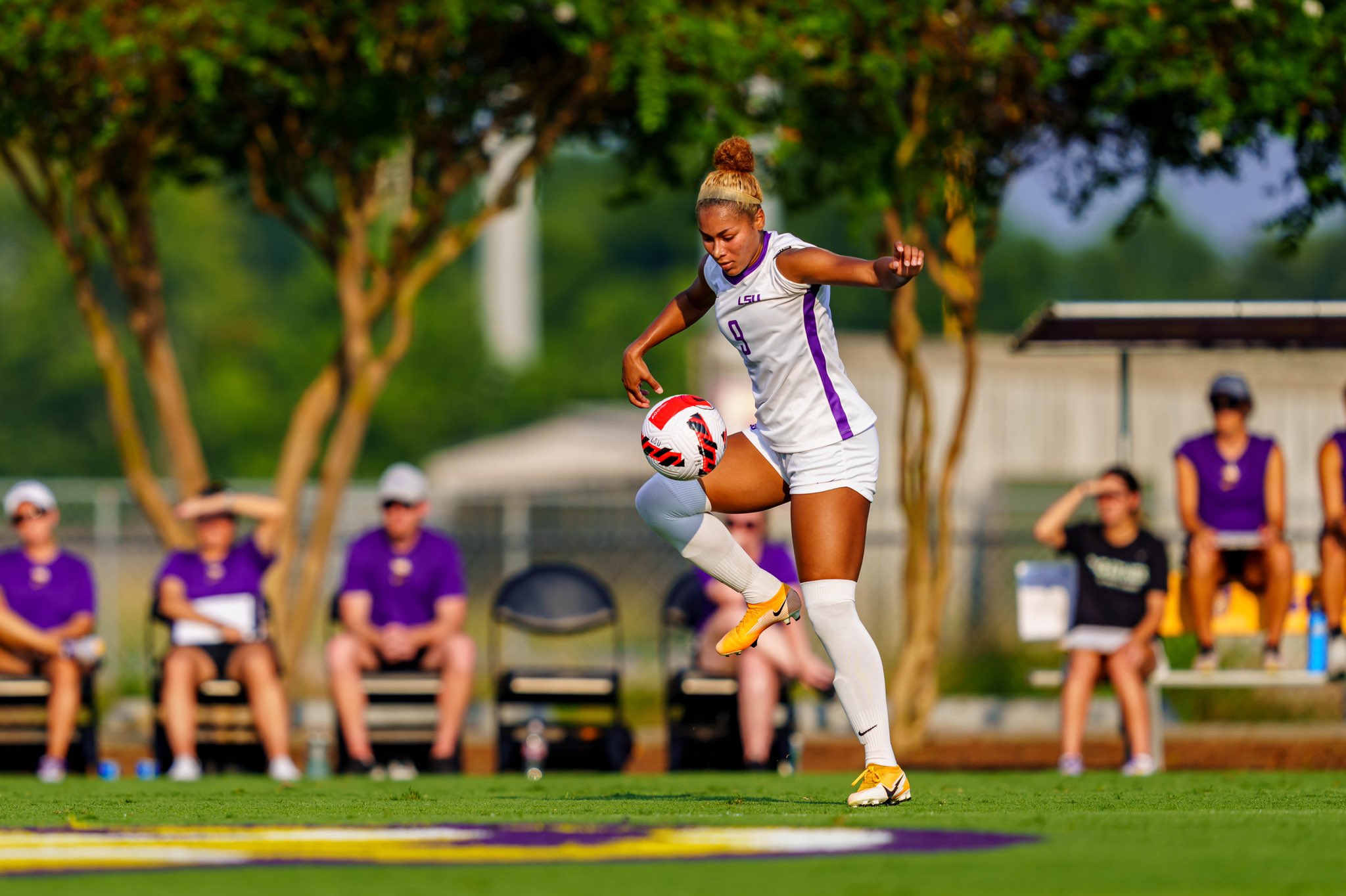 LSU soccer coach Sian Hudson said there were plenty of happy faces and players singing in harmony on the team's return bus trip home Sept. 9 following a 5-0 victory at UL-Lafayette.
It was the culmination of the Tigers' longest road trip of the season of five games that produced five victories – three of which over ranked opponents. The wins not only catapulted the team into the national rankings for the first time in three years but whetted their appetite for more.
No. 6 LSU (7-0-0) finds itself with the highest ranking in program history and riding a program-best 10-game winning streak as the Tigers open SEC play Friday night at 7:05 vs. Mississippi State (2-2-2) in LSU's Soccer Stadium.
The match will be televised by the SEC Network.
"The team's at the point where we celebrate those special moments," LSU soccer coach Sian Hudson said. "It's not about certain individuals but a collective effort of the team. The great thing about the team is that they're so hungry. They were excited but they were already looking forward to what was coming up."
LSU has reached such a level in its second season under Hudson because of its ability to play complimentary soccer.
Even during the 2020 season that was impacted by COVID-19 and shortened the fall to an eight-game, SEC-only schedule, the Tigers showed they could be formidable on defense but without the same success rate on offense.
LSU went 0-6-2 during the regular season, getting shutout four times, before catching fire during the SEC Tournament where the Tigers reached the semifinals.
The was a natural carry-over of momentum to the spring where LSU went 6-1-1 with a slight increase in offense. But there was still a greater reliance on the goalkeeping of Mollee Swift and defense led by backline defenders Shannon Cooke and Maya Gordon.
With a year in Hudson's system to their credit, coupled with the return of leading scorer Tinaya Alexander and transfers of forward Alesia Garcia from New Mexico and midfielder Athene Kuehn from Minnesota, LSU has been a much more balanced team. It has already scored more goals (26) in seven matches than last year's team (20) in 19 matches.
The Tigers, who rank ninth nationally in goals scored, benefitted from a three-game exhibition schedule that produced three wins and a combined 11-1 advantage in goals scored.
Once again, Alexander has led the way with six goals followed by Garcia (five), Molly Thompson (four) and Kuehn (three). But LSU's offensive strength is spreading the scoring wealth with 11 different players having scored thus far.
Alexander and Rammie Noel share the team lead with three assists apiece.
"We're thrilled with the shift in the attack threat that we had from last year to this year," Hudson said. "We were very defensively organized and compact and were able to possess the ball really well in the spring season, but didn't create a huge amount of chances in the final third. We made an unbelievable amount of progress from the spring to the fall. We worked hard at implementing our philosophy and our vision."
Swift, who is tied for second in the SEC with 54 saves, has worked in concert with midfielder Chiara Ritchie-Williams and a backline that's rotated Cooke, Gordon Tiana Caffey, Grace Haggerty, Nevaeh Johnson, Reese Moffatt and Anna Rockett. Because of that, LSU has been able to efficiently function with a three-player backline instead of a four and have been able to commit an additional player in the offensive attack.
"We feel we can take those risks with the quality of defenders we have and the performances they're putting in at the moment," Hudson said.
The SEC opener also represents LSU's first home match in 26 days since an 8-0 win over Sam Houston on Aug. 22. All the Tigers have done since then is cover nearly 4,500 miles and pick up five wins that are part of the current school-record win streak. LSU's 10-game SEC schedule concludes with a Oct. 28 home match with Arkansas followed by the league tournament Oct. 31-Nov. 7 in Orange Beach, Ala.
"The excitement is high obviously to get our SEC season started," Hudson said. "Confidence is high with the group at the moment. I think we're just hungry to get going with league play."