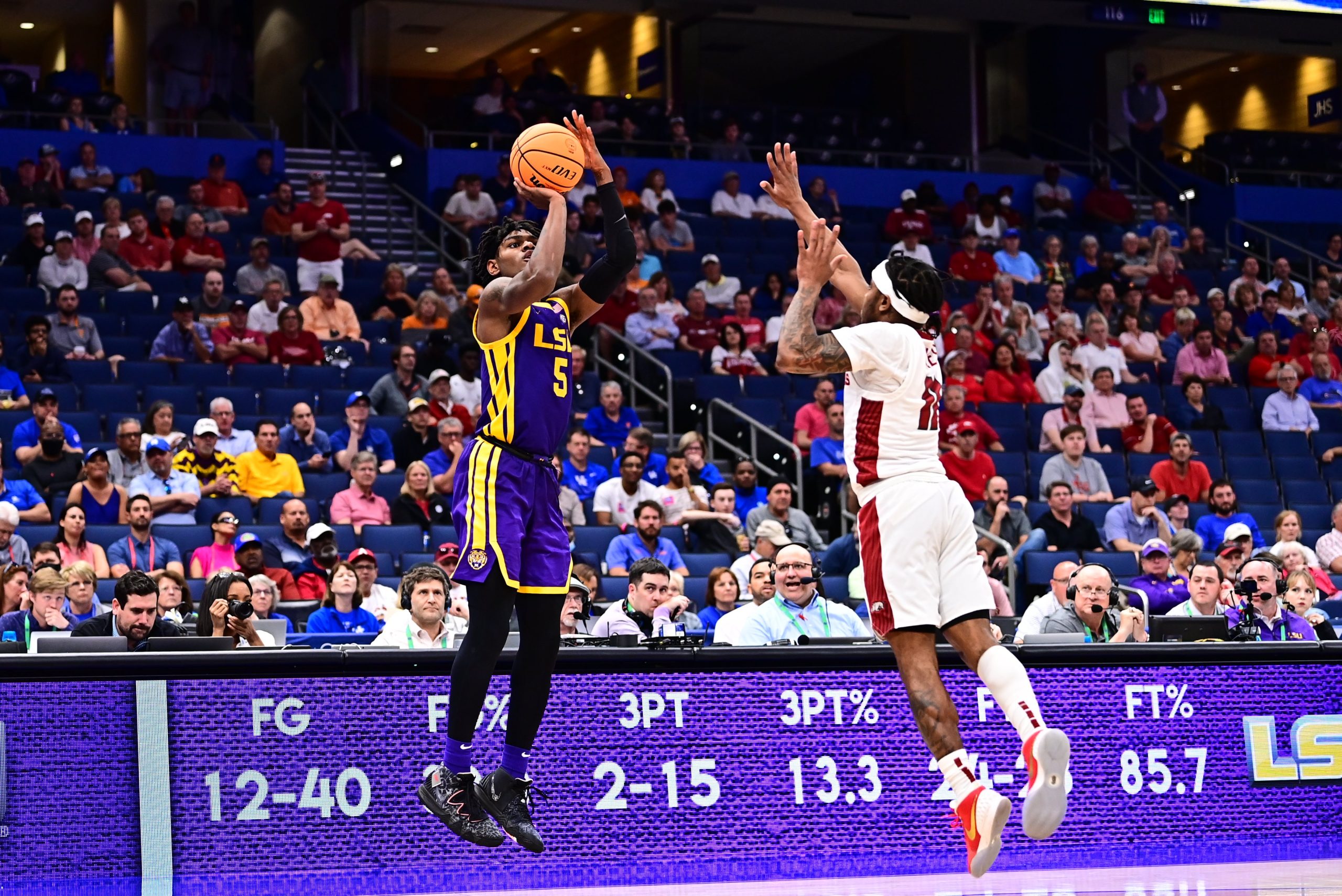 There were a lot of places on the scouting report LSU basketball coach Will Wade could have gone to surmise his team's bitter result.
When it comes to looking at a scouting report against a team you've already lost to twice, LSU basketball coach Will Wade had his team focused on the requisite players in Friday's Southeastern Conference quarterfinal round.
Little did the Tigers realize their biggest problems in a 79-67 exit from the league's postseason tournament would derive from a 5-foot-7 player that scored a total of six points against them in their two previous meetings.
Graduate student guard Chris Lykes, a player Wade first recruited to Virginia Commonwealth, emerged as an unlikely hero to spur fourth-seeded Arkansas on a late run in the first half that morphed into a devasting 19-0 run that bridged with the first 3 ½ minutes of the second half for a 12-point win over the fifth-seeded Tigers.
"Lykes killed us in the second half," Wade said. (Au'Diese) Toney killed us in the first half. You've got to face the music. Arkansas just better than us. Beat us three times this year. … just a lot better than us."
LSU (22-11) returns home where it will receive an at-large bid – projected as either a No. 5 or 6 seed – when the NCAA unveils its bracket at 5 p.m. on Sunday on CBS.
The SEC's Sixth Man of the Year, sophomore Tari Eason, led LSU with 15 points, with second team All-SEC selection Darius Days added 14 points and grabbed a team-high 10 rebounds, and Murray had 13 points and four assists.
The Tigers shot 35 percent (18 of 51) from the field and made just 4 of 19 3-point attempts. More alarming, though, was Arkansas' 42-28 rebound advantage.
"I thought at the end of the first half the game got away from us," Wade said. "In the second half, we gave up 50 points, got killed on the glass."
After dropping its first two meetings with the Razorbacks (25-7) by a total of eight points, LSU was no match for the Hogs a five-minute stretch when a 29-26 halftime deficit turned into a 42-26 disadvantage on JD Notae's three free throws with 16:42 to play.
"They just played harder than us," LSU freshman guard Brandon Murray said of Arkansas. "Honestly, there's not like a matchup difference. A lot of times we beat ourselves. They just play harder than us and got the best of us."
With neither team shooting over 30 percent in the first half, LSU matched its biggest lead at 26-23 with 1:04 to play on Mwani Wilkinson's field goal.
Arkansas scored the last six points of the first half, a span of 22.7 seconds, to take a lead it would never relinquish.
Lykes was responsible for all six pivotal points, the first four from the free throw line after he was fouled by LSU's Efton Reid and Wade was hit with a technical foul.
He later stole the ball from Tari Eason and his pull-up 17-foot jumper the buzzer to make it 29-26.
"In the first half that was two great defensive teams," Arkansas coach Eric Musselman said. "I thought Chris Likes' push at the end of the first half was really huge for us momentum wise for us."
Wade said his technical was derived from asking referee Joe Lindsay how much time there was on the shot clock after the foul on Lykes.
"All I was asking why there was 20 seconds on the shot clock," he said. "I swear to God, that's all I did."
Wade acknowledged that such a plea came with obvious consequences.
"The last straw," he said with a wry smile. "It may have been retroactive. I think Joe Lindsay's a hell of an official. He should be in the Final Four. He's one of the top officials in this league. I'd take him on my games anytime. That's the way it worked today."
Wade went back farther in the first half when Notae, Arkansas' leading scorer, went to the bench with two fouls and didn't play for the last eight minutes of the first half.
"We couldn't stretch the lead like we needed to," he said. "That was the whole key to the game."
LSU went scoreless for nearly five minutes of the second half until Eric Gaines' free throw at the 16:08 mark. By that time, Arkansas had opened with a dunk from Trey Wade, the first field goal of the game from Jaylin Williams and a pair of 3-pointers from Toney and Stanley Umude out of the locker room.
"We can't play from behind by very much against Arkansas because when you do that, you have to do what we did today which was extend our defense," Wade said. "When you extend your defense, the guards drive right by you."
LSU had no offensive flow throughout the half, a fact made worse when starting point guard Xavier Pinson spent the last eight minutes on the bench with a wrist injury. He wound with four points and was 1-of-6 shooting from the field.
The Tigers closed to 60-50 on Eason's two free throws with 5:40 left but Lykes, sixth on the team in scoring at 8 points a game, heated up in the last four minutes. He reeled off seven straight points and had 11 of his 18 points in the second half for a 69-55 lead with 3:32 to play.
Toney, who averaged 10.4 points, topped Arkansas with 22 points and 10 rebounds, while Notae had 14 of his 19 in the second half. Lykes, who spent four years at the University of Miami, finished with 18 but had a combined 19 in a seven-game stretch prior to scoring 15 in his team's regular-season finale loss to Tennessee.
"I know he's a dynamic scorer, he's a good player," Wade said of Lykes. "He was on the scout (report). He really hurt us."