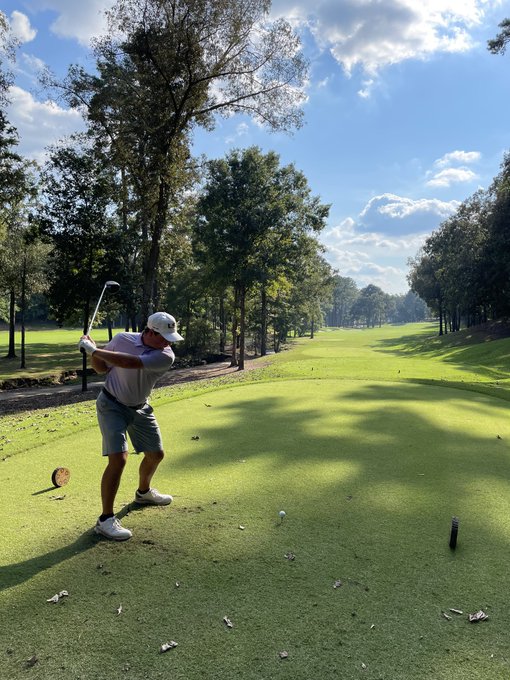 LSU men's golf team resumes play Tuesday morning in the semifinals of SEC Match Play after recording wins over Alabama and Texas A&M at the Shoal Creek (Ala.) Club.
Meanwhile, the LSU women's golf team is in fifth place with the second round still incomplete in the Illini Women's Invitational at the Medinah (Ill.) Country Club.
Here's what happened for the Tigers in both locales:
MEN
The Tigers beat Alabama 3 to 1 in Sunday's first round and knocked Texas A&M 3½ to 1½ in the Monday morning quarterfinals.
LSU and Arkansas began its semifinal match Monday afternoon. The Razorbacks lead 2 to 1 with two tied remaining matches that will be settled by sudden death. LSU freshman Cohen Trolio's match against Luke Long and sophomore Nicholas Arcement's match against Wil Gibson each begin at 7:30 a.m. on the 18th hole and play it continuously until someone wins the match.
Both Trolio and Arcement are in must-win situations for LSU to advance to the championship match. If the Tigers defeat Arkansas, they will play Vanderbilt in the championship match, but if LSU loses, they'll face Georgia in a match for third place. The final matches will begin shortly after the conclusion of the semifinal matches.
WOMEN
Rain cut short the second round of the Illini Women's Invitational, which had scheduled 36 holes for the first day.
Georgia is the leader at 14-under par Texas Tech is second at -11 under, Purdue third at -9 under, Illinois fourth at -8 under and LSU fifth at 4-under.
LSU sophomore golfer Carla Tejedo Mulet leads all individual golfers at 7-under for the championship after an opening 4-under par 68 followed by going 3-under in the first eight holes of round two.
Mulet fired a four-birdie, no bogey round of 4-under 68 in the morning round on Monday and continued her strong play in the second round. Starting the second round on the ninth hole, Tejedo Mulet played the first five holes in even par before birdies on the par four 14th, the par 3 15th and the par 5 16th hole, her sixth through eighth holes of the second round.
She bogeyed the 17th hole on the course, her ninth, and then posted another birdie on the 18th hole, a par 5, to get to 3-under for the round and 7-under for the championship.
LSU junior Ingrid Lindblad is 1-under for 29 holes and is tied for 20th. Lindblad posted even par in the morning round and has a birdie and 10 pars in her second round.
The second round is expected to resume Tuesday at 8:30 a.m. CT and the tournament officials hope to play the third round as scheduled to complete the event.