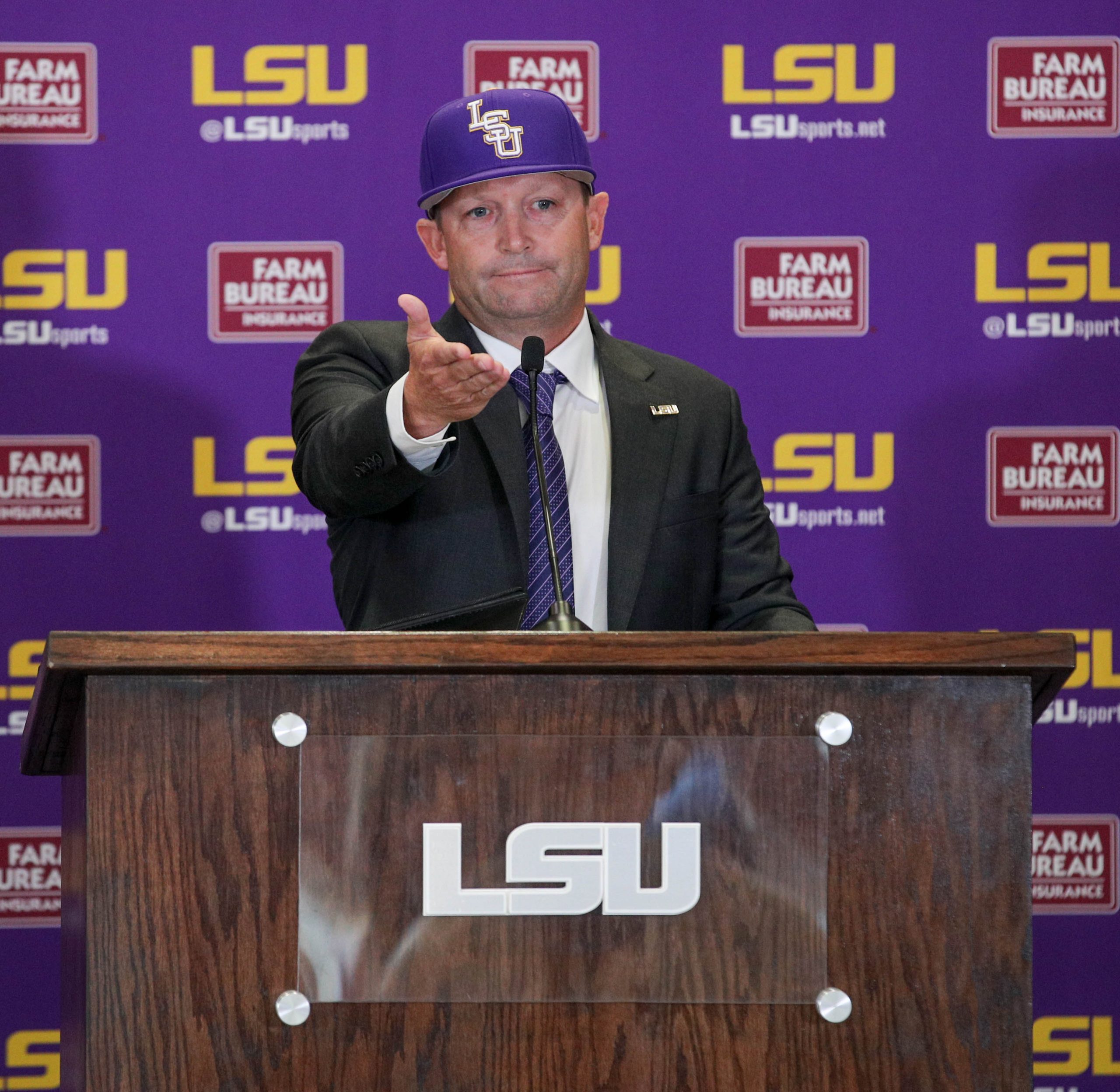 The three-day 2022 Major League Baseball Draft opens Sunday.
LSU baseball coach Jay Johnson can't stand that notion.
"It's one of those things," Johnson said during an appearance last Tuesday night at Tiger Rag Radio. "Major League Baseball is going to do what's best for Major League Baseball.
"It's a business, and they feel like having a draft during the All-Star Game is going to drive ratings for that draft. And maybe it does, maybe it doesn't."
Prior to 2021, the draft traditionally was held in early June, while the NCAA Tournament still was underway.
That occasionally caused for awkward moments as players either learned they'd just been drafted, or that they'd slipped in the draft, while games were being played.
Now it's being held during July in Los Angeles, where the MLB All-Star Game will be played Tuesday night at Dodger Stadium. The 20-round draft's first two rounds will be held Sunday night (6 p.m. CT; ESPN/MLB Network), with rounds 3-10 on Monday and 11-20 on Tuesday.
"Logistically, for us as college coaches, it (having the draft in mid-July) makes it really difficult," Johnson said. "And it makes it really difficult on players and families as we're trying to formulate things and be within NCAA rules on rosters and scholarships."
Johnson said he typically meets with players and their families in December, before the college season starts, to discuss draft matters and pitch why he thinks college baseball is the best route for most prospects.
"I think if you're a first-round pick – like, if a Major League team is going to make you the face of their draft, their first-round selection – I think you kind of have to look at it," Johnson said of leaving school early. "I think there's a lot of accountability on the organization, if they draft you first, to get you to the major leagues.
"But outside of that, I think school is the pathway. And I think it's the right pathway for all but 30 players in the country – and, actually, half of those 30 players are (already) college guys, so let's say 15 guys in the country.
"But the one thing that changes is sometimes is money. And, you know, people put different values on money. And that's their own decision.
"For me, it's about having a long career in baseball and a long career in the major leagues," Johnson added. "And there's no doubt in my mind that LSU, our coaching staff, playing in the SEC, playing in this environment, training, getting to go to Cape Cod, potentially play for Team USA – all those things help develop the player better than the low minor leagues."
LSU has seven players this summer in the prestigious Cape Cod League, a pathway for many to being drafted after proving they can hit with wooden bats.
Two other Tigers, Dylan Crew and Tre' Morgan, played this month for the U.S. Collegiate National Team, which won a bronze medal Friday at the Honkbalweek Haarlem international invitational tournament in the Netherlands.
With the draft presenting so much uncertainty as to which of its signees will actually be on the roster next season, however, Johnson and his staff, including newly hired recruiting coordinator Josh Jordan, battle roster uncertainty issues not only when they actually sign prospects but also now with the start of fall semester studies fast-approaching.
That means having to recruit, and sign players, knowing some likely will never show up on campus.
To do it, some programs essentially 'over-sign.'
With the draft in July rather than July, it also leaves precious little time to make late roster additions.
"For me," Johnson said, "my job is to take care of LSU and this program and make sure we have what we need to contend to go Omaha and compete for a national championship.
"There's no way to do that without being a little bit aggressive from a recruiting standpoint and then kind of having your losses covered before they actually become losses.
"The draft is tricky. It will play on the emotions of players and families," Johnson added. "We've done our best to educate them. Major League Baseball has a lot of money. So it's kind of a wait-and-see approach and we'll see what happens."
Johnson is prepped for inevitable ups and downs in the hours and days to come.
One Tiger, slugger Jacob Berry, is ranked No. 7 on mlb.com's Top Prospects list and expected to be selected in the first round, perhaps among its first 10 picks.
Another, second baseman Cade Doughty, is No. 55 and could be taken before Sunday's second round is done. Right-handed pitcher Eric Reyzelman is ranked No. 120.
The Tigers also have 11 signees ranked among mlb.com's Top 200 prospects, including eight in the Top 100.
Already, LSU has learned outfielder Paxton Kling – ranked No. 104 on the mlb.com list – withdrew his name from the draft and will attend school. He's a high school signee from Pennsylvania.
The rest remains largely uncertain for Johnson.
"It's gonna kinda be a hold-onto-your-hat deal," he said.
"I'm probably gonna lock myself in a hotel room for three days and just try to sort through all of this and be able to react in a fashion that's gonna help us end up with the right team at the end of it.
"But it is difficult. I would hope they'll revisit (holding the draft in mid-July). I don't have much faith that they will. But you've kind of got to swim in the waters you're given, and this is where we are today.
"We'll see how it goes. We're expecting to lose a few guys," Johnson added. "But we think we covered ourselves really well, and I'm anxious to get to Tuesday, (when) we'll know a little better what this thing looks like."