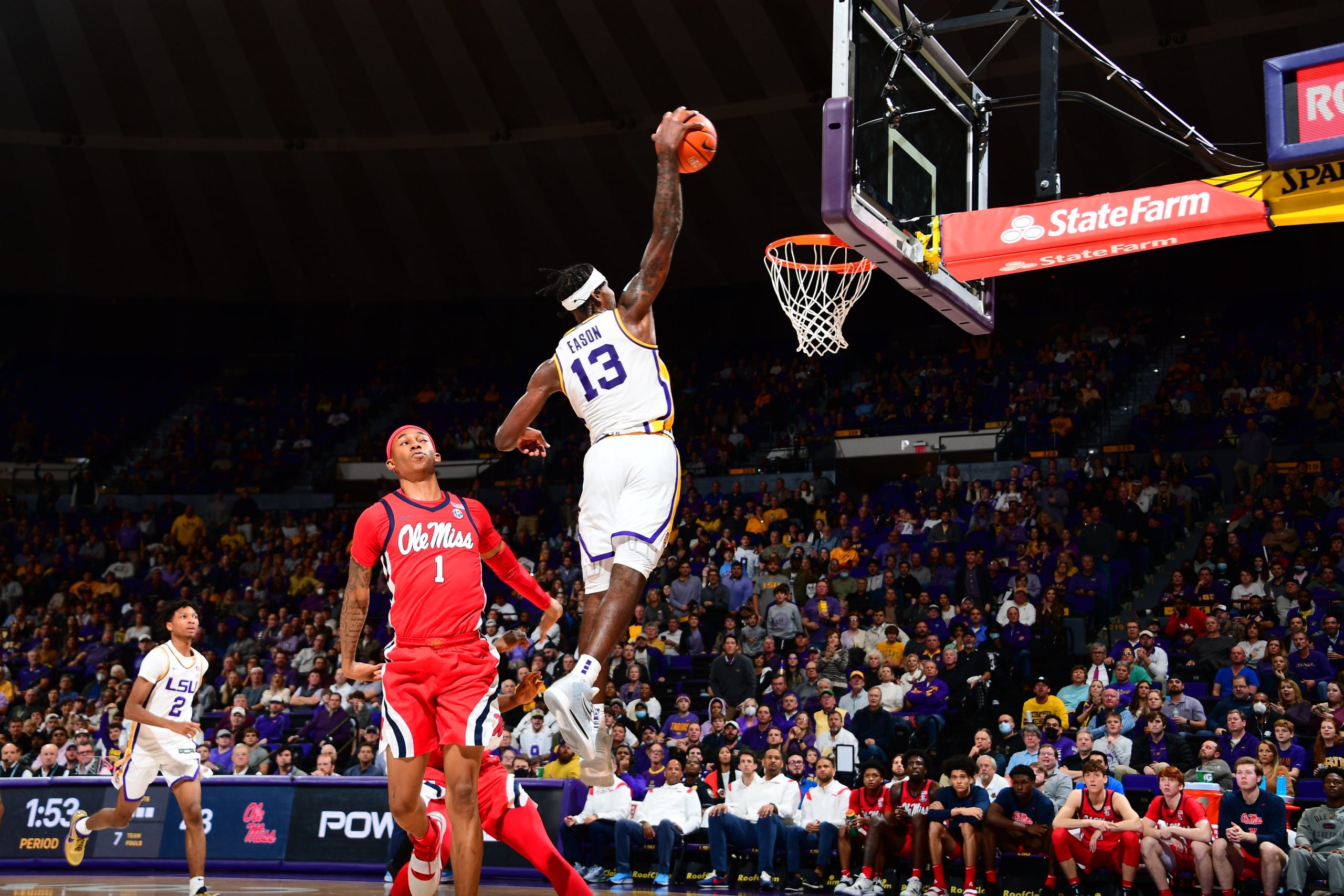 After spending a year at LSU where he launched himself to Southeastern Conference first team status, sophomore forward Tari Eason announced Friday that he's forgoing his remaining eligibility and headed to the NBA.
The 6-foot-8, 215-pound Eason, a native of Los Angeles and product of Garfield High, is a projected lottery pick and announced the decision on his social media account.
Eason, who hired an agent, is the No. 15 prospect in the NBA 100. He also led a defense that ranked No. 1 in the SEC and sixth nationally, per Ken Pomeroy's ratings.
"I hope NBA teams were able to see how passionate I am about this game and competitive fire," Eason told ESPN.com. "I hate losing more than I enjoy winning. I'll do whatever it takes for my team to secure a win. I also hope they saw that the defensive part of my game is just as important to me as my offensive game. I want the NBA to know that I intend to be an elite two-way player and I will never be complacent. There is never an end to getting better. Never."
The NBA will conduct its draft combine May 16-22 in Chicago, and its draft on June 23 in Brooklyn, New York.
Eason was named to the All-SEC first team and was named the league's "Sixth Man of the Year" after making just four starts in place of injured point guard Xavier Pinson. The Cincinnati transfer, though, established a role as the team's top player off the bench, averaging 24.5 minutes in 33 appearances.
Eason topped LSU with a 16.9 scoring average which was good enough for fifth in the SEC. He shot 52 percent (190 of 365) from the field and 80.3 percent (151 of 188) from the free throw line. He also grabbed 6.6 rebounds which was good enough for second on the team.
Eason scored in double figures 29 times, including a career-high 26 at Alabama on Jan. 19, and put 11 straight games together of double-digit scoring (Jan. 15-Feb. 19). He also compiled seven double-doubles which was the most since Jordan Mickey (eight) and Jarrell Martin (five).
He transferred from Cincinnati where he started in eighth of 23 games, averaging 7.3 points and 5.9 rebounds.
"I'm excited to show NBA teams my work ethic, as I refuse to be outworked or out-toughed," he said. "Also, my offensive versatility, from ballhandling, decision-making and shot-making ability out to NBA 3-point range. I try my best on and off the court to be great."
The departure of Eason marks the third for the LSU basketball program since head coach Matt McMahon was introduced on Wednesday.
The Tigers are also looking to replace guards Xavier Pinson and Brandon Murray, who both announced they had entered the NCAA's transfer portal following the dismissal of head coach Will Wade and associate head coach Bill Armstrong for alleged NCAA recruiting violations.