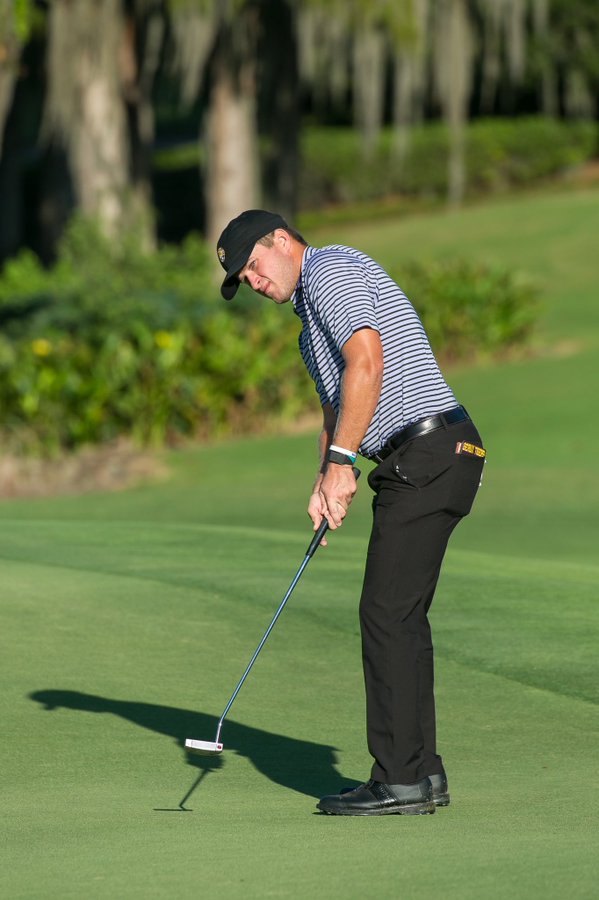 Garrett Barber's dominance on the Louisiana Sports Writers Association's All-Louisiana team continued in 2022.
Barber was named the LSWA's Player of the Year for the third straight year, leading a parade for LSU which also included Coach of the Year, Chuck Winstead, and Freshman of the Year, Cohen Trolio. The Tigers were also represented on the first team by Michael Sanders and second team by Nicholas Arcement and Drew Doyle.
The LSWA selected five players for its first and second teams based on voting from nominations submitted by the school media relations offices in the state that play the sport. In the voting, schools could not vote for players from their respective schools.
Barber enjoyed his most successful season yet. In 33 rounds, he compiled a career-low 71.15 stroke average with 21 rounds at or below par and a team-best 122 birdies. He topped the Tigers with four top five finishes and helped the Tigers to two team championships.
Barber was also recently selected to the 2022 PING Southeast All-Region Team.
Trolio maintained a 71.30 stroke average ranked and his 115 birdies were only second to Barber on LSU's team. He was also chosen to the PING Southeast All-Region team and the SEC's All-Freshman team.
Sanders had four finishes in the top 10, three of which were 5th place or higher, and led the Tigers with seven eagles on the year.
Winstead guided LSU to a pair of tournament titles and the semifinals of the SEC Championships.
2022 LSWA MEN'S COLLEGE GOLF TEAMS
MEN'S PLAYER OF THE YEAR – Garrett Barber, LSU
MEN'S FRESHMAN OF THE YEAR – Cohen Trolio, LSU
MEN'S NEWCOMER OF THE YEAR – Jacob Agerschou, ULM
MEN'S COACH OF THE YEAR – Chuck Winstead, LSU
MEN'S FIRST TEAM
Garrett Barber, LSU – 71.15 stroke average; PING Southeast All-Region team
Peter Hinnant, UL-Lafayette – 72.60 stroke average; first-team All-Sun Belt Conference
Sam Murphy, Louisiana Tech – 71.63 stroke average; NCAA Regional participant
Michael Sanders, LSU – 71.48 stroke average
Cohen Trolio, LSU – 71.30 stroke average; SEC All-Freshman Team
MEN'S SECOND TEAM
Jacob Agerschou, ULM – 73.46 stroke average
Nicholas Arcement, LSU – 71.85 stroke average; San Diego Classic Medalist
Drew Doyle, LSU – 72.33 stroke average; The Hayt Medalist
Ryan O'Neil, Nicholls – 73.33 stroke average; first-team All-Southland Conference
Eli Ortego, UL-Lafayette – 72.97 stroke average; SBC Freshman of the Year
HONORABLE MENTION
Logan Kuehn, Southeastern; Richard Polan, Centenary