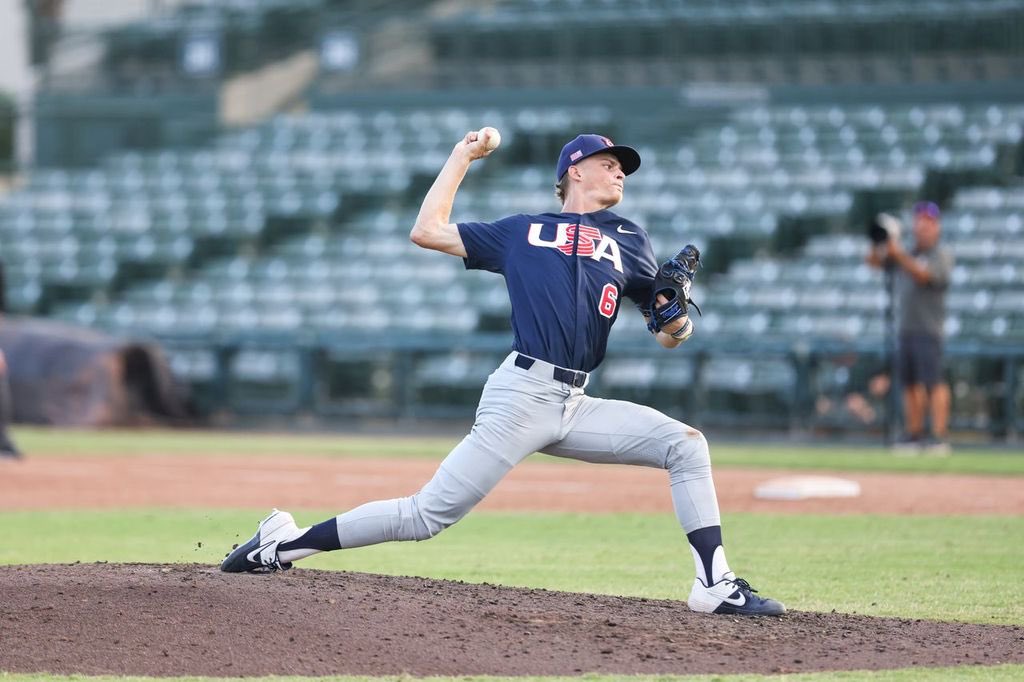 LSU's incoming baseball recruiting class took a Gatorade shower Friday.
The Tigers' class, ranked No. 1 by Perfect Game, had four of their 17 high-school signees honored with Gatorade Player of the Year awards in their respective states. They also had a member of the Class of 2023, Blake Mitchell, receive the same designation.
LSU, which signed a total of 21 players that includes four junior college players, had the Gatorade Players of the Year in Louisiana (Gavin Guidry), Texas (Blake Mitchell), New York (Michael Kennedy), Nevada (Robby Snelling) and Pennsylvania (Paxton Kling) that was released by Gatorade on Friday.
Community service and academics, along with athletic accomplishments, were other components of the award. Each state winner is eligible for Gatorade's National Player of the Year to be awarded this month.
Guidry, of Barbe in Lake Charles, is the state's top-rated prospect by Perfect Game. The 6-foot-3, 180-pound pitcher/shortstop, a member of the 2021 U.S. U18 national team, went 8-0 with a 0.16 earned run average, 83 strikeouts with 11 walks in 45 innings this spring. He also batted .422 with five homers and 25 RBIs.
Kennedy, of Troy High, was another dual threat prospect that's a left-handed pitcher and first baseman that was another member of the '21 U.S. U18 national team. The 6-1, 205-pounder was 6-0 with a 0.60 ERA and 65 strikeouts in 35 innings on the mound and batted .361 with two homers with 12 RBIs.
Snelling, of Reno's McQueen High School, is a 6-3, 210-pound left-handed pitcher, outfielder and first baseman that also excelled on the mound and at the plate.
Snelling, the state's No. 2 prospect by Perfect Game and Prep Baseball Report, had an 8-0 record, 0.56 ERA with a state-record 146 strikeouts this season. He also had a state record 20 strikeouts in a game this season against Spanish Springs. The 6-3, 210-pound prospect, rated No. 74 overall by Baseball America, hit .362 with 23 RBIs and 23 runs scored.
Mitchell, of Stinson High School, is the state's No. 4 prospect by Prep Baseball Report in Class of 2023 and also contributed to his team's success with both his arm and bat.
The 6-2, 200-pound catcher, shortstop and right-handed pitcher, had a 4-0 record, 0.59 ERA, 54 strikeouts and seven walks in 23.2 innings. He also had a .449 batting average with 39 RBIs, five homers, 37 runs scored and drew 28 walks.
Kling, of Martinsburg-Central, also played the '21 U.S. U18 National team. The 6-2, 208-pound prospect is the No. 1 player in Pennsylvania by Perfect Game and No. 7 overall by Prep Baseball Report. The shortstop/centerfielder, hit .585 with four homers, 29 RBIs, scored 43 runs and stole 33 bases. He only struck out four times in 96 plate appearances.