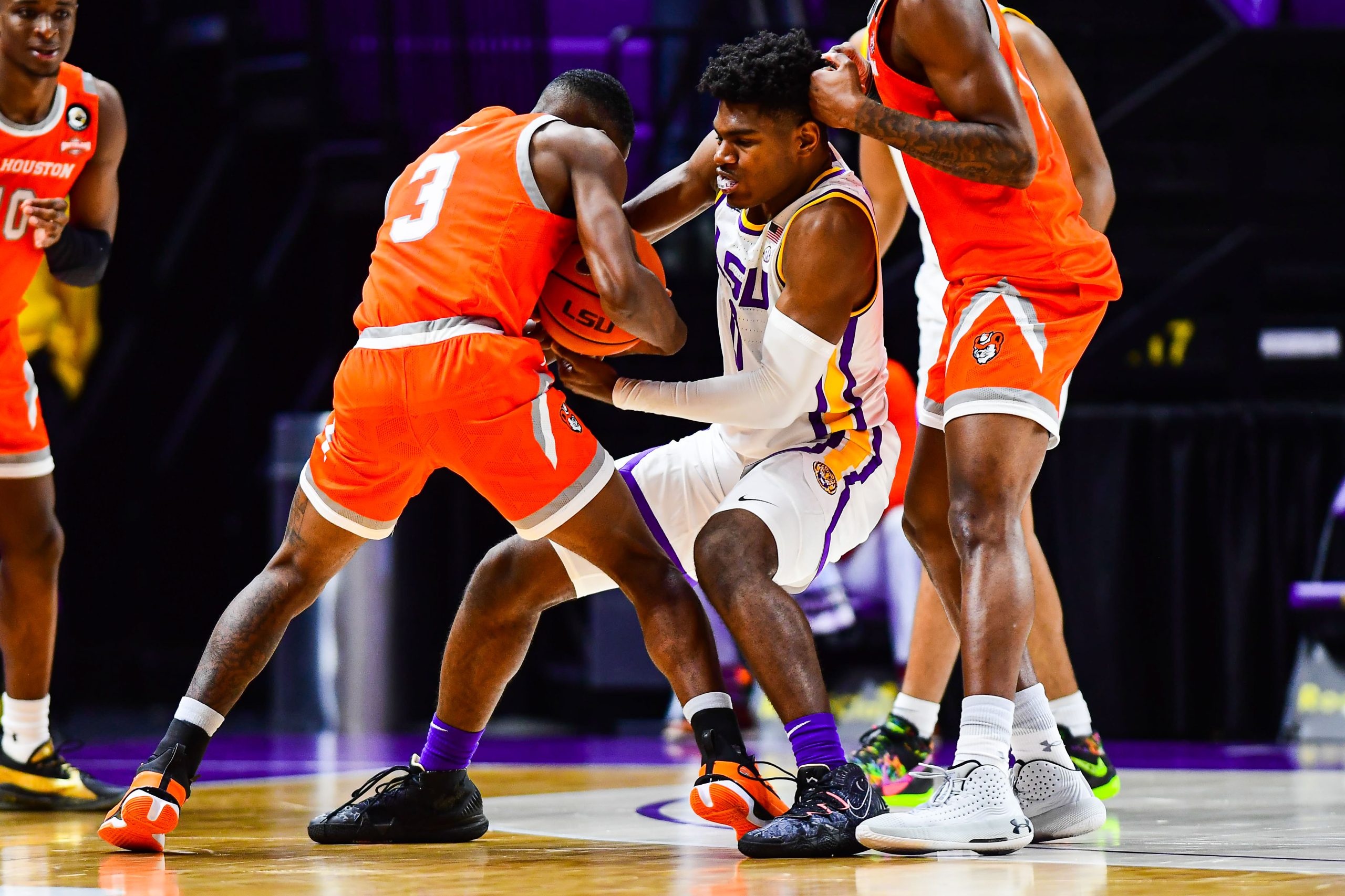 Almost any basketball team would love to have Mwani Wilkinson on its roster.
Because the 6-5, 206-pound LSU swingman is a rarity since he believes in defense first.
"My dad always told me, especially when I was in high school or playing AAU," Wilkinson said, "that defense wins championships, whether it's in the NBA, the NFL or whatever."
Because he recognizes his weaknesses and works to flip them to strengths.
"I was in the gym working on my 3-point shooting and ball-handling this past summer," Wilkinson said. "My team needs me to hit open 3s and be able to create (shots) for myself."
Because his only agenda is to help his team walk out of an arena with a victory, even if it means averaging just 3.6 points, 2.7 rebounds and 1.5 field goal attempts last season when he started in 14 games as a true freshman for the Tigers.
"I knew that's what I had to do in order for us to win," said Wilkinson, who took pride in his role as a rugged defender and rebounder in a lineup in which the four other starters dominated the shot attempts and the scoring.
It's why there may be bigger or faster players on LSU's team, or maybe some that shoot or rebound better than Wilkinson. But when it comes to LSU coach Will Wade's lineup puzzle, there's not a more interchangeable piece than Wilkinson.
The Tigers have 11 new players this season, but it's Wilkinson the returnee who has turned heads in the preseason.
"Nobody in our program has made a bigger jump than Mwani Wilkinson," Wade said. "He played for us last year and started a bunch of games for us. There's nobody that's had a better offseason in our program than Mwani. He's going to look like a new player especially on the offensive end. When people see him, they're going to be shocked."
Wilkinson's innate physical and mental toughness and his competitiveness comes from being in a family inundated with football.
As the youngest of three brothers, Wilkinson's two oldest siblings played college football. Oldest brother DeAngelo was a cornerback at Colorado State from 2006 to 2010 and middle brother Tim was an All-Big Sky Conference defensive tackle at Northern Arizona from 2010 to 2013 and is now defensive line coach at Bishop Gorman High in Las Vegas.
Bishop Gorman is where the youngest Wilkinson brother eventually stopped playing football to concentrate on basketball.
"I thought basketball was more fun," Wilkinson said. "In football, somebody has to get hit every play."
Wilkinson's basketball career didn't ignite immediately.
"I didn't play on the varsity until I was a junior and I didn't get my first (scholarship) offer until the end of my junior year," Wilkinson said. "Once I got my first offer, everything started taking off."
LSU jumped in the recruiting mix for Wilkinson because he had family in Louisiana.
"Three of my grandparents are from Louisiana, so growing up I visited five or six times," Wilkinson said. "I knew this (LSU) was a place where I felt comfortable. When Coach Wade first called me in recruiting, one of the first things he told my parents and me is they like to recruit kids that have lineage from Louisiana."
Wade doubled down his recruiting efforts, something that didn't go unnoticed by Wilkinson.
"He's outgoing, he's aggressive and he's a very good recruiter," Wilkinson said of Wade. "There were times I had workouts at high school at 6:30 in the morning and he'd be there watching me. He made me feel wanted. He knew what he was doing."
Wilkinson, a four-star recruit ranked No. 74 by ESPN Top 100 and No. 77 nationally by 247sports.com, averaged 19 points, 10 rebounds, four blocks, two assists and two steals as a senior. Bishop Gorman was ranked No. 4 nationally after finishing 29-3 and winning the Nevada Class 4A title for the ninth consecutive year.
Wilkinson reduced his recruiting list to LSU and USC – Deep South vs. the West Coast, bayous vs. beaches, La. vs L.A.
Since it's just a five-hour drive from Vegas to Los Angeles, it seemed like USC was the favorite. But Wilkinson's family ties with Louisiana prevailed.
"I'm pretty sure after I got the LSU offer I wanted to come here," Wilkinson said.
Wilkinson went home this past summer with a list of improvements he needed to make. While last season he shot an incredible 78.4 percent (40 of 51) from the field – a large majority of his buckets were layups, dunks or offensive rebound stickbacks – he only attempted five 3-pointers and made two.
Defenses picked up Wilkinson's reluctance to shoot 3's, so they didn't bother to guard him when he wandered out behind the 3-point line, particularly in the corners.
"Defenses were running off me to go guard somebody else when I was off the ball," Wilkinson said.
So, before reporting back to LSU, Wilkinson worked out in Vegas with his trainer Jim Jones at the Heinrich YMCA. He also practiced at Bishop Gorman with former high school teammates, got some runs in at the Tarkanian Basketball Facility where many Las Vegas NBA Summer League players train and even stopped in at the summer league to watch his former LSU teammate Cam Thomas lead the league in scoring as a rookie with the Brooklyn Nets.
While Wilkinson honed his 3-point stroke and sharpened his ball-handling, the one thing he'll never change is his game's old school roots of mid-range jumpers and a love of defense.
"The value of having a mid-range game," Wilkinson said, "is if you're a really athletic person you can stop on a dime and shoot that mid-range shot.
"And I've always loved defense. Maybe it's because both my brothers who played college football were on defense. Maybe it's a family thing."
While Wilkinson's improved offensive repertoire should increase his scoring average this season, he realizes the most insignificant of plays can light his team's fuse.
Like in last season's NCAA tournament opening round game vs. St. Bonaventure, LSU had made just 1 of its first 12 shots and trailed 4-2 almost eight minutes into the first half when Wilkinson entered the contest and tipped in a missed Thomas layup
The bucket started a 15-6 LSU run over the next 5:20 to point the Tigers toward a 31-22 halftime lead and eventually a 76-61 victory.
Wilkinson played just eight minutes. His basket and rebound were his only of the day.
"It was a momentum play and I like momentum plays," Wilkinson said. "You need them because basketball is a game of runs.
"Whether you're starting the game or coming off the bench, you have to bring energy. I try to impact the game as many ways as I can, even if I don't have the ball."