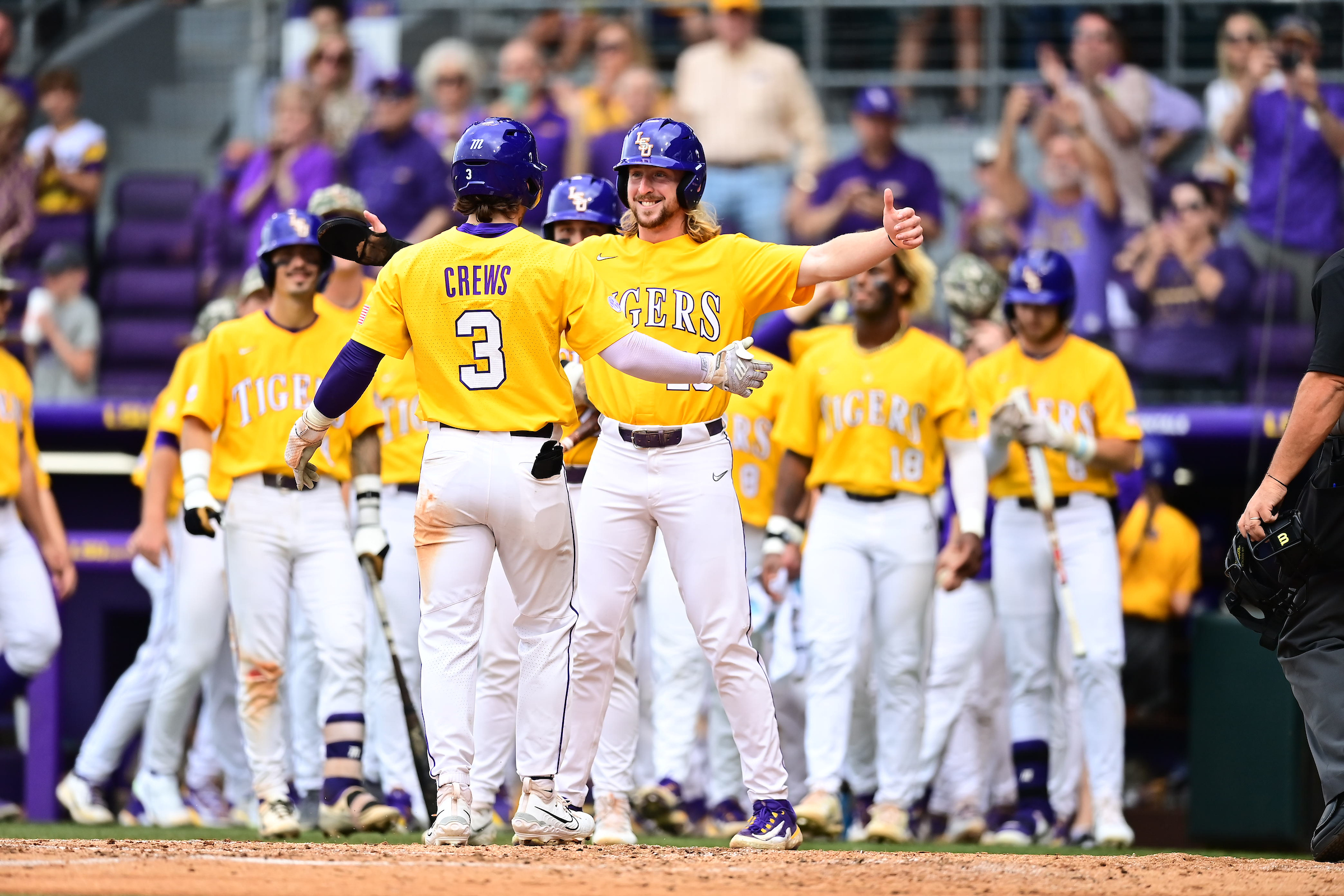 LSU right-hander Thatcher Hurd fired five scoreless innings and third baseman Tommy White launched a grand slam Sunday to lead the Tigers to a series sweep against Samford with a 13-1 victory at Alex Box Stadium, Skip Bertman Field.
LSU (15-1) won its 10th straight game. It's the longest streak for the Tigers since the 2017 season, when they won 17 straight games from May 11 through June 17.
Before traveling to Bryan-College Station to face Texas A&M for the beginning of SEC play, LSU hosts UNO Tuesday in an in-state midweek matchup. The contest is scheduled for a 6:30 p.m. and can be viewed on SEC Network+. The game can also be heard on the LSU Sports Radio Network affiliates.
"It was a tough start, playing early after a night game, but I thought our guys responded well," LSU baseball coach Jay Johnson said. "Their pitcher did a good job the first time through our order, but it's really difficult with our hitters to get through a second and third time.
Hurd (2-0) picked up his second win after tossing 5.0 innings and allowing no hits while striking out seven Bulldogs. Right-hander Gavin Guidry and left-hander Riley Cooper came on in relief for Hurd, tossing the final two innings while allowing one run on no hits, collectively.
"Thatcher was outstanding again," Johnson said. "He's got great stuff, he has great poise. The highlight of the day was when he got in a little trouble in the fourth inning, but he re-composed himself and ended the inning with a strikeout. He has elite stuff, and when he's an elite place mentally, he's as good as they come."
Samford starter Will Lynch (0-2) was charged with the loss, tossing 4.0 innings and allowing four runs on three hits.
LSU opened the scoring in the third after two scoreless innings from both squads. Centerfielder Dylan Crews unloaded his fifth home run of the season over the right-centerfield wall and extended his hitting streak to 14 games which is the longest of his career. His previous best was 13 straight games with a hit during his freshman campaign.
Crews broke open the scoring after right-fielder Paxton Kling hit a single through the left side. LSU led Samford 2-0 after three innings.
Kling was an impressive 3-for-5, knocking in three runs and scoring three times.
The Tigers increased the lead in the fifth, which started with a hit-by-pitch from second baseman Gavin Dugas, a single from Kling, and another HBP from first baseman Tre' Morgan. Crews headed to the plate with the bases loaded and drew a walk after a passed ball made the score 3-0.
White's grounder to shortstop allowed Kling to score from third and make it 4-0 after five innings.
The Bulldogs (6-9) scratched one across in the top of the sixth to close the gap to 4-1.
White blasted the game wide open in the seventh when he smashed a ball over the wall in right-center field with the bases loaded.
LSU added five runs to close out the nine-run seventh, including Kling's walk-off three-run dinger to account for the final margin. The run-rule win is the Tigers' third straight and seventh overall this season.