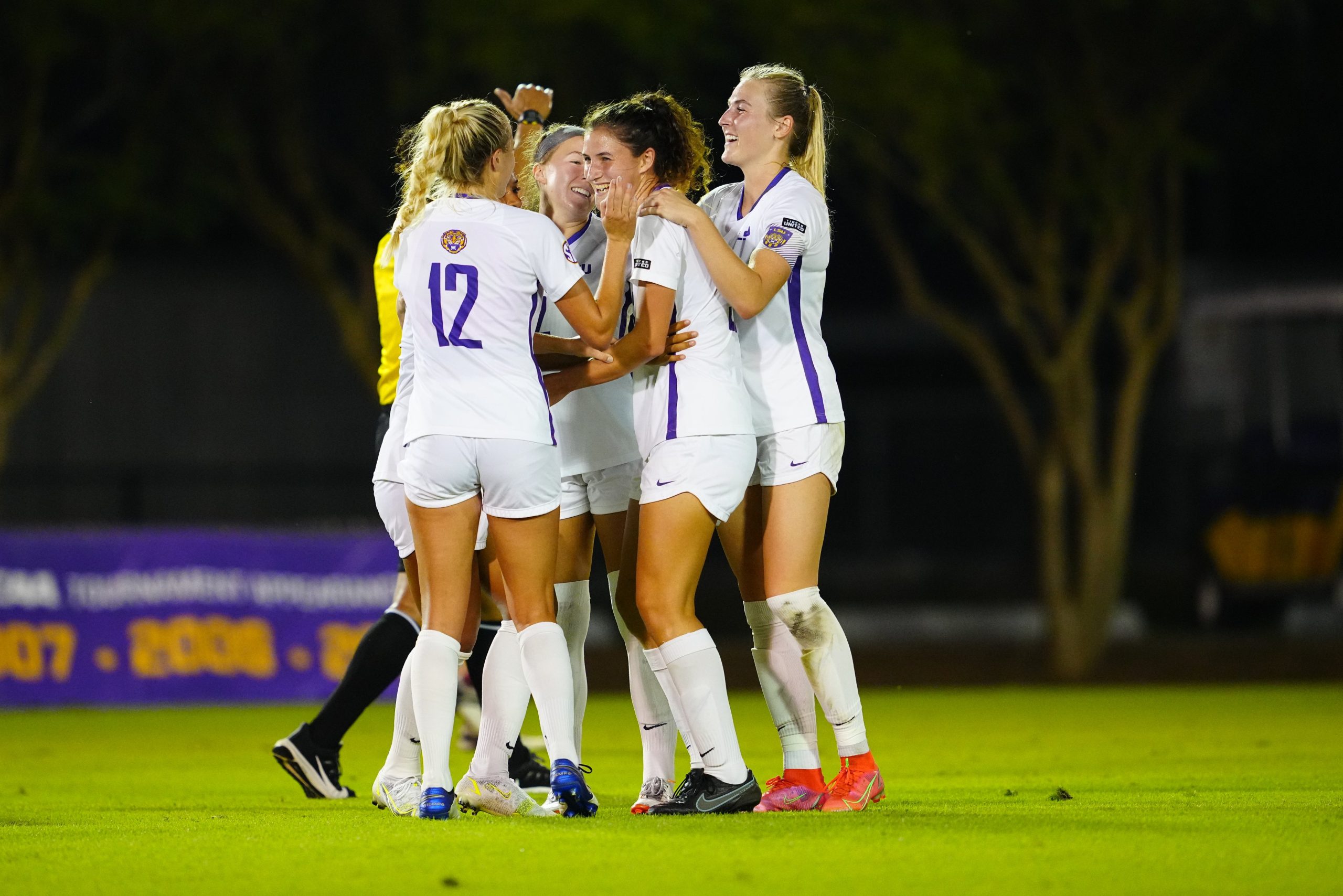 After getting derailed at the start of Southeastern Conference play, LSU's soccer team appears to be back on track.
The Tigers got three goals from three different players in the first half and rode the fifth individual save of the season from goalkeeper Mollee Swift to a 4-0 victory Thursday over South Carolina at LSU Soccer Stadium.
LSU (10-5-0 overall, 3-5-0) recorded its second straight shutout and jumped from 11th to ninth in the SEC's standings which would qualify the Tigers for the league's postseason tournament.
LSU finishes the regular season with a road game Sunday at Florida and a home game (Oct. 28) against Arkansas.
"We talked about being compact and organized defensively tonight," LSU soccer coach Sian Hudson said. "After the first 10 minutes or so, our confidence kept growing and growing. It was a must win game for us tonight and to come out and score four goals, keep the ball well, and get a clean sheet is fantastic. Really proud of the team tonight; now we turn our focus to Florida on Sunday."
Senior center back Shannon Cooke began LSU's first-half scoring barrage with a penalty kick in the 18th minute.

After South Carolina, the second place team in the SEC's Eastern Division, came up empty following several corner kicks and a throw-in, LSU made it 2-0 on a goal from Riley Dixon.
Tinaya Alexander pushed the ball up the left side of the field, drawing USC's goalkeeper Heather Hinz and two defenders just inside the 18. Alexander smartly timed her cross to Dixon on a run down middle of the field, getting a her left foot on the ball and sending it into the net in the 29th minute.
Senior Meghan Johnson was next to score for LSU, taking a pass from Alesia Garcia, and burying it into from 30 yards out in the top right of the goal past a diving Heinz in the 38th minute.
It was the most goals South Carolina had allowed this season.
LSU, which surrendered seven shots on goal, maintained its seventh shutout of the season with a team save in the 52nd minute with Swift off her line, the Tigers had a defender, Reese Moffatt, that dropped in the mouth of the goal to clear a crossing shot from USC's Ryan Gareis.
The Tigers, who had six shots on goals, added their fourth goal in the 82nd minute when Garcia dribbled her way through both boxes and Hinz was unable to secure the shot, allowing it to trickle into the goal – her sixth of the season.