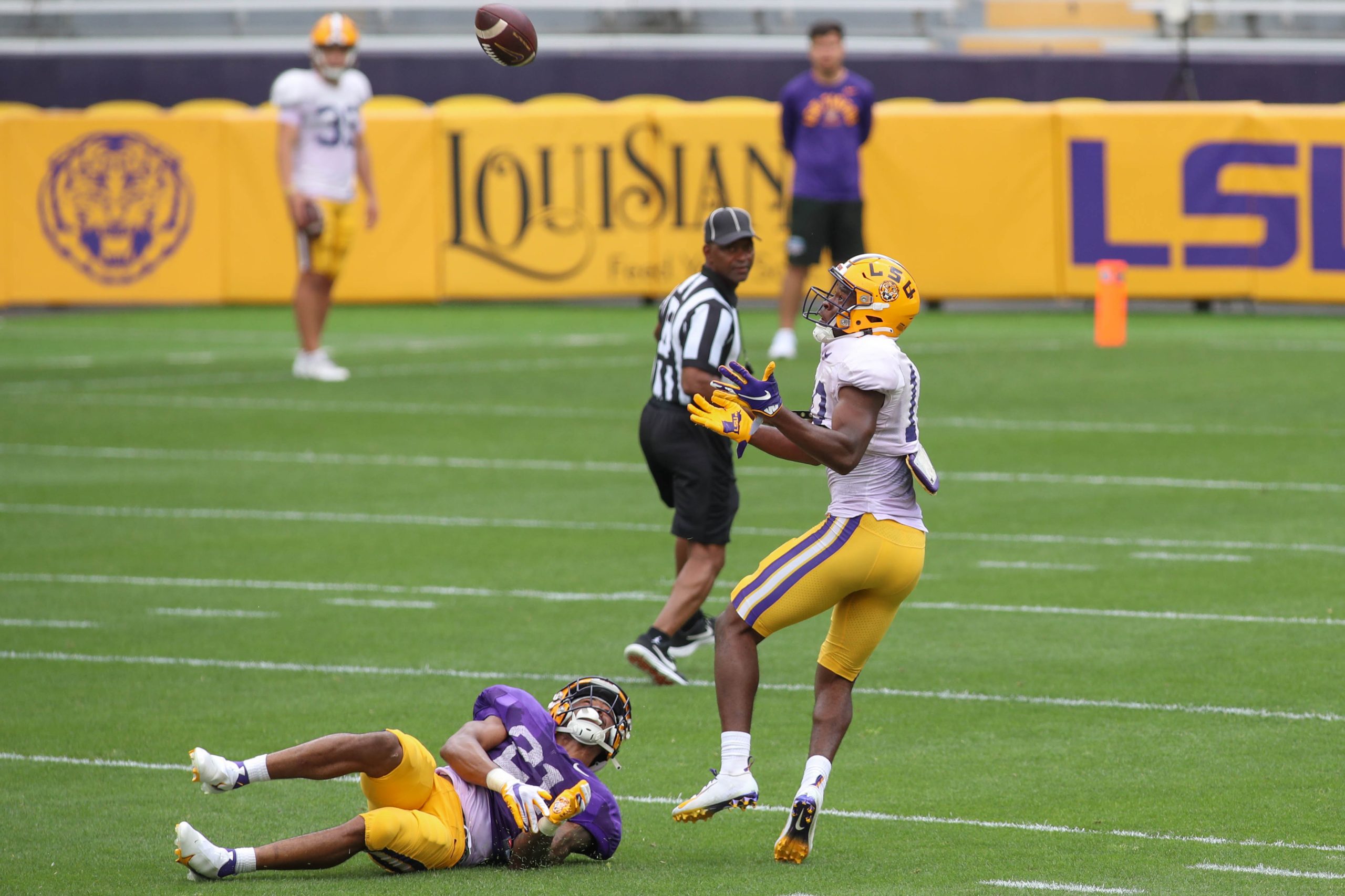 With so much focus on the LSU quarterback battle throughout spring practice, Tiger targets perhaps have been on the receiving end of some inattentiveness lately.
Not Saturday, though.
"I think we're building some grit in this group," coach Brian Kelly said after a practice at Tiger Stadium that was opening to media members from beginning to end. "I think there's talent."
Malik Nabers, Jaray Jenkins, Jack Bech and Brian Thomas Jr. all took first team reps.
Nabers and Jenkins had especially solid days as quarterback Myles Brennen connected on a 71-yard throw to Jenkins that went 50-plus in the air and Nabers turned heads with a diving catch off a rollout throw from Garrett Nussmeier, who along with Brennan looked quite sharp throughout the practice.
And for a second straight Saturday, Kyren Lacy – a former Ragin' Cajuns receiver from Thibodaux High who transferred to LSU after last season ended – ended practice with a touchdown catch.
Last time it was a deep ball from freshman quarterback Walker Howard; this time, a crossing route thrown by Arizona State transfer Jayden Daniels, who is fighting with Brennan and perhaps Nussmeier for the starting job.
Unavailable again, Saturday, however, was top receiver Kayshon Boutte, who remains out for the spring recovering from a second surgery on the injured ankle that ended his 2021 season after six games.
With Boutte, who did attend the practice, out, Kelly said he's "looking for guys who can sustain a consistent level of play for four quarters."
"We're having long practices, and then we're not getting into team play and throwing to them in competitive situations until late, so they're fatigued," Kelly said. "And we want to see them fight through those and make the big catches late.
"They look really good in periods one, two and three, right? … I want to see them late. So, we're developing a toughness with that group.
"So, if you were to ask me, 'Where is the group?' I think it's talented. I think they're going to be a group we can count on," he added. "But there are things in this total preparation … that we have to focus on, and it's not the physical. I think their technical and tactical is pretty good. It's the mental preparation that we're really focused in on."
RUNNING BACKS ROOM
Kelly said early indications are that running back Corey Kiner (high ankle sprain) will be out 2-to-3 weeks, meaning he likely will be miss LSU's April 23 spring game.
He also indicated running back John Emery Jr.'s injury, an ankle twist sustained during practice Thursday, doesn't appear to be serious.
Emery was wearing a walking boot Saturday, though.
"It seems to be a minor injury that maybe we can get him back next week," Kelly said.
With Emery and Kiner out, Tre Bradford took first-team reps with Armoni Goodwin and Josh Williams rotating in.
Bradford and Goodwin both seemed to take advantage of the extra work, with Goodwin ripping off a 60-yard run off a direct snap inside zone play during live play work.
LSU will also add Penn State transfer Noah Cain, whom Kelly mentioned Saturday, to the mix in the summer.
"I just think you're gonna see a lot of guys play at that position, and I think we're gonna play to each one of their traits as well."
LAGNIAPPE
Kelly confirmed that due to a dearth of healthy and available players, the Tigers – as he previously indicated likely would be the case – will go with an offense vs. defense format, which is not his ideal preference, for LSU's spring game. "As much as I do not like that version of it, for many reasons, it's the best way to create a competitive situation for our team," he said. "We'd have to put ourselves in some compromising situations (otherwise). So that's the way it's gonna be. … But it will give us a great evaluation." … Right tackle Cam Wire appeared to overheat and have a stomach issue of some sort late in the practice, so Marcus Dumervil stepped in there. … Kelly indicated LSU will fill its remaining scholarship spots with transfers soon after spring practice ends. "We feel we know the two needs we have … and we're prepared to fill those quickly," said Kelly, who previously suggested one of those spots was at cornerback, where LSU already added former Cajuns corner Mekhi Garner, whose been working with the starters, through the transfer portal.