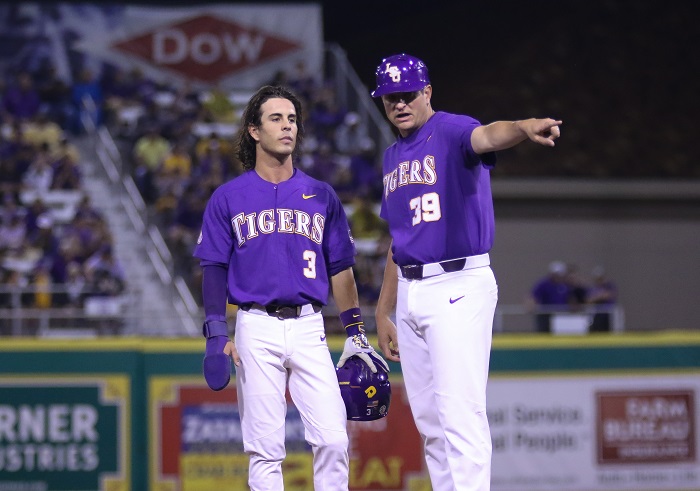 By JAMES MORAN | Tiger Rag Associate Editor
If you perennially recruit and sign the best high school and junior college talent in the country, from time to time, the MLB Draft is going to poach some of your biggest fish.
It's just the nature of the beast for blue blood programs like LSU.
"That's such a tough thing to navigate," LSU coach Paul Mainieri said. "I find that to be the toughest thing about coaching at a place like LSU."
It's been especially difficult over the first two days of the 2017 draft. LSU has already lost three — a number that'll "probably" go to four, Mainieri said Tuesday — signees from one of the nation's strongest recruiting classes.
The Tigers felt alright after day one, with only flame-throwing JUCO right-handed pitcher Nate Pearson coming off the board. He's yet to agree to terms after going No. 28 overall to the Toronto Blue Jays, the coach told reporters Tuesday, though the staff expects him to sign eventually.
Day Two wasn't so kind.
Three signees were drafted and have already agreed to terms with Major League clubs, Mainieri confirmed, each coming off the board within the first pick of the fifth round.
St. Amant right-hander Blayne Enlow was the first selection of the day, drafted by the Minnesota Twins. The No. 76 pick comes with an allotted slot value of $755,400, but Enlow has agreed to a deal in the area of $2 million.
"Last night I talked to Blayne Enlow at almost midnight and he was excited about coming to LSU," Mainieri said. "Felt really good about it, and then, first pick of the third round, there he goes."
He continued: "You don't blame them. I'm not mad at Blayne, but it's just hard. You recruit them for so long and visualize them being part of the program and then, boom, in one day, off they go."
West Monroe outfielder Jacob Pearson, the Louisiana Player of the Year, was drafted by the Los Angeles Angels at No. 85 overall. The slot value of pick is $656,300, but he's believed to have received a larger bonus. The exact amount is not immediately known.
The Twins, owners of the league's largest draft bonus pool, struck again with the first pick of the fifth round, selected junior college infielder Andrew Bechtold. Pick No. 136 carries a slot value of $387,700, but the Twins exceeded his $500,000 asking price.
Losing three, likely four, players is a hit, but the close of day two means blue chippers like outfielder Daniel Cabrera (Parkview Baptist), right-hander Nick Storz (Poly Prep County Day | Brooklyn, NY) and catcher Mason Doolittle (Jupiter High School | Jupiter, Fla.) figure to make it to campus.
As for the holes, that's why the staff formulates backup plans for signees who're good enough to garner professional interest.
"We hopefully have already filled them," Mainieri said. "Because if you're trying to recruit players this late, it's very rare you find the caliber of player that you can make it to Omaha with."