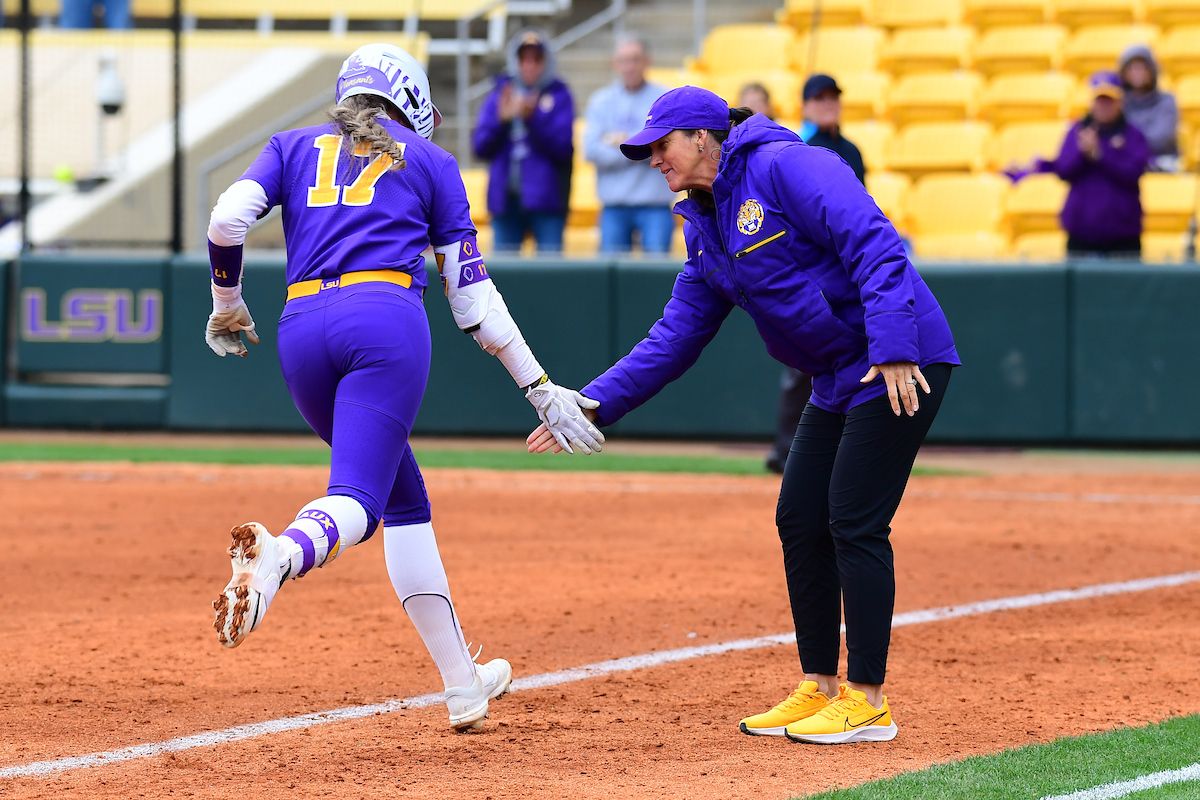 First baseman Georgia Clark smacked a two-run homer that closed out a successful first day for LSU's softball team in its own Purple & Gold Challenge.
After having to rally from a three-run deficit for a win in Friday's opener with Stephen F. Austin, LSU made short work of Drake with a run-rule 12-4 victory in the bottom of the fifth on Clark's home run.
LSU (8-5) will have another doubleheader Saturday with games at 3 p.m. against Purdue and 5:30 against Drake.
Clark (2-for-4) capped a big outing, driving in a total of five runs for LSU which blew open the game with a seven-run second inning for a 7-0 lead.
The Tigers sent 12 batters to the plate in the second inning, picking up four hits with lead-off hitter Danieca Coffey getting a two-run infield single, Taylor Pleasants adding a bases-loaded walk, Clark a bases-clearing double and Ali Newland an RBI-single to right-center field.
LSU made it 10-1 in the third and finished the game in the fifth when Briggs, who was 3-for-3, bunted her way on base. After Pleasants fouled out, Clark homered on a 3-1 pitch.
Freshman Raelin Chaffin (1-0) picked up her first college win. She allowed four runs on six hits in four innings with two walks and three strikeouts before giving way to Shelby Wickersham, who tossed a shutout inning with two strikeouts.
Stephen F. Austin scored three times in the top of the first against LSU starter Shelbi Sunseri on Sydnee Hebert's three-run homer.
LSU trailed 4-1 through three innings until tying the game with three runs in the fourth and taking the lead for good in the fourth on Pleasants' solo homer – her first of the season.
LSU made it 4-4 on RBI-doubles from Morgan Cummins and Baylea Brandon in the fourth and Pleasants (2-4), who also tripled in the game, go the Tigers a 5-4 lead they added to with a run in the fifth and put it away with five runs in the sixth.
LSU sent 11 batters to the plate in the sixth and took advantage of five walks and three hits. Newland and Mackenzie Redoutey drew back-to-back, bases-loaded walks and Presleigh Pilon followed with a two-run single.
Reliever Ali Kilponen (5-1) worked a scoreless three innings in relief. She allowed two hits, walked three and struck out two.