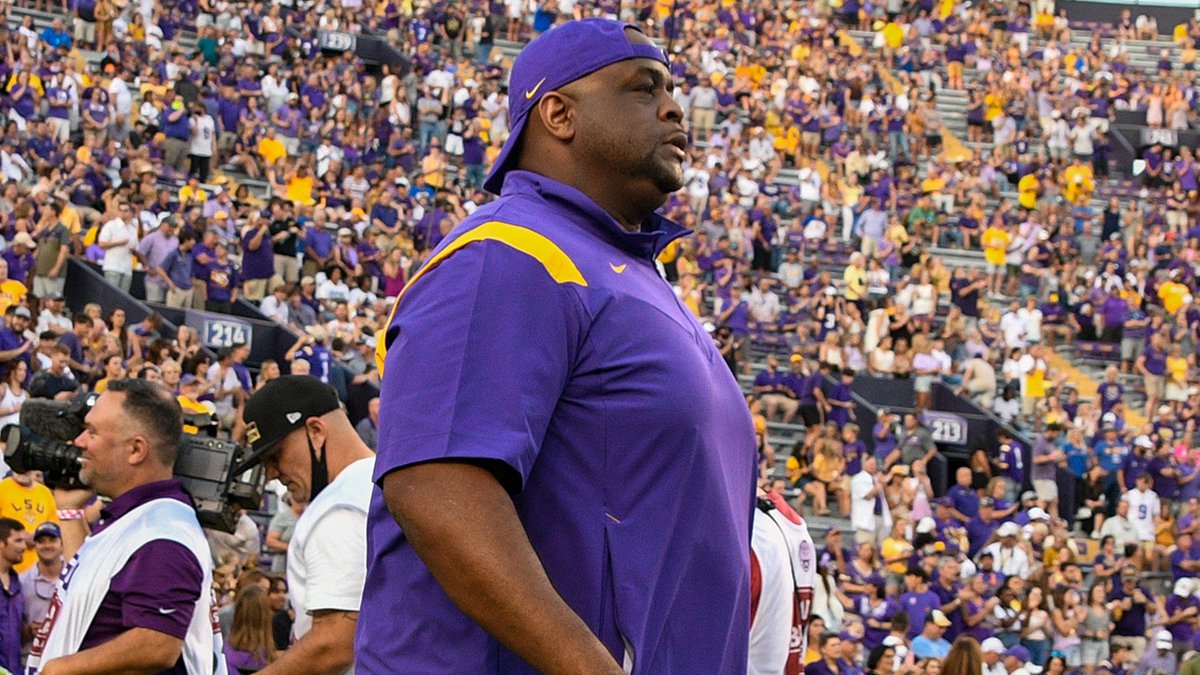 Editor's note: This is the third in a series of stories on the 2022 LSU football team. Today: The offensive line.
LSU's second-year offensive line coach Brad Davis is the lone holdover on new head coach Brian Kelly's staff.

That's a testament to Davis' ability to not only recruit but to his coaching lineage. The Baton Rouge native served under Arkansas head coach Sam Pittman, one of the preeminent offensive line coaches.

Kelly believes Davis is the man to mold this year's LSU offensive line into the kind of nasty, dominant group he's used to fielding.

With senior Cameron Wire, returning after making three starts at left tackle in 2021, there's still plenty of question marks surrounding this year's group.

"The strength in our unit is on our young players," Davis said.

The 6-foot-6, 307-pound Wire will be the anchor for a line with higher expectations than its predecessor, which ranked 10th in red zone offense (82.9%), 12th in the SEC in both scoring offense (26.5) and total offense (368.4) and 13th in rushing offense (114.0).

Last year's unit, which had two members in Austin Deculus and Ed Ingram who started for the 2019 national championship team, wound up with a total of three players in all drafted by the NFL. Ingram was a second-round choice by Minnesota with Deculus and Chasen Hines going in the sixth round to Houston and New England, respectively.

To try and repatch those holes, SU was a major player in the NCAA transfer portal and signed two players, Miles Frazier of Florida International and Tremond Shorts of East Tennessee State, both started in the spring and figure heavily into the mix this fall.
The Tigers also had the rarity of remaining in state for four high school signees, with two of them, Will Campbell and Emery Jones, expected to log significant playing time.

Campbell, the state's top-ranked lineman at Neville High, was an early enrollee and wound up starting at left tackle in the spring game.

"Will started with the third team," Davis said. "He elevated everyone around him and took
about a week to get to first team. He's going to be a star."

With Wire and Campbell expected to start as the team's two bookends at tackle, the charge for Davis is figuring out the rest of the puzzle.

The addition of Shorts, who started in 41 of 43 games and earned third team FCS All-America honors, gives the Tigers flexibility because he's played both guard and tackle. Frazier started in 12 games at left tackle for FIU and was named to a freshman All-American team.

After serving as Liam Shanahan's understudy at center for two years, junior Charles Turner started in the spring game at that position with freshman Fitzgerald West Jr. transitioning in the spring from the defensive line to center.

Sophomore Garrett Dellinger, who missed the spring because of shoulder surgery, started in four of 12 games during his freshman season in 2021. He played both left tackle and had a season-high 85 snaps in place of an injured Ingram at right guard against Arkansas.

One of the more notable moves during the offseason expected to bolster the overall line was the return of Anthony Bradford to the roster after missing the spring. The junior, who has five career starts in 16 games, emerged last season as a starter at both guard and tackle and is expected to contend at one of those spots this season.