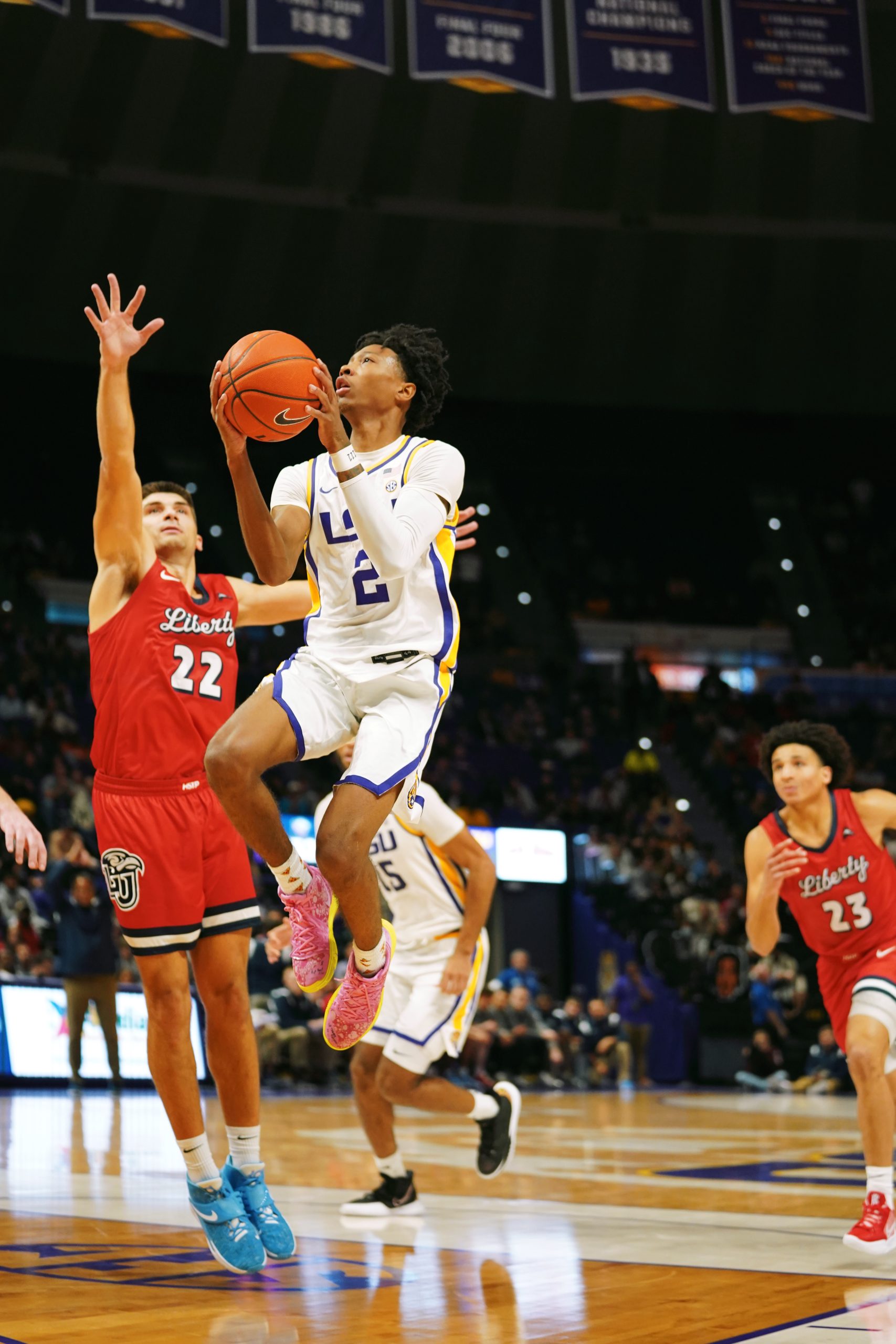 Three games and three wins into LSU's 2021-22 men's basketball season and all systems are blinking go.
The Tigers are dominating in every conceivable stat category – scoring, shooting, rebounding, basically just about everything – enroute to victory margins of 62 points over UL-Monroe, 25 over Texas State and 16 over Liberty.
But it's LSU head coach Will Wade's job to assess his team with a critical eye and find tiny chinks in the Tigers' armor that could become big cracks as the schedule gets progressively tougher.
The first area of improvement Wade wants to see Thursday night at 7 in the Pete Maravich Assembly Center vs. McNeese State is a fast start, something the Tigers didn't accomplish against Texas State and Liberty.
In the first six minutes of both games – Wade views and grades games in six minutes increments – LSU scored 8 points on 2 of 6 field goal shooting vs. Texas State and had 7 points vs. Liberty on 3 of 10 accuracy.
"We have yet to be able to play a complete game," Wade said, "because we haven't started games well. It's taking us too long to get in the game plan. We don't have the energy I think we need at the beginning of games.
"So, I've looked at everything – the starting lineup, our warmup which I'm going to change and I don't like our pregame meal. I don't think we're fueling right and not eating enough during the day.
"There's a lot of stuff that goes into handling energy to get off to a good start and we're not handling our business like we need to on that."
LSU sophomore guard Eric Gaines, who has been a dynamo coming off the bench averaging 9.3 points and 2.7 steals, said the Tigers need to speed their tempo in warmups.
"We don't have that much pace in our warmups," Gaines said. "We have to come out faster like we're in games, bring more pace to our warmups and be locked in with our shots.
"If we bring the momentum we've had in the second half to the first (half), I believe we're unstoppable."
Wade is also concerned his team is committing too many turnovers (13 per game compared to 20.7 for opponents) – "We have yet to get our game goal of 10 or fewer turnovers," he said – and called being outrebounded by Liberty "not acceptable."
But an area LSU has vastly improved since last season is defense. Opponents are shooting just 35.4 percent from the field and 28.3 from 3-point range.
McNeese is 1-2 coming off a 116-66 home win over Champion Christian on Monday night in Lake Charles. Six players were in double figures for the Cowboys, led by Brendan Medley-Bacon with 20 points and Myles Lewis added 12.
Medley-Bacon, a 7-1, 245-pound junior transfer from Virginia Commonwealth, has Wade's attention.
"He's good and huge," Wade said of Medley-Bacon. "They play through him when he's in there on offense."