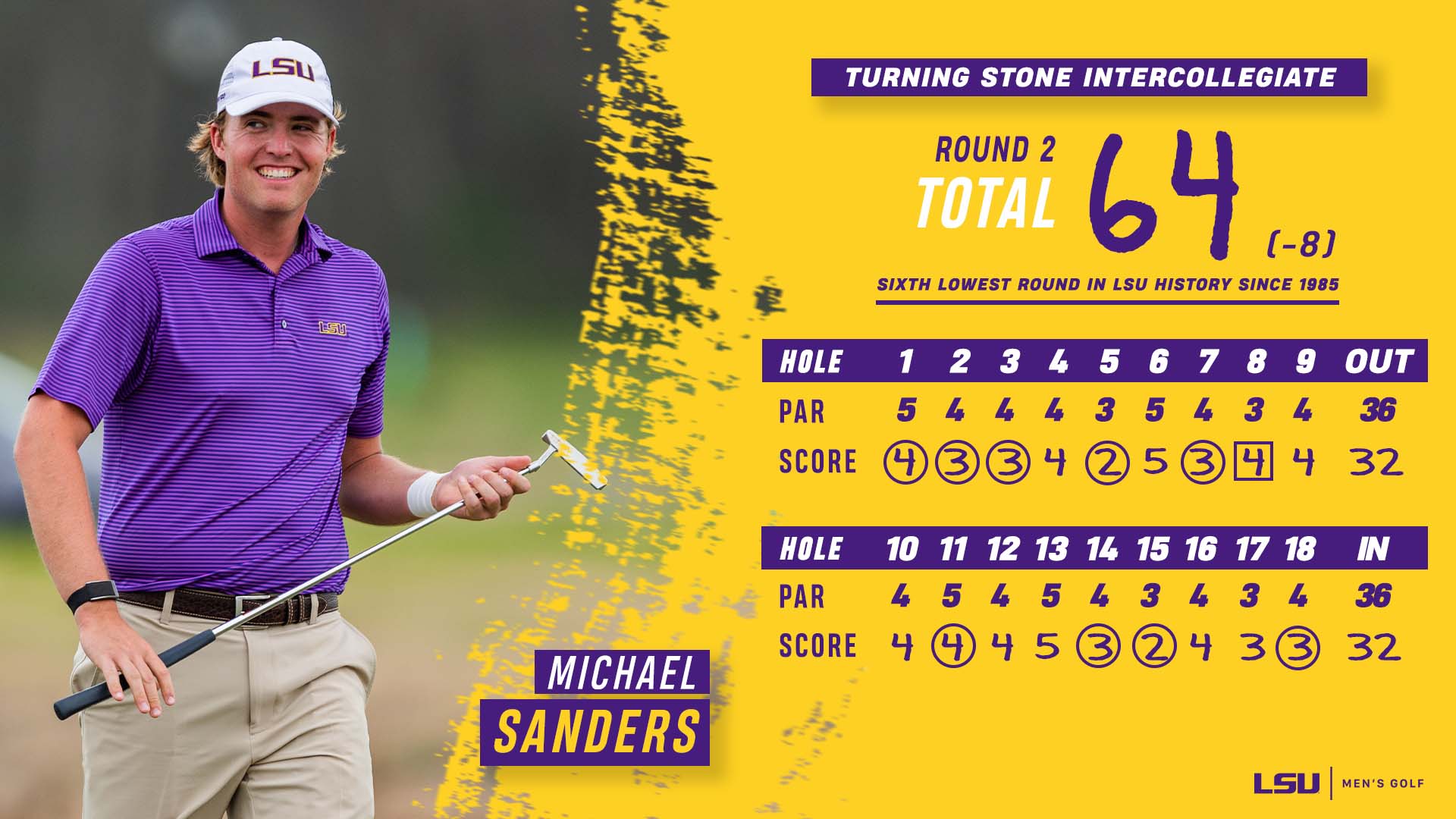 Shot by shot, as his aching hip finally betrayed him and his once-reliable golf swing that made him the nation's No. 6 ranked high school recruit in the country in 2018, Michael Sanders' mind was spinning.
His once-bright LSU men's golf career marked by two top five finishes as a freshman darkened rapidly. His deteriorating physical condition weakened his constant battle to maintain a repeatable swing that could steady his confidence.
"I struggled with my mobility in my left hip growing up and in high school," said Sanders, a native of Davidson, N.C. "Over time, it was just from overuse of hitting golf balls. But somewhere in my sophomore year (at LSU in 2019), it started to really hurt and it became more of a mental block as well.
"It was frustrating when I felt I couldn't stay down on a shot, couldn't really turn through it, I also didn't do a very good job mentally of getting rid of those doubts."
Finally, after tearing a labrum in his ailing hip, he had surgery last season. Physical therapists worked to get Sanders back in swing and LSU's men's head coach Chuck Winstead helped Sanders settle his often-crowded mind.
The results so far after the first two fall tournaments of Sanders' 2021-22 senior season have been spectacular for he and the Tigers as they head into SEC Match Play on Sunday through Tuesday at Shoal Creek in Birmingham, Ala.
LSU finished second in the season-opening Turning Stone Intercollegiate in Verona, N.Y. on Sept. 5-6 and then won the Jim Rivers Intercollegiate in Choudrant, La. on Sept. 14-16.
In the 22nd tourney of his Tigers' career, Sanders finally won for the first time as a collegiate, tying Missouri's Jack Parker at 9-under 207 for top individual medalist honors in the Turning Stone.
His 8-under par 64 in the last 18 holes of a 36-hole opening day was the best round of the tourney among 86 golfers competing.
"For the first time while I've been in college, I was going low and I felt like I should be going low," Sanders said. "There was no part of me that thought that this was anything out of the ordinary or new."
Sanders was also LSU's best finisher in the Jim Rivers as he was tied for seventh with a 5-under 211. He probably surprised everyone but himself and Winstead.
"His game was in great form before we ever showed up in New York," Winstead said of Sanders. "He'd played here (at University Club in Baton Rouge) for two weeks before the tournament and hadn't missed a shot. The trick is managing your expectations when you get to the tournament."
The struggle for Sanders synching his physical and mental health to his golf swing has been real.
"It's been tough to match up when you feel healthy and getting your golf swing where you want it," Sanders said. "I feel like I'm finally at that point. I am not limited physically on anything I can do on the golf course. I finally feel I can get my golf swing very repeatable and that's giving me a lot of confidence.
"I go out there with a lot of confidence but try to manage my expectations at the same time. I'm able to go out there with a mindset I can win vs. a mindset I can finish in the top 10 to 15."
Winstead explained the time-tested self-psyche job young golfers face as they transition to college golf.
"All these (LSU) guys are so talented or they wouldn't be here." Winstead said. "Yet a lot of times, when you have that much talent and past success, you create an enormous amount of expectations. Those expectations can certainly become a distraction. The more you're distracted, the less you're able to perform to your ability level.
"So, what I have witnessed over the years is that if you can get players – and it's not easy because they ultimately have to choose to do it – to remove the distraction of what they expect to see, expect to happen, expect to finish and then just kind of play golf, then that gives them their best chance to let their talent come through."
As Sanders reconstructed his swing after the hip surgery in which the surgeon shaved some of Sanders' hip and also repaired the torn labrum, he finally polished the mental aspect of his game this past summer.
"Mostly, it has been mostly blocking out a lot of distractions and not letting anything get to me while I'm out there," Sanders said. "By taking more confidence in myself out on the golf course, I don't have to think about other people's opinions of me or anyone else's expectations of myself. I just play for myself and play for my team.
"I've been able to control my misses as well as my emotions a lot better. I haven't really let my emotions get the better of me and cost me many shots over the last three or four months."
A sign of Sanders' mental maturity came after his first college win.
"There's a little bit of me that said, `Man, finally it's been a long time coming,'" Sanders said. "But it was more of a moment of celebration and realizing there's a lot more to do this year."