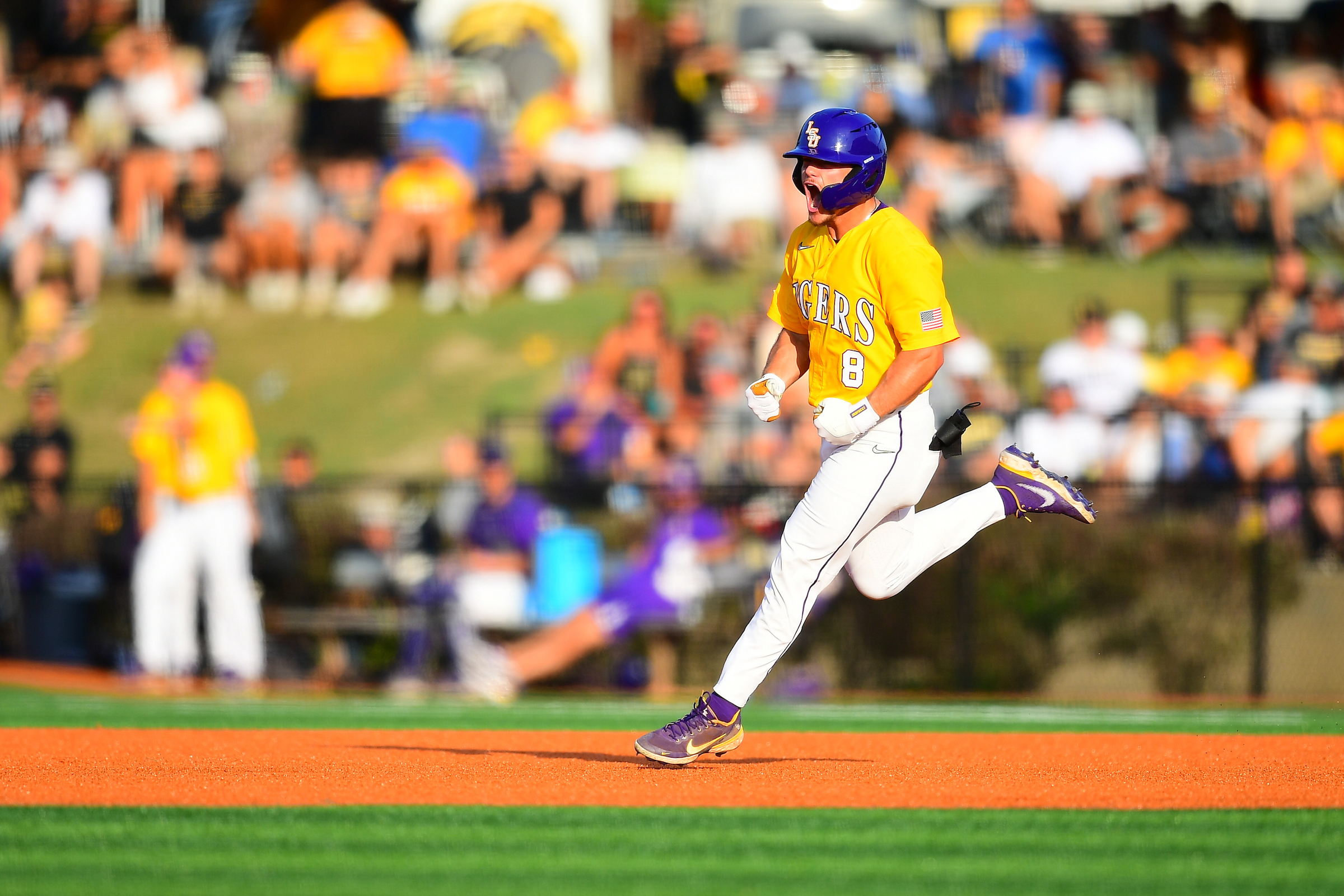 The game with the most significance proved to be the best between two teams that waged a four-hour battle for the right to continue their respective season.
Top-seeded Southern Mississippi and second-seeded LSU staged its own best-of-three games in the NCAA Regional before 5,5256 fans at USM's Pete Taylor Park with the Eagles snapping a tie on a sacrifice fly in the top of the ninth for an 8-7 victory Monday over the Tigers in the regional championship game.
USM's Christopher Sargent scored on Danny Lynch sacrifice fly to left field for the go-ahead run and reliever Tyler Stuart retired all four batters he faced, including a perfect bottom of the ninth, to secure the first appearance for the Eagles (47-17) in a NCAA Super Regional since 2009 against Ole Miss.
LSU (40-22) completed its first season under new coach Jay Johnson wondering what might have been. After a pair of come-from-behind victories and needing just one win to reach the Super Regional, the Tigers dropped consecutive games to USM 8-4 and Monday's outing in which it led for six innings.
"This is deep pain, as bad as it is for me," LSU baseball coach Jay Johnson. "That mean you're living a pretty good life if losing a baseball game hurts that bad, but it really does."
The Tigers, who were outhit 12-11, led 3-1 and 4-3 through six innings but didn't score again until the Eagles had taken a 7-4 lead with four runs in the seventh.
LSU showed some signs of resilience with a pair of runs in the seventh, cutting USM's deficit to a run, on consecutive run-scoring hits from Tre' Morgan (2-for-4, 3 RBIs) and Jordan Thompson. The Tigers tied the game in the eighth on a leadoff homer from Gavin Dugas – his fifth during an injury-plagued season.
"That's all we did in this tournament and that was to show fight," Johnson said of his team's comeback. "I'm proud of our team for that. It's a simple game, honestly. They're infinitely better on the mound than we are. Elite, elite pitching staff. We couldn't hang with them in that regard. Very painful right now."
Eric Reyzelman, the final of LSU's seven pitchers, took the loss after (3-4, RBI) scored on Lynch's sacrifice fly to deep left that Drew Bianco gloved for the first out.
Reyzelman (1-3) allowed three hits and a run in two innings of work.
Stuart (4-0) came into the game two outs in the eighth in place of Brandon Rogers, who allowed the homer to Dugas and walked Dylan Crews with two outs. Stuart got Jacob Berry to ground out to end the inning and got LSU in order in the ninth with a strikeout of Thompson to end the game.
The two teams combined to use 12 pitchers with LSU utilizing seven and USM five.
LSU erased a temporary 1-0 deficit with a three-run first inning, providing a lead the Tigers held until the seventh.
Morgan gave LSU the lead on a two-run single with the bases loaded and Thompson's safety squeeze made it 3-1, allowing Cade Doughty to score from third against USM starter Tanner Hall, the Conference USA Pitcher of the Year of Zachary High School.
LSU extended its lead to 4-1 in the third when Doughty crushed a 1-1 pitch over the left field wall for his 15th homer of the season and his third of the regional.
For the second straight game USM's relief pitcher stymied LSU's offense.
The Tigers, which didn't score over the last six innings of Sunday's game, were held scoreless after Doughty's homer for four innings and enabled the Eagles to remain in contention.
LSU spent the seventh inning figuring how to get USM out of the seventh, turning to four different pitchers in the inning. The Tigers relied on Jacob Hasty to begin, turned to Devin Fontenot, Bryce Collins and Trent Vietmeier who combined to allow four runs (two earned) on two hits. They also walked two, hit a batter and Fontenot committed a fielding error.
"We gave it all we had," Crews said. "There was never a thought in my mind that we were going to lose that game. That's a great program. They've got great arms, great players all around, great coaches. It sucks. It just wasn't our time I guess."
The Tigers broke a scoreless stretch of three innings when Morgan singled in a run and Thompson drove in another run on a single up the middle against USM reliever Landon Harper, who then fanned Tyler McManus to end the threat.
Hattiesburg Regional All-Tournament Team
Tanner Hall, Southern Miss, RHP
Hurston Waldrep, Southern Miss, RHP
Tyler McManus, LSU, Catcher
Christopher Sargent, Southern Miss, 1B
Will McGillis, Southern Miss, 2B
Sam Ruta, Army, 3B
Tyler Simon, Kennesaw State, SS
Dylan Crews, LSU, OF
Josh Hatcher, Kennesaw State, OF
Josh Pearson, LSU, OF
Cade Doughty, LSU, DH
Most Outstanding Player
Christopher Sargent, Southern Miss