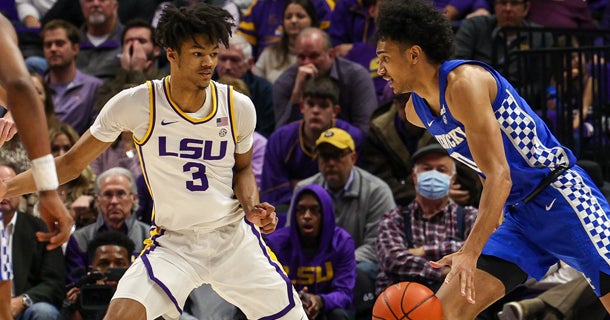 Add reserve forward Alex Fudge to the ever-growing list of LSU basketball players who reportedly have entered the NCAA transfer portal.
   Fudge, a 6-foot-8 freshman wing player from Robert E. Lee High in Jacksonville, Fla., appeared in 29 games this season. He averaged 3.3 points and 3.2 rebounds while logging 14 minutes per game. Fudge had three games with double-figures scoring, including a season-high 14 points against Texas State in November.
On3sports' Matt Zenitz first reported Fudge's entry into the portal early Friday morning on Twitter, followed a minute later by 247Sports' Travis Branham.
Fudge joins a lengthy collection of Tigers reportedly in the portal, along with starting point guard Xavier Pinson (who transferred to LSU from Missouri), starting shooting guard Brandon Murray, reserve guard Eric Gaines, reserve forward Shareef O'Neal (who transferred to LSU from UCLA), guard Adam Miller (who was injured and out all season) and sparingly used freshmen Jerrell Colbert, Justice Williams and Bradley Ezewiro.
None of those in the portal from LSU have announced their new school yet. Players in the portal can remain at their current program if they want to stay and if they're welcomed back.
With Fudge now in the portal, starting forward Mwani Wilkinson – who appeared in all 34 games last season – is the only player who appeared in more than seven games for LSU last season who is either not in the portal or has not announced he is leaving.
Forward Tari Eason, who came off the bench but led LSU in scoring at 16.9 ppg, and starting forward Darius Days, who averaged 13.7 ppg and a team-high 7.8 rpg, both declared their intention to enter the 2022 NBA Draft poll shortly after LSU fired coach Will Wade among allegations of recruiting-related NCAA rules violations and No. 6 seed LSU's March 19 first-round NCAA Tournament loss to No. 11 seed Iowa State.
New LSU coach Matt McMahon, hired away from Murray State has made four known planned roster additions so far, landing Kendal Coleman of Northwestern State and former Murray State teammates Justin Hill and Trae Hannibal. McMahon also has a commitment from Murray State signee Corneilous Williams.