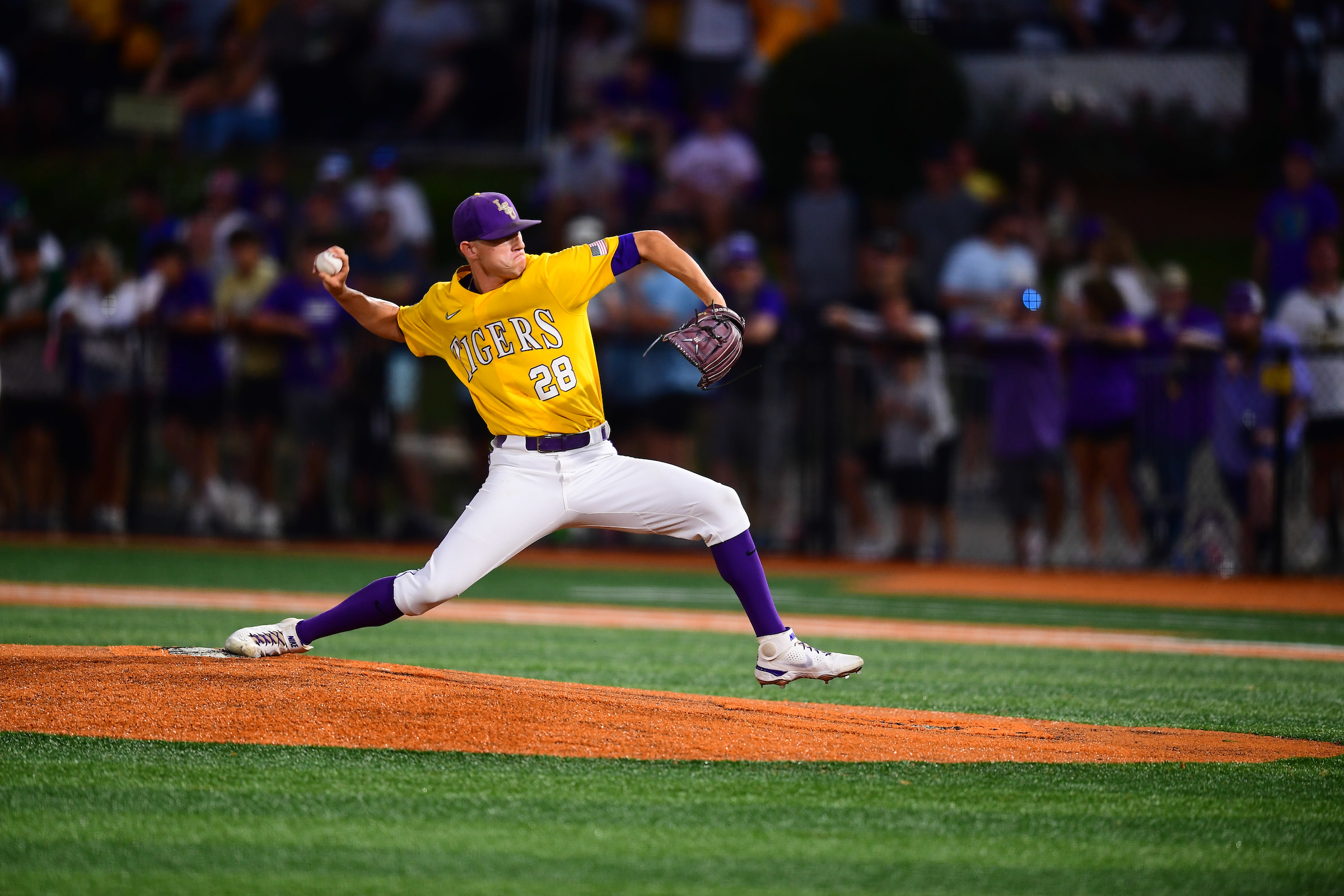 HATTIESBURG, Mississippi – LSU scored 10 runs in the bottom of the eighth inning to take a 14-11 win Friday in the NCAA Regional at USM's Pete Taylor Park.
All-American center fielder Dylan Crews (2-for-5, 3 RBIs) provided the go-ahead runs with a two-run double during the record-setting eighth inning. Jacob Pearson (3-4) followed with a two-run single.
"Honestly, I'm just still in shock of what just happened," Crews said. "When you're down by that much and all of a sudden you're just able to string hits together and then look at the score board and your
two and one runs away from tying the game. It's changed for me when Trey got that single up
the middle. I feel like it really gave us a chance to go out and finish it."
Second-seeded LSU (39-20) are scheduled to face top-seeded Southern Miss, a 2-0 winner over Army, at 6 p.m. Saturday in the winner's bracket game. The contest will stream on ESPN+ and can be heard on 98.1-FM.
"Wow. Big fan of that eighth inning," LSU baseball coach Jay Johnson said. "A lot of people talk about character and culture and competitiveness and that was all of that on display."
LSU, which had four extra-base hits in its 13-hit attack, equaled a school-record in the postseason by overcoming a seven-run deficit to win. The Tigers trailed East Carolina 9-2 in 1999 to win 12-10. The 10 runs in the eighth inning were also the fifth highest scoring inning in school history in a postseason game.
"We've said this since day one: there's no clock in baseball," Johnson said. "With the type of offense we have, I mean, he's (Crews) the best player in the country. Jacob Berry is going to be a top ten pick, Tre' Morgan is one of the best true hitters in college baseball. We can do stuff like that."
LSU reliever Devin Fontenot picked up the victory after tossing 3.1 innings while giving up no runs on two hits with six strikeouts.
"I think I was mechanically and mentally right tonight," Fontenot said. "I just wanted to give our team a chance.
Coming into a ballgame like that, if I don't do well, we don't win. I knew I had it in me and I just
wanted to perform the best for my team.
Owls reliever Smith Pinson (6-6) was charged with the loss after throwing no innings, facing three batters and giving up three runs on two hits.