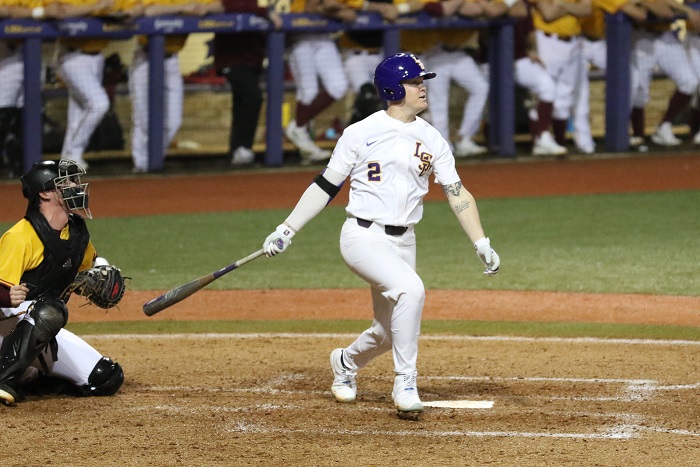 A rousing debate could be had whether LSU is peaking at the right time or if it played an especially incompetent midweek foe — the answer probably lies somewhere in between, honestly — but LSU extended its winning streak to three games in emphatic fashion.
Daniel Cabrera homered and tied a career high with four RBI as LSU scored 12 times in the first three innings on the way to a 13-3 demolition of McNeese State that was called via the mercy rule after seven innings at Alex Box Stadium on Wednesday night.
"Obviously we needed to get that one tonight," LSU coach Paul Mainieri said. "The biggest thing of the night was that we just swung the bats so well."
That might be an understatement.
Maybe it was bubbling frustration with a middling RPI that has LSU (29-20) fighting for its NCAA Tournament lives. Perhaps the Tigers had revenge on their mind after losing the McNeese State (22-27) two years in a row.
Either way, the entire lineup swung the bat with bad intentions. LSU pounded out 14 hits and was well on its way to establishing a new season high for runs scored before Mainieri emptied the bench in the middle innings. The mercy rule then kicked in after the top of the seventh.
"I think at the plate we're being more aggressive than we have been in the past," Cabrera, who finished 3-for-3, said. "Everyone is going up there with a plan instead of going up there swinging. I feel like it shows."
Given the lopsided nature of the game, it made for as soft a landing spot as any for Nick Storz to action after months on the shelf with recurring shoulder trouble.
The freshman right-hander showed the rust one might expect in his first outing since March 21, but he logged two scoreless innings with two strikeouts while allowing one hit and issuing two walks.
His fastball sat 90-91 mph and bumped 93 with arm-side run and he flashed a swing-and-miss slider. Only 15 of his 33 pitches were strikes, which wasn't that surprising to his coach.
"I very much expected it," Mainieri said. "That's about what he looked like in his live sessions, so I didn't expect him to go out there and throw nothing but strikes. We were trying to get him a lot of practice mound time. We just haven't been able to do that because of the health of his shoulder."
Storz coasted through the first inning only throwing 10 pitches thanks to a double play turned behind him. The second frame was far more laborious, and Mainieri was set to hook Storz after issuing a two-out walk. Instead Alan Dunn came out to chat and Storz ended his night with a strikeout.
It was the kind of outing LSU had hoped to see from the uber-talented rookie and a building block for what is to come, provided his shoulder remains setback free through the next few days.
"I hoped my command would be a little bit better, but I wasn't expecting to be lights out," Storz said. "It feels great to be back on the mound. That was the biggest thing. Now there's a lot to do."
There was one negative to take away from a night that was otherwise a laugher from the home team. Caleb Gilbert started for LSU and simply didn't have it.
McNeese catcher Dustin Duhon tagged him for a two-out, two-run double in the first inning. McNeese scored again and loaded the bases before Gilbert was hooked with two outs in the second inning.
Freshman Trent Vietmeier came on and bailed out the veteran, inducing an inning-ending flyout to leave the bases juiced. Vietmeier returned and worked a scoreless third inning — the first zero posted by either side — with help from a caught stealing credited to Hunter Feduccia.
Gilbert has now been tagged for eight earned runs and 11 hits in just 6+ innings over his last three outings. Rocky as it was, his outing was fine compared to McNeese right-hander Tyler Wesley, who received a rude reception after being withheld from the weekend rotation to pitch against LSU.
Austin Bain drove home a run with his Southeastern Conference-leading 19th double of the season. Feduccia blooped a two-out RBI single into center that tied the game and LSU took the lead when the ball bounded past two Cowboy outfielders.
McNeese tied the game at three in the top of the second, but that didn't last long.
Beau Jordan gave LSU the lead with an RBI double on a perfectly-executed hit-and-run. Antoine Duplantis drove in a run on an infield single and, two batters later, Cabrera hit his moonshot of a three-run blast, his sixth of the season.
"Hunter Feduccia is swinging the bat a lot better," Mainieri said. "Cabrera is becoming the hitter I predicted he would be before the season began. Those two things in themselves are making us a lot better."
LSU capitalized on defensive miscues from McNeese to blow the game open with four more runs in the third. Jordan lifted a sacrifice fly after an error scored the first run and Duplantis and Cabrera chipped in with RBI singles.
Riding high off three consecutive wins, LSU will host an SEC West cellar dweller Alabama for a three-game series set to begin at Alex Box Stadium on Friday night. First pitch is set for 7 p.m.