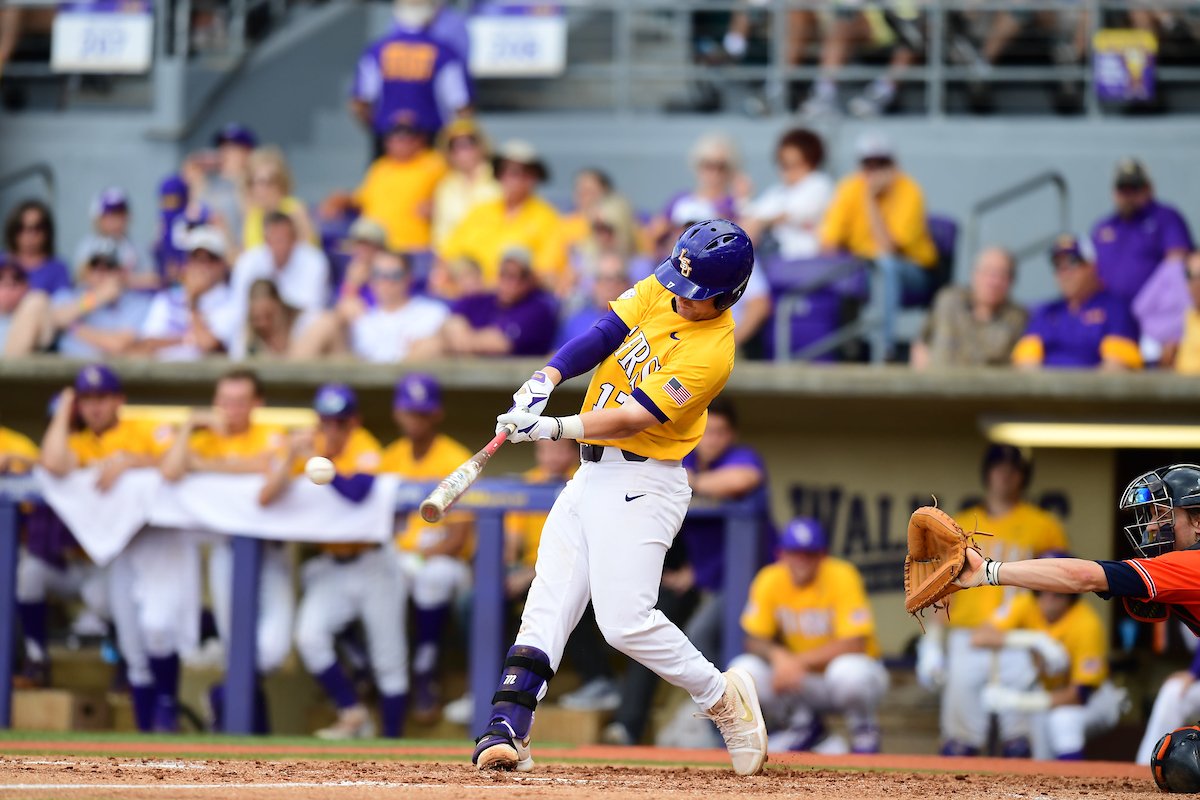 LSU was one strike and one out away from celebrating Senior Day with a sweep and rolling into the postseason with a full head of steam.
One squared-up fastball changed all that.
Zack Hess served up a game-tying two-run homer on an 0-2 pitch in the top of the ninth inning and got tagged for the winning run in the 11th as Auburn avoided the sweep with a chaotic 5-4 win at Alex Box Stadium on Saturday afternoon.
"Today is one of those days that's frustrating about baseball," LSU coach Paul Mainieri said. "It's the best thing about baseball and also the worst thing: you've got to get all 27 outs. I think we got 25 of them."
"I thought I'd gotten it where I wanted to," Hess added. "He put a good swing on it and he beat me there."
Hess finished the ninth inning after giving up the blast and pitched a scoreless 10th, but that's when Auburn got to him. Will Holland delivered the game-winning double to score a runner from second base.
LSU (34-22, 17-13 SEC) finishes the regular season squarely on the bubble in terms of its chances to host an NCAA Regional. History suggests that 18 regular-season league wins has been a magic number for SEC teams under the current NCAA Tournament format. LSU came up one short.  
The Bayou Bengals will be the No. 5 seem in the SEC Tournament, meaning they'll play either Kentucky, South Carolina or Alabama in a single-elimination game Tuesday night. Winner advances to play Mississippi State in the double-elimination portion of the format.
Simply having a chance to host does not seem like an accomplishment considering the lofty expectations surrounding LSU to start the season, but hope was fading fast little more than one week ago.
LSU needed a late rally last Saturday to avoid a sweep at Arkansas that would've all but ended their chances of hosting. That comeback has blossomed into four straight wins, but LSU will kick itself knowing a fifth victory was well within its grasp.
"I told the team don't let my failure keep the momentum from going forward from here on out," Hess said. "We're playing really good baseball right now. That one is 100 percent on me."
The pitching matchup of a bullpen day facing a future first-round pick looked like a mismatch on paper, but the well-rested LSU bullpen did the job.
Devin Fontenot and Matt Beck worked two scoreless innings apiece, holding Auburn to just two hits over the first four frames. They matched Auburn sophomore Tanner Burns zero for zero in the early going.
LSU broke through against Burns in the fourth inning. Daniel Cabrera doubled to get things going and senior Chris Reid doubled him home. That lead didn't last long, however, as Auburn tied the game against Ma'Khail Hilliard with an RBI double of their own in the fifth.
Auburn hooked Burns after four strong innings, and LSU immediately went to work against his replacement. After loading the bases, Cabrera worked a long at-bat and lifted the go-ahead sac fly. That lead too proved to be short lived as Auburn tied the game again with a solo homer off Todd Peterson.
Peterson did retire the side in order after Brandt Broussard's RBI single put LSU back in front heading to the seventh inning. An Auburn error allowed LSU to tack on an insurance run on a Cade Beloso sac fly in the bottom of the frame.
LSU turned things over to Hess for the four-out save attempt. Of course this time he did not convert. After a four-pitch walk, Auburn catcher Matt Scheffler jumped on an 0-2 mistake from Hess and deposited it into the left field seats for a game-tying home run.
"The pitching plan was working to perfection until the guy hit a two-run homer in the ninth inning," Mainieri said. "Outside of that, we pitched great."
Photo courtesy of LSU Sports Information