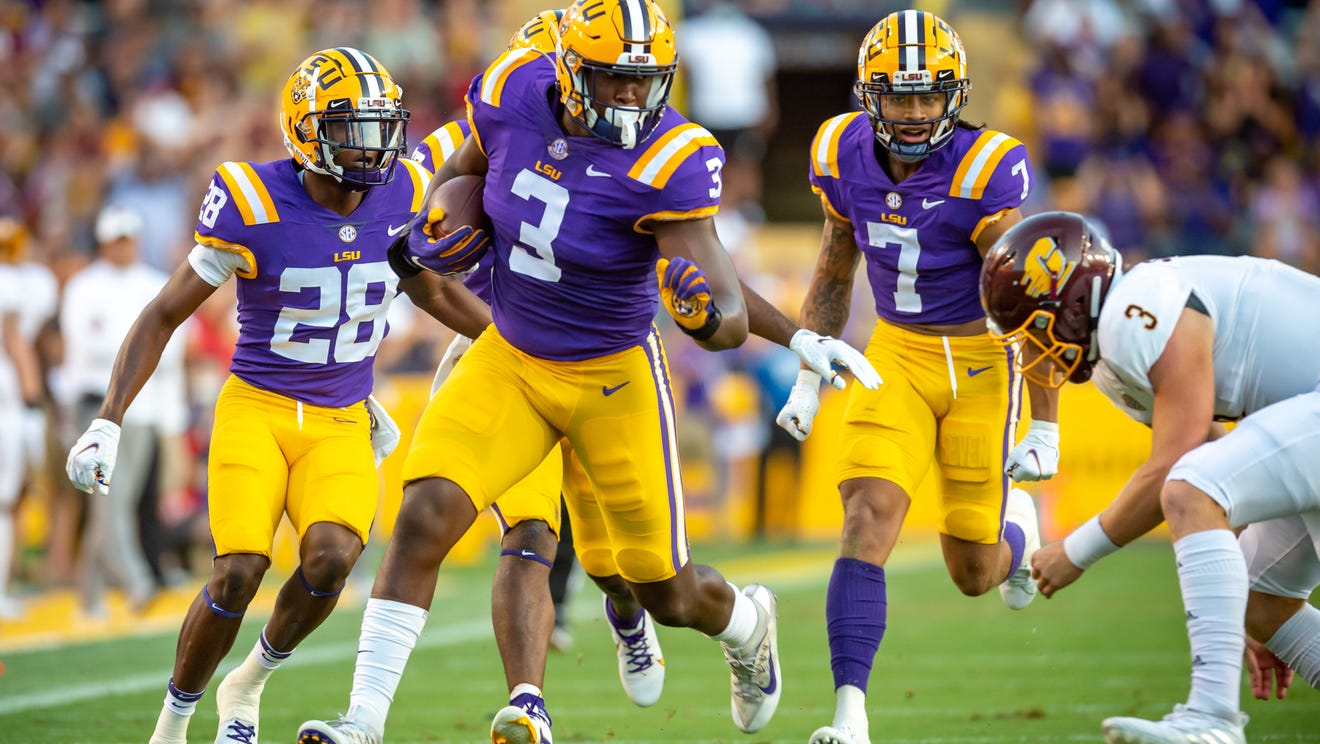 There's not ever a good time to lose an experienced starting defensive end with a season-ending injury.
But it's even worse when you're about to play an offense that put up 44 points and 632 yards total offense on you the previous season with the opposing quarterback throwing for a SEC single-game record 623 yards.
LSU coach Ed Orgeron announced that senior defensive end Andre Anthony is out for the rest of the season starting with Saturday's 11 a.m. SEC opener at Mississippi State.
Anthony suffered what appeared to be a knee injury in last Saturday's 49-21 victory over Central Michigan.
"What an outstanding Tiger, outstanding leader," Orgeron said of Anthony on his weekly media Zoom teleconference. "We absolutely love him, he has a season ending injury and it's sad news. He was having a good season, he's gonna be unavailable but he's gonna be with us."
Anthony had 8 tackles in Tigers' 2-1 start, including 3½ sacks and a 33-yard TD fumble return which he scored vs. Central Michigan to give LSU a 14-0 lead with game only about five minutes old.
When Anthony went down, true freshman defensive tackle Maason Smith slid over to defensive end where Orgeron said Smith would stay untll further notice.
The Tigers will need a stout pass rush vs. the 2-1 Bulldogs, looking to slow an offense 406.7 yards per game led by quarterback Will Rogers.
He's second in the SEC in total offense yardage averaging 351.3 yards per game, which is 38 fewer yards than LSU's offense averages as a unit. Rogers also leads the league in passing yards per game at 361 yards.
In last year's Tigers' season opening 44-34 loss to MSU in Baton Rouge in Leach's first game coaching the Bulldogs, State had three wide receivers and running back each catch six or more passes.
Leach repeatedly dissected LSU's defense with crossing routes and then Tigers' defensive coordinator Bo Pelini refused to play anything but man-to-man coverage.
"We have been looking at Mississippi State since we couldn't stop them last year," Orgeron said. "It was embarrassing. I was embarrassed as a coach, I take full responsibility.
"We have a plan."
Orgeron felt his team play better in some areas in the win over Central Michigan, but acknowledged the Tigers need continued improvement in all phases of the game.
"We're working (offensively) to continue to improve the tempo and improve our run game," Orgeron said. "We have to block better, we have to come up with better schemes and pass protection needs to continue to improve.
"On defense, (guarding) the crossing routes, the wheel routes, the pick routes, all the things we saw last year (vs. Mississippi State) we've seen them again on film. They are very good at it.
"Special teams (on) punt returns, we're losing a lot of hidden yardage. We've got to catch all balls. We've got to do a better job of catching the football before it hits the ground. We've got to a better job of holding up guys on the line of scrimmage so our punt returner has room to at least get 10 yards."
In other LSU football news:
Tigers' defensive end BJ Ojulari, the nation's leader in sacks through the first three games of the season, has been named the Southeastern Conference Defensive Lineman of the Week for his performance in LSU's 49-21 win over Central Michigan, the league office announced on Monday.
Ojulari, a sophomore from Marietta, Ga., led the Tigers with 2.5 sacks and three total tackles against the Chippewas. As a unit, LSU recorded five sacks and had 15.0 tackles for loss in the victory over Central Michigan.
Also,  LSU's game against Auburn in Tiger Stadium on October 2 will kickoff at 8 p.m. and will be televised on ESPN. LSU's last 8 p.m. kickoff in Tiger Stadium came in 2018 when the Tigers beat Ole Miss, 45-16, on September 29. That game was also televised on ESPN. It will be the first nighttime kickoff for LSU and Auburn in Tiger Stadium since 2013 when LSU posted a 35-21 win on September 21.