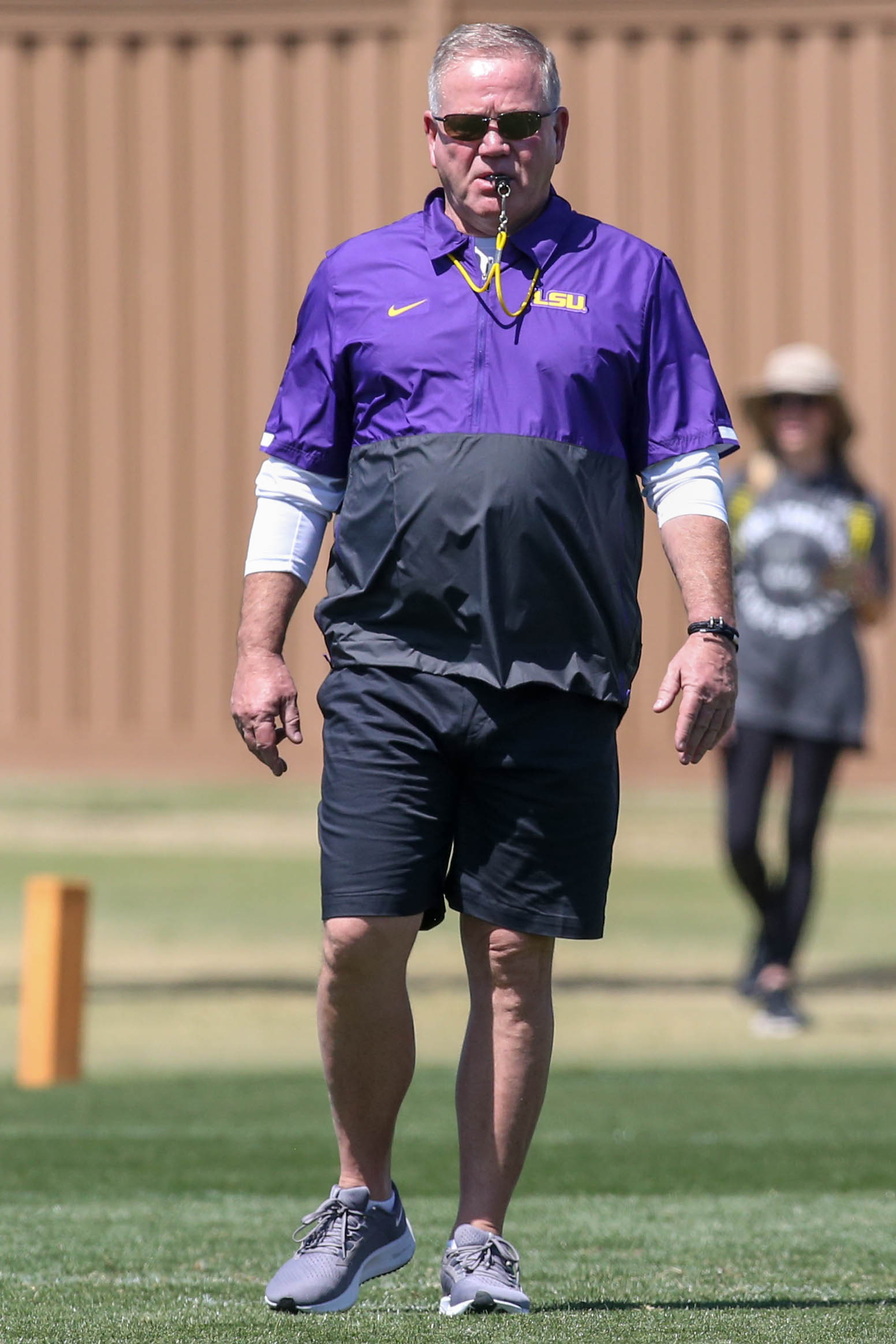 The LSU Board of Supervisors approved the longform contract of new football coach Brian Kelly and term sheet of new basketball coach Matt McMahon at its regularly scheduled meeting Friday in Shreveport.
Kelly's 10-year, $95 million contract contains $400,000 in annual base pay, plus annual supplemental compensation of $8.6 million from the time it went into effect last Nov. 28, 2021 through Dec. 31, 2022. The supplemental compensation increases annually, rising to $9.6 million through its end date of Dec. 31, 2031, or the team's last game in the 2031 season.
Kelly didn't sign the full contract, which also includes performance incentives and perks including two vehicles, until Wednesday.
The board also approved employment agreements for defensive coordinator/linebackers coach Matt House ($1.8 million guaranteed annually), offensive coordinator/tight ends coach Michael Denbrock ($1.3 million), head strength and conditioning coach Jacob Flint ($475,000), associate head coach/running backs coach Frank Wilson/running backs coach ($900,000), special teams coordinator/recruiting coordinator Brian Polian ($625,000) and assistants coaches Cortez Hankton ($850,000; receivers), Jamar Cain ($800,000; defensive line), Joe Sloan ($550,000; quarterbacks), Kerry Cooks ($450,000; safeties) and Robert Steeples ($400,000; cornerbacks).
McMahon's term sheet is for a seven-year, $20.3 million deal (plus incentives) that pays $400,000 in annual base pay with supplemental compensation of $2.2 million annually to start and reaching $2.8 million in its final year.
McMahon, previously at Murray State, was hired in March to replace Will Wade, who was fired amid alleged recruiting-related NCAA rules violations. Kelly, previously at Notre Dame, was hired in November to replace Ed Orgeron, who reached a full $16.9 million buyout settlement with the school.
All approvals for the new football staff contracts and McMahon's term sheet were rubberstamped without comment.
Former approval of McMahon's full contract and term sheets for his newly hired assistant coaches – former Murray State assistant coach Casey Long, former Ole Miss assistant Ronnie Hamilton and former Memphis assistant Cody Toppert – are scheduled to be up for approval at the board's next regularly scheduled meeting.
The board also approved the five-year contract of volleyball coach Tonya Jackson, which starts at $240,000 in base pay through the rest of 2022, jumps $250,000 in 2023 and closes at $280,000 in 2026.